Article
4 Florida-Inspired Recipes from Manatee County Chefs
Four recipes that scream "Florida."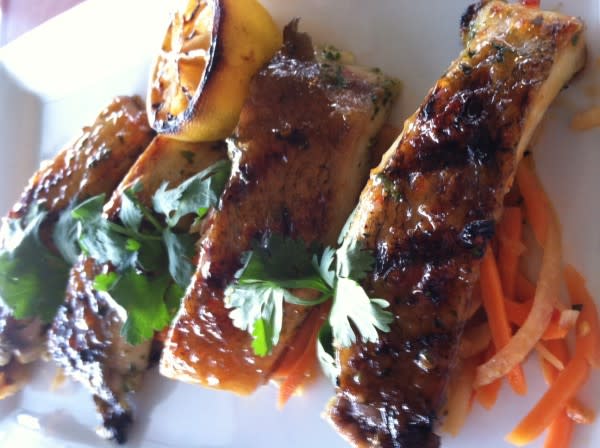 GLAZED PACU RIBS
Recipe courtesy of Chef Gerard Jesse, Seafood Shack
Serves 4-6 as an appetizer
The piranha's larger cousin, the pacu, is a freshwater fish originally from the Amazon River in South America. The meat of the toothy, gray, pink-bellied fish has a high fat content, so it cooks well. The result is a moist, succulent fish.
Ingredients
Chimichurri marinade (recipe below)
Sweet chili-citrus barbecue sauce (recipe below)
1 ½ to 2 lbs. pacu ribs
Lemon for garnish
Pour chimichurri marinade over ribs in a ziplock bag and let sit for 24 hours.
Preheat gas grill to medium-high heat or prepare coals if you prefer. Preheat oven to 400.
When the grill is hot, pull ribs from the marinade and pat dry with paper towels. Cook ribs on grill (flesh side down first) for about a minute, until grill marks are visible. You just want to char the meat a little. Repeat on skin side.
Remove from grill and baste with a thin coat of barbecue sauce. Place in roasting pan and cook for an additional 2-3 mins. The rib should pull from the bone easily. The bones are quite large so you won't have any trouble pulling them out. Plate ribs and garnish with slice of lemon.
Chimichurri marinade
1 cup parsley
1 cup cilantro
1 cup green onions
½ head fresh garlic, cloves separated and peeled
2 cups olive oil
Combine all ingredients in a blender and thoroughly puree. Keep refrigerated until ready to use.
Sweet Chili-Citrus Barbecue Sauce
2 cups sweet chili sauce
Juice of 1 orange
Juice of 1 lime
Juice of 1 lemon
1 Tbsp. adobo sauce (chipotle chiles are often packed in this)
1 tsp. fish sauce
½ cup fresh cilantro, chopped
Salt
Combine all ingredients. Season with salt to taste.
CORKER FARMS OYSTER AND GRILLED CELERY STEW
With butter-whipped potatoes and house-cured Tasso ham
Recipe courtesy of Chef Derek Barnes, Derek's
Serves 6 as an appetizer
Oyster and Grilled Celery Stew
18 large Gulf Coast oysters
2 Tbsp. unsalted butter
6 celery ribs, grilled and diced small (local if possible)
½ yellow onion, diced small
2 tsp. garlic, minced
2 cups chicken stock (homemade if possible; use low-sodium store-bought otherwise)
½ cup  heavy cream
2 Tbsp. flat-leaf parsley
½ cup Parmesan cheese, finely grated
Butter-whipped potatoes (recipe follows)
Cured Tasso ham (information follows)
Shuck the oysters. Reserve the oysters and their liquor in separate containers.
Melt the butter in a medium-sized pot over medium heat. Add the diced, grilled celery, yellow onions and garlic. Sweat the vegetables for 3 minutes or until translucent.
Add the chicken stock, reserved oyster liquor and the heavy cream to the mixture. Bring to a simmer and cook for 30 minutes, stirring periodically. Puree the stew mixture with an immersion blender or regular blender and return to pot for the next step.
Place the parsley, Parmesan and the reserved, shucked oysters to the stew and simmer until the gills of the oysters frill out a bit. Serve immediately with butter-whipped potatoes and Tasso ham.
Butter-Whipped Potatoes
6 medium red potatoes
½ cup heavy cream
2 Tbsp. unsalted butter
Kosher salt
Freshly cracked black pepper
Boil the potatoes until you can effortlessly place a knife through them from side to side.
Scald the cream and butter in a small pan, add to potatoes and whip/mash to your preferred doneness.
Season with kosher salt and cracked black pepper.
Tasso Ham
Tasso ham is a specialty of Southern Louisiana cuisine. In this case, the  ham is not made from the hind leg of a pig, but rather the pig's shoulder. This cut is typically fatty, and because the muscle is constantly used by the animal, it has a great deal of flavor. The butt, which will weigh 7 to 8 pounds, is sliced across the grain into pieces about two inches thick. These are dredged in a heavily seasoned spice and salt mixture, cured for 5 days then hot smoked for 12 hours.
Tasso may be consumed on its own; however, it is more often used as part of a flavor base for stews, gumbo, and gravy, or to finish many other dishes you feel could benefit from using a little pork.
Tasso ham is difficult to procure locally—however, you can purchase through Derek's with some advance notice. We cure  Tasso at the restaurant a couple times a month. Simply email [email protected].
HOMASSASA SCALLOP CEVICHE
Recipe courtesy of Chef Dave Shiplett, SOMA Creekside
Serves 6
Ingredients
1 cup fresh Key lime juice
1/2 cup fresh orange juice
2 lbs bay scallops
1/4 cup finely diced red onion
3 ripe tomatoes, seeded and chopped
1 diced jalapeno
3 scallions, chopped
1 cup cilantro, chopped
Lime for garnish
Stir citrus juices together and pour over scallops. Combine jalapeno with red onion, add to scallop mixture. Cover and allow to rest for 2 hours.
Just before serving, drain scallops and mix in tomato, scallions and cilantro. Garnish with lime for presentation.
SUGAR CUBED'S FAMOUS GLUTEN-FREE COCONUT MACAROONS
Recipe courtesy of Dana Johnson, Sugar Cubed Bakery
Makes approx. two dozen cookies
Ingredients
15 oz. shredded unsweetened coconut
¾ cup granulated sugar
3 eggs
1 ¼ cups mini chocolate chips
Preheat oven to 350 F.
Combine coconut, sugar and eggs in mixing bowl and mix on low speed until fully combined.
Add chocolate chips and just mix until blended in.
Using a small ice cream or portion scoop, firmly pack the coconut mixture into the scoop and place on a baking sheet lined with parchment or wax paper. Do not flatten. They should look like miniature haystacks.
Bake until golden brown on the outside, approximately 12 minutes.
Let cool completely before removing from pan and enjoying.