Article
Sapore della Vita Creates Award-Winning "Lick My Spoon" Caramel Sauce
An Italian import company concocts a prize-winning caramel topping.
Success sure is sweet—just ask Kristine Insalaco-Gaioni and her husband, Fabio, who own Sarasota-based Italian import company Sapore della Vita, and whose Lick My Spoon caramel sauce was the recipient of a 2014 Good Food Award in the confections category—one of only three Florida-based companies (and 1,450 entries from 50 states nationwide) to receive the honor.
That's amore. Kristine and Fabio met while she was on vacation in Italy; now they're living in Sarasota and working together at Sapore della Vita, which they launched in 2009. In addition to the Lick My Spoon range of spreads, the company sells olive oils, aged vinegars, honey creams and other imported Italian treats, which it distributes to gourmet shops and restaurants in Sarasota and beyond. They divide their labor, says head cook Kristine: "Fabio does all the logistics and sales, designs our labels and is also the official taste. He has a very good palate!"
Why caramel? Lick My Spoon caramel was born after Kristine, a former pharmaceutical rep and avid foodie, tasted a caramel sauce at a friend's baby shower and thought, "I can make a better one." So she started recipe testing—"but it wasn't until I started using Dakin Dairy cream that the product changed completely," she recalls. "We don't use any butter because the cream is so rich." She also uses organic fleur de sel (sea salt) from France, pure cane sugar and organic Madagascar vanilla beans, an approach that's in line with every item Sapore della Vita makes or imports. "We want everything to not only taste delicious, but be all-natural and organic, without any preservatives or antibiotics," she says.
California dreaming. The couple's trip to San Francisco to accept their Good Food Award was life-changing, Kristine says: "Alice Waters put our medal on my neck—and it was such a wonderful opportunity for all the winners to come together at the Ferry Building in San Francisco. We got to sell goods, meet the public, press and buyers."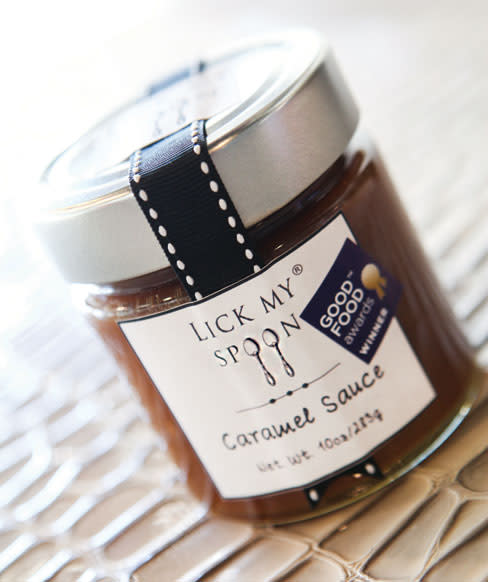 Tidbits
The couple often invites customers to stay with their producers in Italy. "We call it agroturismo," Kristine says, "and we encourage it. There are real people producing these products, and it's nice to connect."
You can find Sapore della Vita's Italian-imported goodies and its Lick My Spoon products at the downtown Sarasota Farmer's Market on Saturdays.
Detwiler Farm Market and the organic farmstands at the Sarasota and Englewood farmer's markets are favorites of the Gaionis.
Click here to read past Foodologist interviews. >>
This article appears in the April 2014 issue of Sarasota Magazine. Like what you read? Click here to subscribe. >>