Article
Foodologist: Victoria and Michael Calore of Mozzarella Fella
The couple behind Mozzarella Fella's sandwich genius.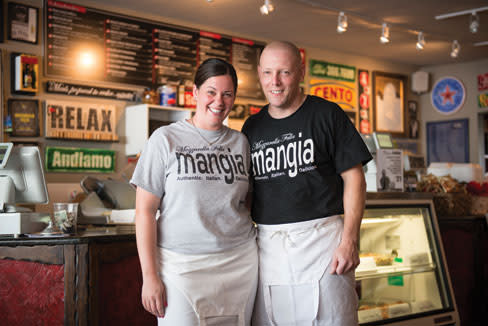 Three years ago, Victoria and Michael Calore moved to Sarasota and opened a sandwich shop on Main Street. It didn't take long for hungry locals to start lining up for their 21 choices of sandwiches stuffed with fresh ingredients and flavor—and for their homemade mozzarella cheese, which flies out of the store.
Sarasota dreamin' In February 2011, the Calores, who have two young children, were visiting Sarasota from New York and "didn't want to go home," Victoria remembers. "Then we thought, 'Why wouldn't we live here if we could?' Fast forward six months, when—just two days after the birth of their son—they sold their popular Staten Island restaurant. On Sept. 15, they hopped into their car and made the drive to Sarasota.
Why sandwiches? The Calores owned a full-service restaurant and bar in New York; their initial plan was to open a sandwich shop here so they'd have more of a family life. "That kind of backfired," Victoria says with a laugh. "In New York, we had a management team, a prep staff, a cleanup crew—here we do everything ourselves."
So how about that mozzarella? It starts with cheese curds, Victoria explains, which are diced, then soaked in tempered water at 180 degrees until they warm up. Next the water is drained and the curds soaked in a 180-degree water bath again until they reach 180 degrees. "Then you pull and squeeze the cheese," Victoria explains. "Then you put them in an ice bath and let them sit. The cold water keeps the shape."
Factoids:
In addition to cheese and sandwiches, Mozzarella Fella offers a bevy of takeout options—everything from pasta to salad to meatballs.
The shop sells the most individual mozzarella balls on Saturdays.
The Calores start the day with 30 pounds of curds, then make more cheese throughout the day as needed—sometimes up to five more times.
To read past Foodologist interviews, click here. >>
This article appears in the May 2014 issue of Sarasota Magazine. Like what you read? Click here to subscribe. >>