Article
Shawn and Cecilia Wampole Open Anna Maria Donuts on Anna Maria Island
Shawn and Cecilia Wampole bring top-your-own delights to Anna Maria.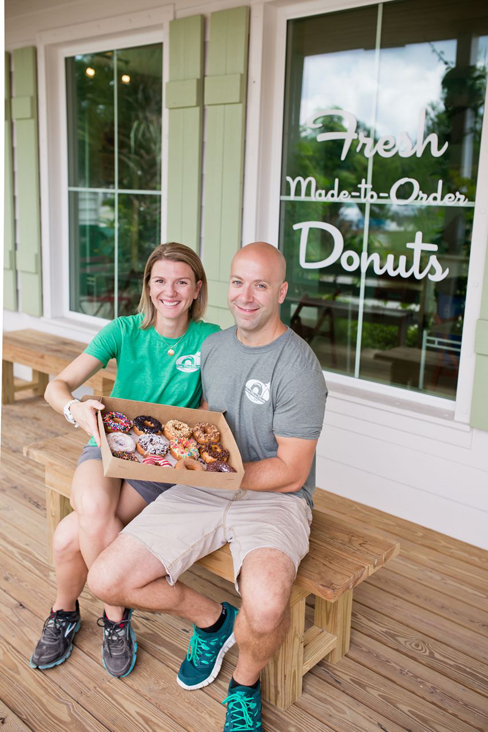 Doughnuts are having a moment. Artisan doughnut shops are popping up all over the country, and the cronut—that croissant-doughnut hybrid—took New York City by storm this summer. And Anna Maria Island's new Anna Maria Donuts is attracting hordes of hungry visitors—good news for owners Shawn and Cecilia Wampole, who, after visiting the island just twice, quit their Philadelphia-based jobs and moved their family to Sarasota with a singular goal: to serve fresh, hot doughnuts to visitors to their Pine Avenue shop.
Dearth of doughnuts. "Most beach towns have doughnut shops," Cecilia says. "I always remember getting cinnamon-sugar doughnuts as a kid when we visited the shore; there's something nostalgic about them." After realizing that newly renovated Pine Avenue, with its up-and-coming shops and restaurants, was the perfect fit for their concept, the Wampoles opened Anna Maria Donuts on Dec. 4, 2012.
The lowdown. Visitors to the shop get a classic cake doughnut—"We have to make them quickly, so yeast doesn't work because of the proofing time," Shawn explains—that they can adorn with their choice of five icings and 15 toppings. Popular flavor combos include Key lime, vanilla with raspberry drizzle, chocolate coconut, Fruity Pebble, and—of course—maple bacon.
Team effort. Cecilia usually bakes the doughnuts and makes hot and iced coffee, while Shawn mans the icing station and topping bar. "When we opened, I thought I could do it by myself, but…no," Shawn says. "Although that's a good problem to have." And plans to expand are on the agenda. "We're always thinking of new ideas," Shawn says, "and we do want to have other shops in the area."
FACTOIDS
Social media sharing platforms like Instagram, where burgeoning foodies and food photographers often share their doughnut photos, have helped bring people in the door.
The Wampoles sell between 800 and 1,500 doughnuts per day, with most customers ordering at least a dozen at a time.
In addition to doughnuts, Anna Maria Donuts also features artwork by local painters, available for purchase.
For more Sarasota restaurant and dining news, click here.