Article
Foodologist: Deb Lynch of Jackalope Meadows
Deb Lynch of Jackalope Meadows runs a successful cottage industry thanks to her honey-sweetened homemade yogurt.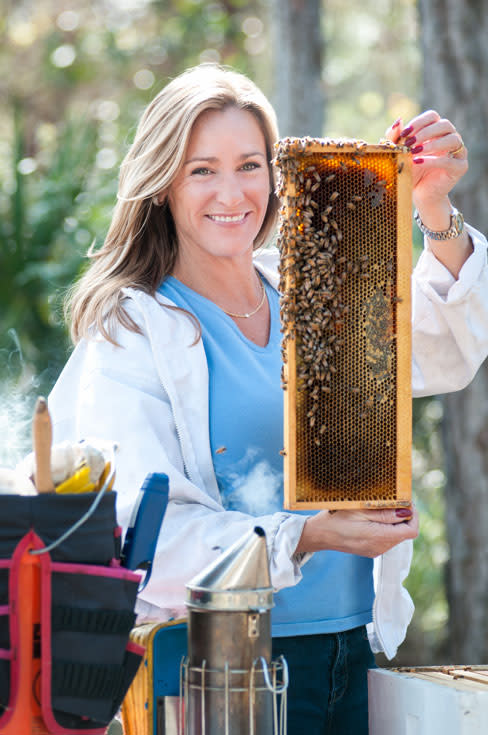 In just a few short years, Jackalope Meadows' Deb Lynch, above, has grown her yogurt-making hobby into a cottage industry. Her honey-sweetened whole-milk yogurt—which she began making as gifts for friends—has gained a cult following among locals, with Lynch—a former mental health counselor turned homesteader—taking orders on Facebook and then making deliveries at locations in downtown Sarasota and Lakewood Ranch. "I used to give the yogurt away," she says, "but then people started asking if they could buy it."
Yogurtology. Lynch's yogurt has a fluffy, almost frosting-like texture. "The yogurt becomes edible in 10 hours, but to get it to where I sell it to my customers, it takes 25 to 30 hours. The thick consistency and texture come from the setting-up process," she says. And you know it's good because, Lynch confides, "I don't even like yogurt, but I like this. It's sweet, light, cold—it just feels good."
Ingredients matter. Lynch uses milk from Sarasota's Dakin Dairy farm and honey produced by bees in her backyard apiary. "My kids do not do well with sugar, so we had to make different nutritional choices. That's really how all of this came about," she says. "My yogurt is good for you—there's a purity to it."
Yogurt culture. Although Lynch says she'd love to grow Jackalope Meadows, she "can't figure out how to make that happen without compromising the integrity of the products—and time and finances also play into the feasibility of a larger production. My first priority is to my family." So for now, she'll continue taking orders via Facebook and enjoying interacting with her customers, both new and old. "Every time I post a preorder request, I'm pleasantly surprised by the new clients that have somehow found a way to Jackalope Meadows," she says.
Factoids
Lynch says the locally produced food market is growing. "There are a lot more options to evaluate exactly what goes [into your] body and where [your] dollar is going," she says. "One of the coolest things about a small local business is getting to know the face behind the product."
Jackalope Meadows is a cottage industry, which means that the products are not officially approved for human consumption (but try telling that to Lynch's loyal customers).
Lynch also sells raw honey (plain, infused and creamed varieties) from her own apiary, salsa that she makes from vegetables in her garden, fresh eggs from her 20 chickens, and flavored lip balms and soaps.
For more Sarasota restaurant and dining news, click here. >>
This article appears in the March 2014 issue of Sarasota Magazine. Like what you read? Click here to subscribe. >>