Article
Foodologist: Mark Gabrick of Bricks BBQ
A new Farmer's Market vendor offers Texas-style, slow-smoked meat.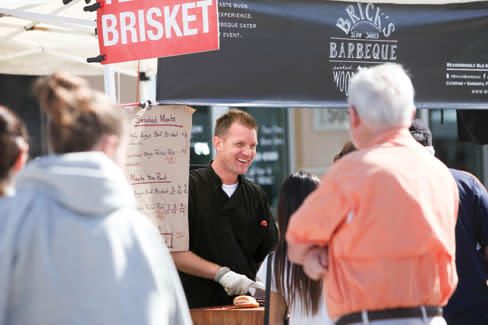 A new farmer's market vendor offers Texas-style, slow-smoked meat.
Young Love: Authentic, slow-cooked Texas-style barbecue is enticing downtown Sarasota farmer's market-goers to line up early for Brick's BBQ's tender brisket and other meats. Owner Mark Gabrick's love of 'cue began at a very young age. "I grew up in Kansas City and used to cook all the time with my dad and uncle, and we'd also drive around to old barbecue places," he says. "When I was a little older, we lived in Texas and did the same thing. So I've got two good barbecue states running through my blood."
Ad Man: Gabrick used to write TV commercials for ad agency Ogilvy & Mather, and at one point he was stationed in Europe. "There was no slow-smoked barbecue there," he says, "so I had a smoker shipped over and started cooking for my creative department." When Gabrick moved back to the U.S. in 2008, he decided instead of spending time "building up other companies—maybe I should do that for myself." He began in Tampa with a food truck called the Hogfather, then migrated south to Sarasota. "There's a feel to the town that I'm really attracted to. Our family is very interested in the arts, the beaches are phenomenal, and we're in love with downtown," he says.
To Market, To Market: Right now, the only way to get your hands on Brick's BBQ—aside from placing a catering order—is at the downtown Sarasota farmer's market, and you'd better get there early. "I'm typically working on about two hours of sleep, and an 18-hour day of cooking prior to my arrival," Gabrick says. He staggers cooking time so that the meat is ready at different times and offers a selection of brisket, pulled pork, ribs and beef sausages. "We keep the menu very focused," he says.
Factoids:
Get to the market early. "We're sold out between 11:15 and 11:30," Gabrick says. "Once I had people show up at 5:50 a.m.—I was like, 'Guys, this is a little early!'"
"We're making the simplest, real-deal form of Texas-style barbecue," Gabrick says. "We're cooking with wood and time."
A bricks-and-mortar shop is in the works, and Gabrick is actively looking for a spot. "We'll probably open in the fourth quarter of this year—maybe a little before busy season."
To read past Foodologist interviews, click here. >>
This article appears in the June 2014 issue of Sarasota Magazine. Like what you read? Click here to subscribe. >>