Article
Chef Judi Shares 15 Sarasota Summer Dining Favorites
Chef Judi shares her summer faves from 15 Sarasota restaurants.
Now that the inevitable is here--love bugs, humidity, less traffic, dinner specials and, thankfully, no signs of red tide--I refer to my summer list of faves; the sweet and savory treats that keep me happy throughout a Sarasota summer. Without further ado, here we go.
1. Far and away, Lotsa Lobsta wins Best Overall for a take-home New England Feast. For Mother's Day we chowed down on huge fresh steamers and 2 lb. lobsters. Trust me, it isn't the best price that matters, it is the quality--and Lotsa Lobsta is the most consistent and has best lobsters and steamers in town!
2. The meatball parm grinders at Piccolo's . Get two and an antipasto salad and head to Siesta for the sunset.
3. Whiteberry frozen yogurt. I have tried them all, and for truly tart frozen plain yogurt with strawberries and mango on top, I say this one is the best.
[caption id="attachment_26406" align="alignnone" width="488"]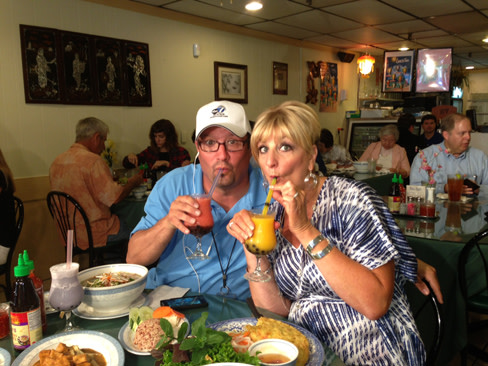 Mango bubble tea at Pho Cali.[/caption]
4. Speaking of mango, the mango bubble tea at Pho Cali is a must. Switch your order to fresh shrimp spring rolls and cold rice noodle bowls now instead of the steaming bowls of soup, and slurp up this frozen yummy (which has tapioca pearls at the bottom).
5. Fleming's Prime Steakhouse & Wine Bar's $6 beef carpaccio at the bar. From 4-7 p.m. nightly, this is luscious both in terms of the quality of the meat and the minced basil and crostini that accompany it.
6. The Arizona roll and a spring salad with avocado at JPan's new location in Lakewood Ranch--cooling and light. (Plus, a little sip of a sake martini  will chill the palate, too.)
7. Any giant salad at Monterey Grill. My buddy Tony from the Team Tony Foundation has a stamp on those babies, especially the fruit salad.
[caption id="attachment_26407" align="alignnone" width="488"]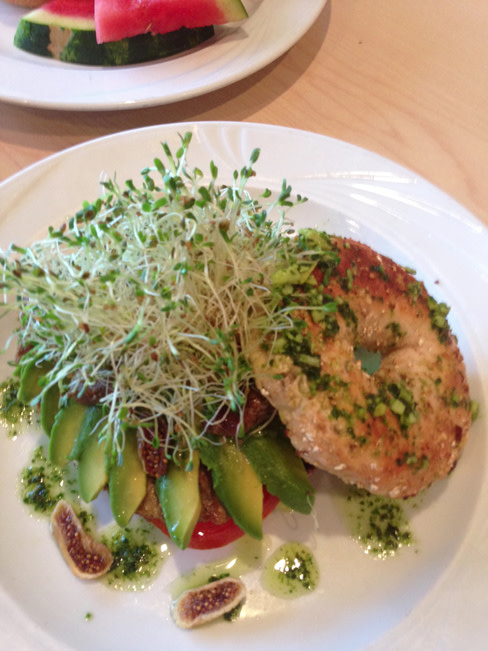 Sun Garden's bikini bagel.[/caption]
8.The bikini bagel at Sun Garden Cafe--forget that style for my bathing suit, but the theme--a whole wheat bagel with sprouts, portabello mushrooms, avocado and figs--sings to me.
[caption id="attachment_26408" align="alignnone" width="488"]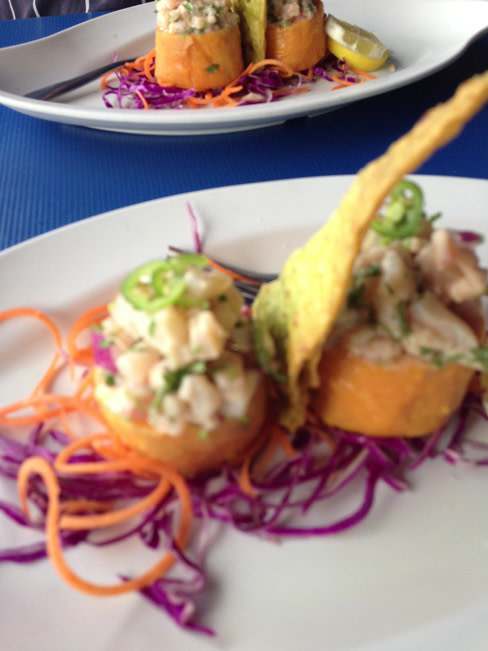 Ceviche cones at Phillippi Creek Oyster Bar.[/caption]
9. Ceviche cones and spoons at Phillippi Creek Oyster Bar--and a dozen chilled oysters, of course
[caption id="attachment_26409" align="alignnone" width="488"]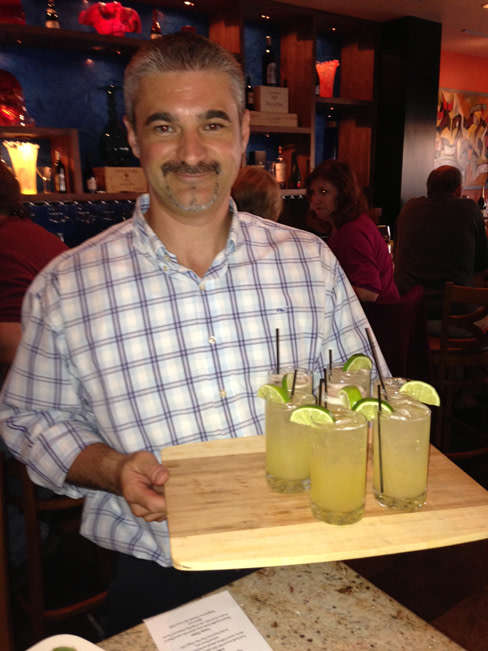 Spring drinks at Carmel Cafe.[/caption]
10. The spring tea at Carmel Café. Sip it alongside a small plate of hummus. A perfect beat-the-heat combo.
11. Owen's Fish Camp's fish spread. No other compares here--they win hands down. And make sure to order a root beer float for dessert--ahhhhhhhh.
[caption id="attachment_26410" align="alignnone" width="488"]
Fish spread at Owen's Fish Camp.[/caption]
12. A cold meatloaf sandwich at Star Keeper Cafe, with a side of fresh broccoli slaw. Any grandma would be proud.
13. The new bucket of fried chicken at Fresh Market--a hint of spice and you are there. The Colonel has nothing on this. Pick up a pint of Graeter's ice cream for dessert--some of the best in the land!
14. The quintessential summer treat: A Key lime pie from Floribbean Flo's. She's got the touch--and now that your visitors are gone, you can pig out on a whole one and not have to share!
15. Flavio's luscious house-made burrata cheese with speck and tomatoes--and, of course, a glass of limóncello with dessert.
[caption id="attachment_26411" align="alignnone" width="488"]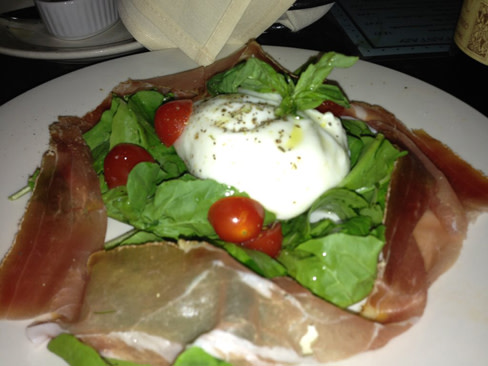 Housemade burrata from Flavio's.[/caption]
I could continue forever, but maybe I'll just let you get started on this list--and you let me know when you need some more tips!
Full disclosure: I'm a restaurant and hospitality-industry consultant and some dining picks do come from my clients; however, all opinions are my own.
Click here to read our readers' and editors' picks for best food and drink in the Best of Sarasota 2013.