Article
RECIPE: Vegan Pumpkin Ice Cream
Heather Dunhill shares a vegan, paleo-diet-friendly recipe for pumpkin ice cream.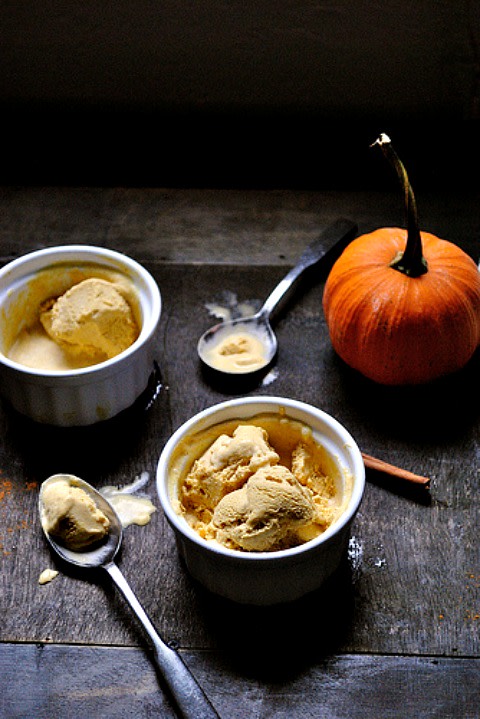 This is my favorite, favorite time of year -- I just love all the holiday scents of cinnamon and spices. And I'm crazy for anything pumpkin flavored, including ice cream.  So this year I set out to find a healthy version.  OK, OK, it's not raw, but we discussed that early on...I'm basically raw-ish.  However, if you're a paleo fan (like Chef Judi), this qualifies!
Here's what you'll need:
1 can coconut milk, light
1 can coconut milk, regular
2 cinnamon sticks
1 1/2 teaspoons whole allspice
1/2 teaspoon whole cloves
1/2 teaspoon grated nutmeg (I always add more nutmeg than this, sometimes up to a full teaspoon!)
1/2 cup grade B maple syrup
1 cup canned pumpkin
1 teaspoon bourbon vanilla extract
Here's what you do:
In a saucepan, over medium heat, whisk together the coconut milk, spices and maple syrup. When it comes to a low boil immediately reduce heat to a simmer. Allow to simmer for 10 minutes with an occasional stir. Remove from heat.
Strain the mixture over a medium bowl, removing the spices, and slowly stir in pumpkin. Then cover with plastic wrap, pressing it directly onto the liquid. This is to avoid condensation, which will give your ice cream an "icy" texture. Refrigerate for a minimum of 2 hours.
Remove from fridge and add the vanilla extract. (The alcohol in the extract gives the ice cream its creaminess and makes scooping easier after freezing.)
Pour mixture into your ice cream maker, following the manufacturer's instructions. It's finished when the ice cream becomes a soft-serve-like consistency. Turn the ice cream into an air tight container. Place another sheet of plastic wrap over the ice cream, just as you did above, to avoid freezer burn. Freeze until firm, about 2 hours.
To serve, leave at room temperature for 15 minutes.
Read Heather's Fashion IQ in our November issue here. >>