Eat This Now
Exactly Where to Eat in Sarasota Depending on Your Mood
Whether you're in the mood for Old Florida funky or seafood supreme, we'll tell you exactly where to eat in Sarasota.
"I want Old Florida casual—but with good food."
Who doesn't want a place where you can wear flip-flops, see squadrons of pelicans flying above sparkling blue water and order something simple, local and fresh? The Seafood Shack, a big, lively bar, grill and marina, is right on the Intracoastal Waterway at Marker 49 in the historic little fishing village of Cortez. It's been serving uncomplicated seafood dishes for 44 years to tourists and loyal locals. New owners have just completed a huge renovation, a lot of it behind the scenes, that's made it even better, right down to the funky mermaid art and fish nets in the dining room.
The extensive menu includes a grouper Reuben sandwich (market price), onion-crusted salmon ($19), beer-battered cod fish 'n' chips ($16), oysters offered several ways, classic burger ($9), shrimp and grits ($18), salads and all sorts of sides, from collards to pineapple coleslaw. And if you've been out fishing with one of their four preferred charter fishing companies and you reel in the big one, they'll even grill it up for you on the spot. (You've got to clean and fillet your catch first.) Breakfast, lunch and dinner—and, yes, you can come by boat. 
PLUS
Mar Vista Dockside Eat inside the 1912 cottage or on the shady wooden deck with bay views. The menu features simple, fresh fish (including a great black grouper sandwich) and more. 
Owen's Fish Camp Dine inside a vintage downtown cottage or on the porch. Favorites on the Southern-style menu include excellent seafood, fried green tomato salad with buttermilk dressing and fried berry pies. 
Star Fish Company Casual (really casual) outdoor seating at picnic tables on a dock. Everything is fresh, no-frills. Dig in and celebrate the sublime taste of local seafood prepared on the spot. Cash only.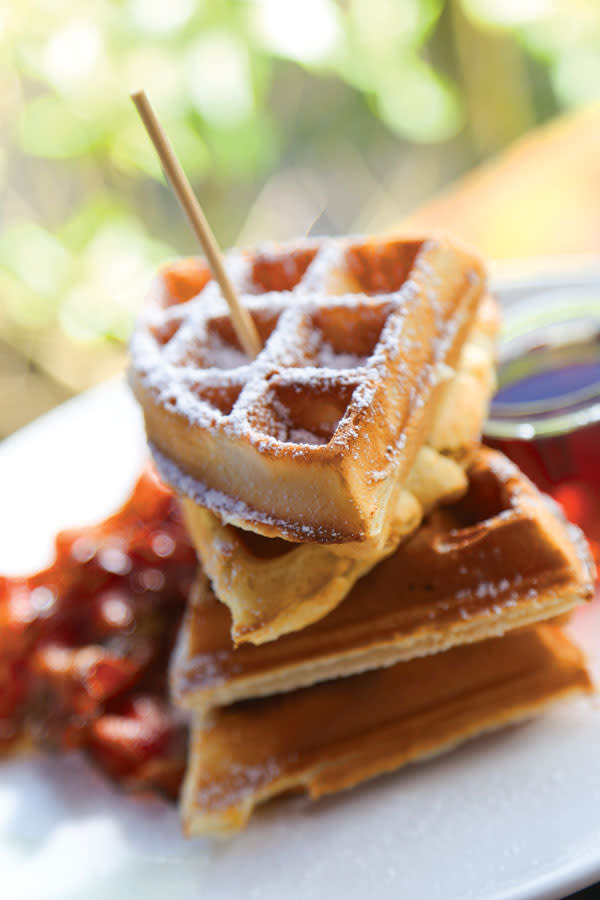 "I want to start my day feeling like I'm in paradise."
Breakfast dishes may be pretty much the same in any city, but you'll know you're in semi-tropical, seaside Sarasota if you start your day at the Sun Garden Café. Tucked away on a quiet street in Siesta Key Village, the café has both an air-conditioned dining room and shady tables under umbrellas on the flowery patio (and it's pet-friendly, too). The food lives up to the setting, and includes eggs Benedict prepared five ways ($10.95-$14.95), buttermilk pancakes, French toast, omelets ($9.95-$10.95), oatmeal with raisins ($7.95), sticky buns, a fried egg sandwich, waffles, biscuits and gravy, and breakfast burrito. For lunch, regulars swear by the teriyaki-glazed salmon salad ($15.95). This is scratch cooking at its informal best, with family-friendly service and prices.
The crowd is a mix of tourists and faithful locals who have their favorite tables and eat here all year long. If you eat too much (it happens), you can walk a block to the beach or shop the village for vacation supplies. 
PLUS
Breakfast House In a cozy cottage surrounded by gardens, you'll enjoy expertly prepared eggs Benedict, omelets (including a pesto goat cheese one), shrimp and grits and more. 
Station 400 This repurposed 1852 railroad station offers six varieties of pancakes, smoked salmon scramble on toast, eggs Benedict with truffles, Spanish omelet, hash, muffins and more. Breakfast and lunch. 
Simon's Coffee House The healthy, delicious menu has innovative vegetarian dishes and lots of home-baked breads and goodies. A chalkboard lists daily specials.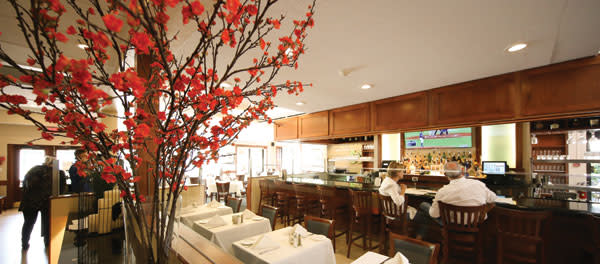 "I want sensational seafood in a stylish setting."
If you come to a beach resort, chances are you're going to want seafood. And though many visitors relish grabbing a grouper sandwich and a beer at a shacky little place on the water, at least once during their vacation they're going to want something more sophisticated. If that's the mood you're in, head to fashionable St. Armands Circle and take a seat at Crab & Fin. (Choose between the shaded patio, where you can watch the international crowd stroll by, and the chic dining rooms inside.) Seafood is the restaurant's specialty, although you can also order excellent beef, lamb and house-made pastas, breads and desserts. The menu is printed daily to take advantage of the latest catch, both right off the local docks and flown in from around the world.
Flights of oysters from points across the nation and several varieties of caviar are offered as well as a rich and spicy seafood gumbo for starters. Then there's domestic black grouper ($32), Florida stone crab claws, surf & turf platters (market price), shrimp gazpacho, shrimp Caesar salad ($15.50) and a wonderful Mediterranean fish soup called Charley's Chowder ($7) that's been on the menu since the restaurant opened in 1978.
PLUS
Marina Jack Enjoy cityside water views from the downstairs patio (raw bar, fish tacos, fries, burgers and beer) or upstairs formal dining room serving elegant, traditional dishes. 
Fins at Sharky's on the Pier Great Gulf views and seafood, with an extensive menu that ranges from cork-braised Gulf octopus to sushi, iron-seared red snapper, jerk-rubbed cobia and more. Lunch and dinner. 
Indigenous Chef/owner Steve Phelps' passion for locally sourced seafood has won him legions of fans. Dine inside the downtown cottage or on the porch; the menu changes often, but whatever you order will be thoughtful, artful and delicious.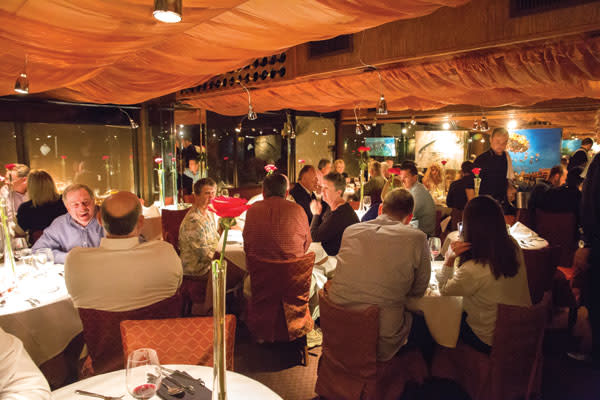 "We're in the mood for something romantic."
It's easy to fall in love if you're gazing at each other—or at the indulgent offerings on your plate—inside the intimate little Beach Bistro, which is smack on the white-sand beach of Anna Maria Island. White tablecloths, a rose in a vase on your table and a romantic sunset view set the scene for a menu that celebrates coastal cuisine at the highest level. The restaurant is one of the most-awarded in the region, and every meal here feels like a special occasion.
A favorite is the Bistro bouillabaisse, with an aromatic rich broth swimming with lobster, an assortment of shellfish, local fish and calamari, served with herb-garlic toast and aioli. When you decide to spend $66 on a big bowl of soup, let this be the one. Another house specialty, Food Heaven ($95), combines Colorado lamb, butter-poached lobster and foie gras atop savory brioche bread pudding. It's served with port demi-glace on the side. This presentation wowed New York at a James Beard Foundation dinner, one of two the restaurant has been invited to prepare. 
PLUS
Ophelia's on the Bay The setting on the Intracoastal is enchanting, the menu elegant, from scallops with veal chorizo and sweet corn succotash to duck breast with berry coulis. Dinner and Sunday brunch. 
Euphemia Haye Relaxed sophistication pervades this intimate chef-owned local landmark. The upstairs Haye Loft offers bar food and pizzas and a separate room for superb desserts. 
Maison Blanche Elegant cuisine from a chef-owner who previously owned a Michelin-star restaurant in Paris. Rekindle your love affair—or start a new one—while lingering over impeccable French classics.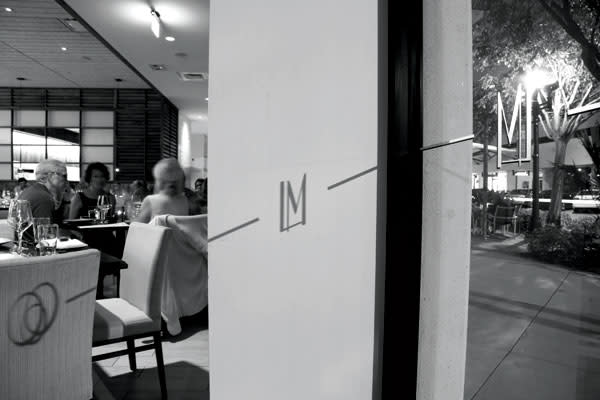 "We're looking for a hip urban hotspot."
Even beach fanatics sometimes want a jolt of urban energy, and there's no better place to get the flavor of Sarasota's increasingly dynamic downtown than at Louies Modern. It sports a sophisticated city vibe with a relaxed adult attitude. The restaurant looks so cosmopolitan and appealing that you'd never guess it's the ground floor of a parking garage; through the big glass windows you can see that the people inside are having such a good time that you want to go in. So do.
The dining room is contemporary, on the minimalist side with soothing colors and impressive art. There are outstanding craft and traditional cocktails (Louie's Temptation, for example, features Bombay Sapphire gin, ginger syrup, sage, pineapple soda and chocolate bitters, $11) and an extensive wine list. Delve into ingenious recipes and indulge in dishes like caramelized pork chateaubriand, pomegranate lamb chops ($30), skillet crab cake with wheatberry slaw, brisket burger with Rosemary asiago fries, or rice-cracker crusted bluefin tuna ($27). Nice sides, too, such as white cheddar grits, saffron couscous, and truffle potato purée (all sides are $6). There's always something innovative on the menu for foodies. 
PLUS
Social Young, noisy and fun, with sleek architecture worth admiring as you sip a craft cocktail and sample nibbles such as meatballs several different ways, pretzel-dusted calamari, a cured meats and cheese platter and wood-fired pizzas. 
Libby's Cafe + Bar Enjoy sidewalk or indoor dining at this comfortable, contemporary cafe in bustling Southside Village. Creative menu and a recently reimagined bar that draws a crowd.  
Hyde Park Prime Steak House This sophisticated downtown eatery has a gorgeous bar and excellent food served in the atmosphere of a gentleman's private club. Steaks include Australian Wagu beef from Greg Norman's ranch.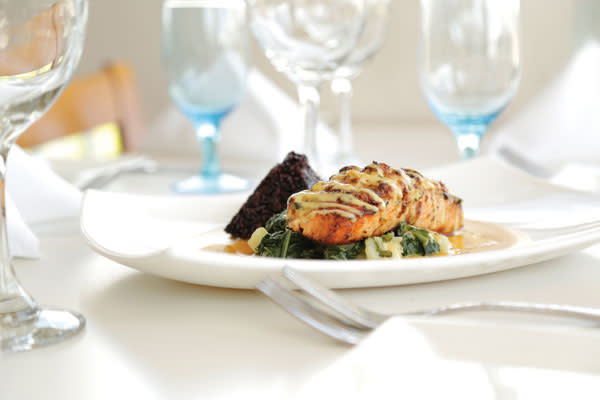 "We finally bought a vacation home, and we want to celebrate in style!"
People invent all kinds of reasons (including craving exciting food) to celebrate at The Table Creekside—either inside the sleek, modern, boisterous dining room or out on the quieter deck, which overlooks pretty Philippi Creek. Toast your new second home—or whatever you're celebrating—with one of the restaurant's craft cocktails. They're crazy-sublime (try the Bojito, made with house-infused cucumber vodka, cucumber juice and basil; or the sexy Pillow Talk, with house-infused apple cinnamon vodka, vanilla essence and apple cider).
The menu is an ever-changing eclectic mix-up of global recipes made with local ingredients. The offerings change with the seasons, but some new and old favorites include Napa grilled octopus, short rib tortelloni, Colorado beef pho with Wagyu broth and vegetables ($28.95), roasted suckling pig ($29.95) and crab-crusted Pacific wild salmon ($28.95). Everything from the sculptural white plateware to what's on those plates is exceptional and will leave you talking about your last meal until you experience the next one. The Table Creekside represents what's new in the best kind of way. 
PLUS
Jack Dusty Jack Dusty offers a festive atmosphere, gorgeous raw seafood bar, beautifully presented meals and plenty of signature cocktails plus a big wine list. You're at The Ritz-Carlton, after all. Breakfast, lunch and dinner. 
Michael's On East This classy, comfortable city restaurant and lounge offers contemporary American cuisine with a global influence that reflects the co-owner's passion for travel. The menu changes seasonally. Lunch and dinner.
Bijou Cafe An upscale city restaurant with white tablecloths, attentive servers who remember regulars, a lovely wine list and conversation-inducing, intimate dining rooms. French and South African menu influences. Lunch and dinner.