Article
Spirits of Sarasota: Hyde Park's Blackberry Cider
This week: The Blackberry Cider at Hyde Park Prime Steakhouse in downtown Sarasota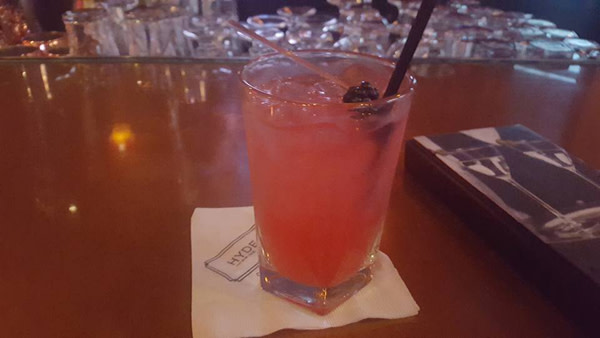 This week: The Blackberry Cider at Hyde Park Prime Steakhouse in downtown Sarasota
The drink: Prairie Organic Vodka, fresh lemon and blackberry, hard cider—like a vodka tonic taken to the next level. In addition to its baseline sweetness, the hard cider adds a hint of astringency that plays off the tart lemon the same way the quinine in a tonic might. The blackberry gives it a sense of fall, but the drink in whole is light enough to be refreshing as we in Southwest Florida still wait for fall to arrive.
The bar: Centered by a big, asymmetrical, curvy bar, Hyde Park's lounge area has a dimly lit energy that, despite the restaurant's sophistication, encourages you to let your guard down. The overall feel of the place, right down to the bartenders in black vests with white shirts, still imbues even an everyday post-work happy hour with a sense of special occasion.
The food: Considered one of the top happy hours in town—and with good reason—Hyde Park's lounge menu offers some really excellent appetizer-type selections for just $5 apiece (until 6:30 on weekdays). Try the super-juicy sliders with fries or an order of the calamari with sweet-hot Thai chili sauce.
Other notable potables: Broken down into $5, $6 and $7 selections, the specialty cocktail menu has the usual twists on classic drinks (a margarita with pomegranate, for instance, or a Tennessee Lemonade made with Jack Daniels Honey)—simple, but with exceptional ingredients. One current standout, the Black Sapphire, combines Bombay Sapphire Gin with ginger beer, with herbal, aromatic success.