Article
CROPjuice's Karen Odierna on the Reasons to Juice
Karen Odierna's CROPJuice is a haven for juice lovers.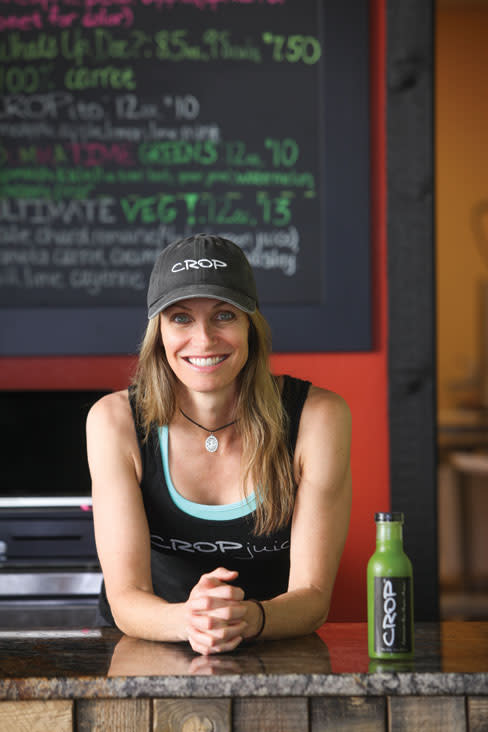 Why should we juice? Karen Odierna, a former oncology nurse, longtime fitness instructor and owner of Gulf Gate's new CROPJuice, says, "Juicing is a great way to get a concentrated amount of fruit and vegetables, and the juice gets into your bloodstream in just 10 to 15 minutes." Fruit and vegetable juices also retain most of the phytonutrients, vitamins and minerals that are found in the whole versions of the foods, making them an easy—and portable—way to get those daily recommended servings into your system when you don't have time to actually eat.
What's the advantage of cold-pressed juices? "The juicers people have at home are typically centrifugal," Odierna says. "Heat and air are driven into the spinning, and you drink the juice right away. It also starts to break down a lot faster." Cold-press juicing is a two-step process: "You masticate all of the fruits and veggies, and then they are pressed in cloth and the juices are very gently extracted," she explains. The finished product stays nutritionally intact for three to five days because of that gentle juicing process. "It's way more time consuming," she says, "but it's the best-tasting juice ever, and it's packed with nutrients."
Local love. Odierna creates each juice recipe herself—"I strive to put great flavors together"—and generally 10 to 12 CROPJuice juices are in rotation on any given day, all made from 100 percent organic fruits and vegetables and packaged in a glass container.  "We use local farmers as much as we can, like Jessica's Stand and Aloe Organics, and we have Yellow Submarine, a weekly organic co-op, at our store on Wednesdays," she says.
FACTOIDS
CROPJuice products have a high concentration of leafy greens (you'll find a minimum of 3 oz. of leafy greens—or six cups—in all of CROPJuice's green juices).
Though juice cleanses are popular right now, Odierna recommends that people drink juice as a supplement to their diets, not a meal replacement. "Start slow, do one or two juices a week and then increase as you see necessary for your budget and body," she advises.
Can't make it to Gulf Gate? You can pick up your CROPJuice at Mantra Fitness on Tuesdays and Fridays from 9-11 a.m., and at press time Odierna was working on a similar partnership with Pure Barre Sarasota. You can also order online and have your juices delivered.
Hot sellers are Ginger Snap (a blend of chard, kale, romaine, orange, green apple, lemon and ginger) and Green With Envy (kale, romaine, spinach, celery, green apple, cucumber and lemon).
Click here to read past Foodologist interviews. >>
This article appears in the July 2014 issue of Sarasota Magazine. Like what you read? Click here to subscribe. >>