Article
Inside Chef Derek Barnes' New Bradenton Restaurant
Restaurateur Derek Barnes is rethinking what diners want with his new Bradenton Derek's.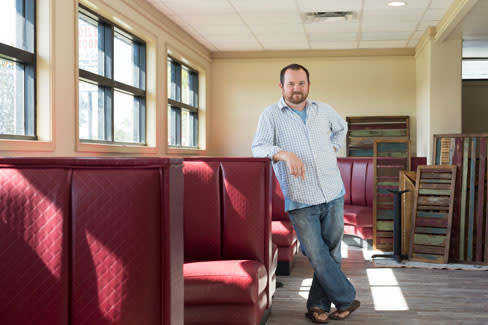 The space is still largely empty, but hints of what's to come are scattered about.
A barn door designed by Sarasota woodworker Shawn O'Malley is hung on a strip of matte-finished metal that runs above an opening in the rear, while color-strewn, beaten-looking wooden panels—also created by O'Malley—lean in another corner. A waist-high wall divides the main room into two, and a stack of paint color samples on the faux-wood tile floor is spread out into a rainbow spiral. Ladders, coiled wires and boxes of ceiling panels occupy the middle of the room, while workers wearing dusty jeans and T-shirts squeeze caulk around the base of a toilet in the rear.
It's hard to imagine this place used to be an Arby's, and it's just as hard to imagine what it will finally look like in its next incarnation: Derek's, the new, long-in-the-works Bradenton home for chef Derek Barnes, which opened in January.
The concept for the spot is simple. "I want people to come in and just be happy to be here," says Barnes, 41. That means serving more affordable food than Barnes did at the former Derek's restaurant, during his seven-plus years in Sarasota's Rosemary District, and making the new space more fun and approachable.
For a chef with as many fans and national accolades as Barnes, that might sound easy. No way. The condition of the Arby's when he took over the space was "horrible," and revamping it has required a thousand decisions, covering everything from how the kitchen should be set up to what to do with the old "Drive Thru" signs out front along Manatee Avenue.
When Barnes opened the first Derek's, he focused primarily on producing the best food possible, he says. Make great dishes, and they will come. But he knows that to make it in the restaurant industry these days requires more than delicious cuisine. It's also about offering good value, leaving customers satisfied—above all, he says: "Giving people what they want."
While the old Derek's highlighted exotic ingredients and techniques to the point that Barnes actually printed a glossary on the back of his menu, the food at the new location is dedicated to a "rustic coastal" theme with Southern and New Orleans touches, he says. It's a formula that connects Barnes with his past.
Barnes spent four years working with Emeril Lagasse in New Orleans before he landed in Southwest Florida, as chef de cuisine at Anna Maria Island's Beach Bistro. He struck out on his own in Sarasota in 2006, and success quickly followed. Barnes picked up a slew of culinary awards and nominations, including from the James Beard Foundation, Florida Trend and Zagat. Gourmets loved his daring menu, which included unusual foods such as veal sweetbreads, bone marrow and foie gras. His cilantro- and lime-braised lamb shank alone was worth repeated visits. And unlike many chefs, he didn't get lazy when it came to dessert. His poached pear, paired with goat cheese ice cream and topped with black pepper caramel, was a grand finale.
Barnes says the restaurant was successful, but he wanted to broaden his reach. Regulars were coming for birthdays and anniversaries; he wanted a place people could come to every week. He says he's designing the new space to be "approachable," "fun," "high-energy," "kid-friendly." He's even setting aside a private back room—complete with a hidden pull-down screen and projector—for lunchtime sales meetings or football games.
When Barnes announced he was closing his Sarasota location last March, initial press reports largely focused on the dwindling number of businesses and paltry foot traffic in the Rosemary District, a perspective that frustrated Barnes. He insists the neighborhood's struggles are not the reason for his move, and in interviews now, he's reticent, wary of being misconstrued. He says he picked the new location, which he knew he wanted before he went public with the Sarasota closure, because it is "highly visible" and close to his new target demographic. Just 20 or so blocks from the bridge out to Anna Maria, the location is convenient for islanders and tourists. Barnes says some of his old regulars from Longboat Key might actually have a shorter drive.
Built in 1978, the structure served as an Arthur Treacher's before it was an Arby's. True to Barnes' claim about it being visible, a never-ending stream of cars zooms by the front of the restaurant, which sits between a Goodwill and the Boiler Room Bar & Grill, with a sign promising "famous steak sandwiches." Barnes says that's no joke. He thinks they are the best sandwiches in Bradenton.
Barnes lives with his wife, Beth, his 11-year-old son, Jack, and his 5-year-old daughter, Reshma, adopted from Nepal, in northwest Bradenton, not far from the new restaurant, although he says that had nothing to do with picking the location. He calls the neighborhood a gem: "We love it here."
The original plan for the property was to put in a 169-seat restaurant, a vision that had to be scaled back because of the expense and because Manatee County said there wasn't enough onsite parking. "It wasn't a big deal," Barnes says. "It was nobody's fault. It was just their requirement." (Barnes says he's not "comfortable" discussing how much has been invested in the project.)
Originally slated to open in late summer, the new Derek's actually opened in early January 2014.
Despite the delays, Barnes says the company he hired to remodel the space, Ellenton's Carlsen Contracting Company, stayed on track and on time throughout. The final seating total is 100. Almost the entire exterior is fresh. Even the parking lot had to be redone. The old letter board sign out front had to be replaced, and the two "Drive Thru" signs were swapped out: One will read "Enter Hungry," the other "Exit Happy."
Inside, the Arby's space had to be "completely gutted," Barnes says. A massive triangular ventilation system hangs over what used to be the fast-food prep area, a system Barnes has chosen to keep. "I'm using everything, trying to retrofit everything that I have from the old place," he says.
Prices for Barnes' new dinner entrées run from the mid-teens to the low-$20s; at the Sarasota location, they were typically between the mid-$20s and low-$30s. He promises the food will stay "fun" and "playful." That means, for example, matching Gulf of Mexico shrimp with cheddar grits, a double-cut pork chop with mole and Southern-fried tofu with waffles.
In addition to the barn doors, O'Malley crafted wood tables for the space, and Barnes did away with tablecloths, which alone can cost a restaurant 50 cents per diner. At the old Derek's, customers were presented with Schott Zwiesel stemware and Hepp flatware that was 5 percent nickel. "We'll have fun stuff," he says, "but I'm going about this completely differently."
His approach with his new Bradenton spot aligns well with the times.
Americans are flocking to restaurants in ever greater numbers. In 1955, 25 percent of an American family's annual food budget was spent in restaurants; in 1985, 41 percent; today, 47 percent. On a typical day, 130 million Americans eat at least one meal in a restaurant, says National Restaurant Association spokesperson Christin Fernandez, and total industry sales were expected to hit $660 million in 2013.
But that growth hasn't been even across the board; in recent years the numbers at so-called "quick service restaurants" have rapidly outpaced those at "full service" establishments. Quick service sales increased 6 percent between 2011 and 2012, and 5 percent between 2012 and 2013, while full service sales grew by just 3 percent in both intervals.
What happened? 2008 happened, says Sean Murphy, who founded the Beach Bistro, a fine dining landmark on Anna Maria, almost three decades ago. During those decades, Americans became more adventurous—and extravagant—in their dining, but the Great Recession forced a rethink. Americans didn't stop eating out—the industry actually grew between 2009 and 2010—but they did become acutely price-conscious.
"We had champagne tastes, but a beer budget," Murphy says. In 2010, fallout from the crash led him to launch the first of his three Eat Here restaurants; the restaurant, on Anna Maria, eschewed pricey formalities like tablecloths and passed out silverware purchased at Goodwill and dishrags doubling as napkins. Murphy angered a handful of Beach Bistro regulars, who were outraged at the lack of menu covers, but a new generation of eaters started showing up. Young diners who have grown up watching Anthony Bourdain eat Namibian warthog anus don't demand fresh flowers on the table.
Instead, says Murphy, "They were there for a good time, without pretension—as long as the food was good."
Even corporate chains are getting into the act, says Florida Restaurant & Lodging Association president and CEO Carol Dover. The Ruth's Chris Steak House in Destin, for example, is loosening up its formal image by offering beachside seating and chilled-out live music. The strategy makes perfect sense for Florida restaurants, so dependent on revenue from tourists, Dover says: "The likelihood that they packed a coat or a suit on vacation to the beach is pretty slim."
Customers may be price-conscious, but their demands are also more exacting than ever, and chefs have invested heavily in recent years in giving staid classics a fresh twist. Hence the fried chicken dusted with herbs at Sarasota's Made restaurant, or Soma Diner's "truck stop deluxe" flat iron steak, or Louies Modern's smoked trout deviled eggs. Restaurants are also applying refined techniques to less expensive proteins, like Eat Here's killer $16 pot roast.
Restaurants are also pressured to present beer lists as adventurous as their wine lists, and cocktails that have undergone the same rigorous testing as any menu item. Coffees, teas, even sodas—Louies serves Mexican Coke, for example—must be carefully considered. Every part of a menu must offer novelty.
But getting the food and drink exactly right is only half the battle. Diners expect creativity in every detail: hence the paper placemats that double as menus at Owen's Fish Camp, the reuse of old wine bottles to serve water at Eat Here, those pre-weathered barn doors at Derek's.
"There are so many moving parts to a restaurant, it's crazy," Barnes says.
Standing out front, with traffic whizzing by and builders hard at work on a new Dunkin' Donuts right across the street, Barnes looks back at his new home. He seems simultaneously exhausted and eager—to just cook food and serve it.
"I want to give people what they want," he says, "within reason."
For more Sarasota restaurant and dining news, click here. >>
This article appears in the February 2014 issue of Sarasota Magazine. Like what you read? Click here to subscribe. >>