Article
The Eat Beat: The Five Best Things We Ate This Week - 8/13/15
Our panel of experts share their top five picks on the local dining scene this week.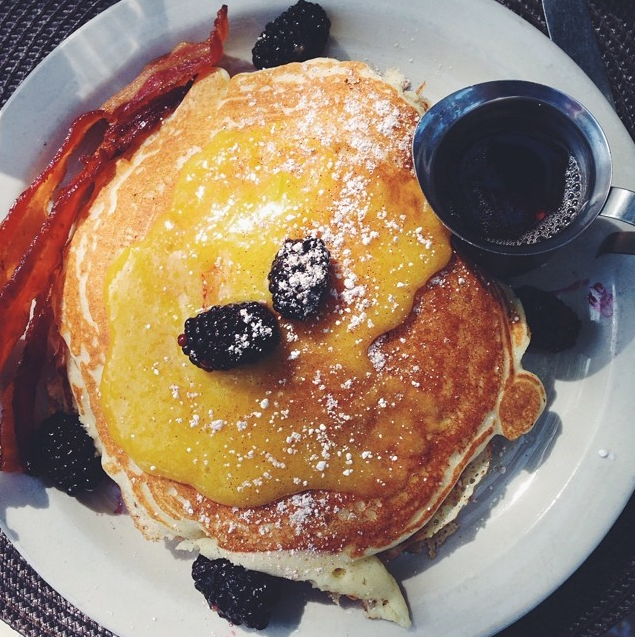 The ricotta pancakes with blackberries and lemon curd ($9.50, pictured above) at perennial fave Station 400 are exactly what you want pancakes to be: light and fluffy, with a great tang from the lemon curd that's perfectly complemented by the blackberries. It all comes with a side of warm vanilla bean maple syrup (although we find the lemon curd does the job just fine on its own); for true breakfast bliss, add a side of crispy bacon and a cup of good coffee to your order.
We went crazy for the crispy shrimp appetizer ($10.50) at Baker & Wife on Siesta Drive. Warm, wild pink shrimp are tossed in Sriracha-yuzu mayo and served with shiitake mushrooms over mesclun greens. The flavors are spot-on, and don't worry—Baker & Wife doesn't skimp on the shrimp.
Simon's Coffee House is one of our favorite destinations for healthy food and creatively prepared vegan and vegetarian dishes, but it's also a sweet spot for the best and most unusual scones in town. We love the whole-wheat walnut scone served with whipped cream and a garnish of fruit, with marmalade and a pot of English Breakfast tea. The scone has the heft of a hockey puck and is highly textural, filling and typically British. And for just under $6 for the pastry and the tea, it's a good investment, too.
MADE, the winner of our Sarasota's Best Fried Chicken contest, also has some serious side-dishes game. Take the brown butter and billionaire bacon Brussels sprouts. For starters, these are not your typical golf ball-size sprouts; they're delightfully petite, the size of pearl onions, and there's a natural sweetness that's enhanced by the "billionaire" (as in, brown sugar) bacon. The butter just brings it all together, for a seriously indulgent way to eat your vegetables.
The 16-ounce, bone-in filet at The Capital Grille ($60) is seriously steak nirvana (especially with a side of Capital Grille's famous lobster mac and cheese). And if you are a wine lover, order the special Generous Pour summer offering for $28 per person—you'll get two-ounce pours of eight great wines to complement your steak.