Article
The Best Happy Hours in Sarasota
Great food, drink and prices make the early hours at some top restaurants the best. John Bancroft sips, tastes—and tells.
By John Bancroft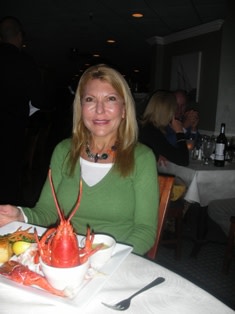 The old concept of Happy Hour could be summed up in two words: cheap booze. But some top restaurateurs have been reinventing Happy Hour, and their shiny new model puts as much if not more emphasis on food as on adult beverages. As often happens, Sarasota is on the leading edge of this welcome trend.
The old Happy Hour, which may have originated as a pre-dinner ritual in the speakeasies of Prohibition, was a one-trick pony: half-price doubles, two-fers, $1 shots and the like. Popcorn or hot dogs or pickled eggs might or might not be part of the deal. That version of the institution was enough to get it banned in Utah, Massachusetts and Pennsylvania.
The new trend sweeping the nation's top chef-driven dining venues offers much more. The main attractions are potent potables, attractively priced and specifically chosen to accompany appetizers and small plates that shine a spotlight on the kitchen's specialties, also at bargain prices. It's important, too, that the bar offer an atmosphere geared to relaxed noshing and sipping in the company of friends old or new. That encompasses everything from an upbeat but unobtrusive soundtrack to the way the place looks and the comfort factor of the seating. We sipped, tasted and assessed the ambiance at a number of area restaurants that offer Happy Hour food and drink specialties. Some feature smaller-sized portions from their regular menus, while others have created brand-new offerings for the after-work and before-the-dinner-rush crowd. Here's a look at some of the places we liked the most.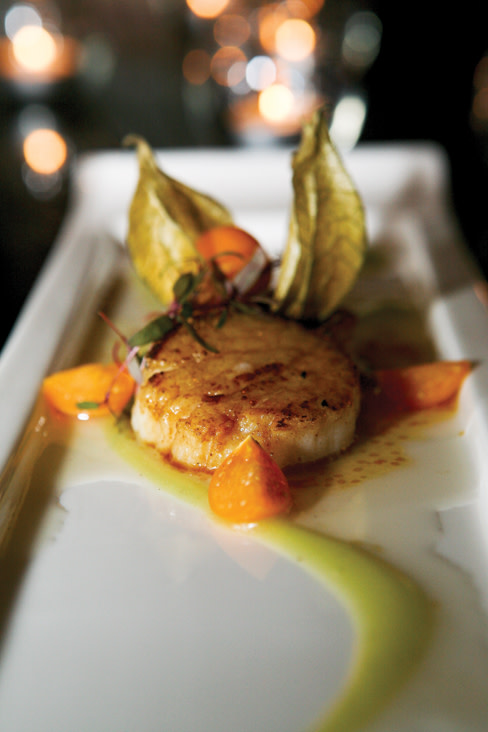 At Michael's On East, the bar is the centerpiece of an interior design scheme that invokes luxury ocean liners of a bygone era. The surrounding lounge is spacious, with tables high and low, and more seating around a grand piano. The bar is the best perch, though, both for the opportunity to strike up new acquaintances and for the bowls of premium mixed nuts placed at strategic intervals, a nice retro bit of lagniappe.
The drinks list at Michael's is the splashiest of the five Happy Hours we profile here, comprehending a very fine list of vintage cocktails, like the Sidecar (Remy VSOP, Cointreau and lemon juice shaken with ice and served up) and the Vesper (Bluecoat Gin, Russian Standard vodka, Lillet and lemon peel, shaken not stirred), as well as Michael's private label wines (we especially like the malbec), domestic beers and well drinks, all for $5 each.
The food side of the deal is no less sumptuous, with five "lounge bites" also priced at $5 each. If there is a signature Happy Hour munchie in the new regime it has to be the slider, that delicious little baby burger that goes down easy in two or three bites. Rosas beef sliders here are among the best our town has to offer, not only delicious in and of themselves (they come in pairs) but also garnished with fabulous angel hair onion rings. Yum! For a fantastic twist on good old fried calamari, try Michael's version, garnished generously with thin slices of prosciutto and manchego. And you can't go wrong with the crispy Asian duck and hoisin spring roll on a sweet chile sauce with pickled ginger aioli.
Not surprisingly, this Happy Hour is well attended just about every evening by couples, groups of friends and singles.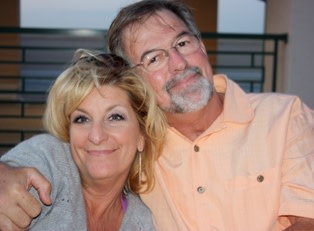 The mirror-spangled main bar at The Table Creekside and a portion of the lounge affording views of a sweet little cove off Phillippi Creek buck the slider trend in favor of a sumptuous skewer of meltingly tender beef tenderloin served on an equally swoony Argentinian chimichurri sauce. It is, for our money, the star of this superb Happy Hour's $5 tapas and cocktails menu, but the Chilean sea bass fritters with Key lime aioli and a crispy buffalo chicken spring roll with Stilton crème and celery apple slaw are hot on its heels. The truth is, we didn't taste a thing we didn't love at The Table Creekside.
Standouts on the drinks list are the featured Chilean house wines, both red and white (we like the crisp and cool sauvignon blanc), from Concha y Toro's Xplorador label. Elsewhere along the bar and at tables packed with couples young and older, groups of women of a certain age and a solo male or female here and there, the most popular $5 libation by far is the bar's signature mojito, absolutely stuffed with fresh mint and limes, served tall and ice cold. Also available are draft beers, including Stella Artois from Belgium, at $2.50 each.
One more important factor in this Happy Hour's success is the staff behind the bar. They serve up food and drink with friendly gusto and know the menu by heart.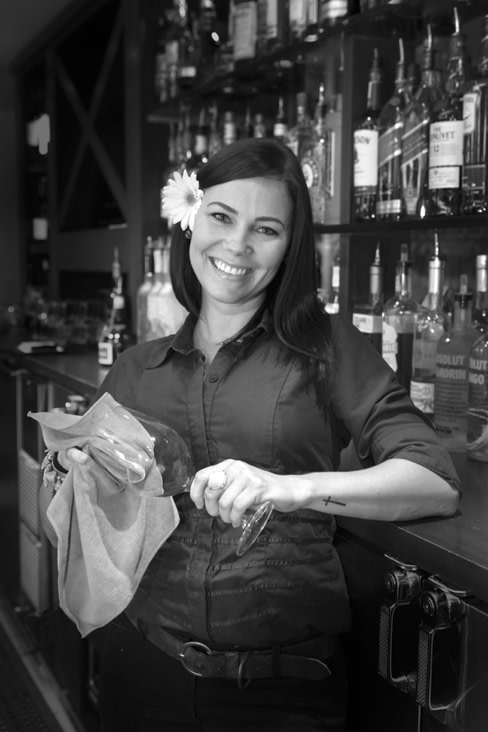 At Roy's, famous for chef Roy Yamaguchi's stellar Hawaiian fusion cuisine, the food steals the show in the cheerfully bright compact bar, although we are impressed that $6 specialty cocktails, like a beautifully purist martini featuring Tito's Handmade American Vodka, are made with top-shelf ingredients. Selected wines by the glass (including a silky TerraNoble sauvignon blanc from Chile's Maule Valley) also are $6, as are Aloha Hour small plates. For beer drinkers, Kona Fire Rock Pale Ale goes for $3.
Again, the folks behind the bar, catering mostly to couples and groups of three or four, are a big part of this Happy Hour's appeal. We asked for noshing recommendations and were steered to appetizers that knocked us out. Roy's wagyu beef sliders, dressed in caramelized onions and chipotle aioli, are outstanding and come with pluperfect sweet potato fries. Wow! We uttered the same exclamation as we dug into a Big Island ebi roll, starring tempura shrimp, coconut, cream cheese, avocado, habañero pepper aioli and sweet, dark nitsume sauce, and again when we speared a handful of crunchy golden lobster potstickers, an uptown version of the usual pork or shrimp dumplings made extra savory with application of a spicy togarishi (red chile pepper) miso butter sauce.
And a note in passing: Fleming's Prime Steakhouse & Wine Bar, Roy's ultra reliable sister restaurant next door, throws a mighty fine Happy Hour, too, one that we've raved about before on these pages.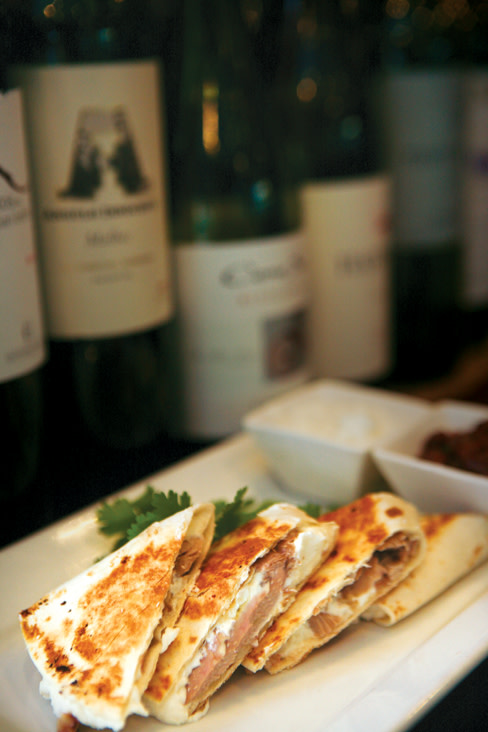 The $5 bar bites and drink specials Happy Hour at long-time favorite Bijou Cafe, across from the Sarasota Opera House, is new this season. This Happy Hour is an intimate affair, served in the restaurant's big-windowed but cozy little bar. Its location makes it perfect for a pre-performance cocktail and snack.
Bijou does a tasty beef slider, but if you want fries with that you'll have to order the herb-flecked thin-cut pommes frites separately, which we recommend strongly. For starters, though, don't miss the outstanding Trilogy of Soups, a first course we've often enjoyed in the dining room. On a white ceramic tray, three pretty little bowls of vividly flavored seasonal soups, at least one of them usually cold, delight the eye before the first spoonful has landed on the tongue. The choices change regularly, but we've never been served a selection that didn't make us purr.
Next on our Bijou hit parade is the duck quesadilla with black bean salsa, an old favorite made extra special with the addition of goat cheese and crème fraîche. If you're still hungry, go for the savory Boerewors "Stukkies," grilled housemade South African sausage with mango chutney.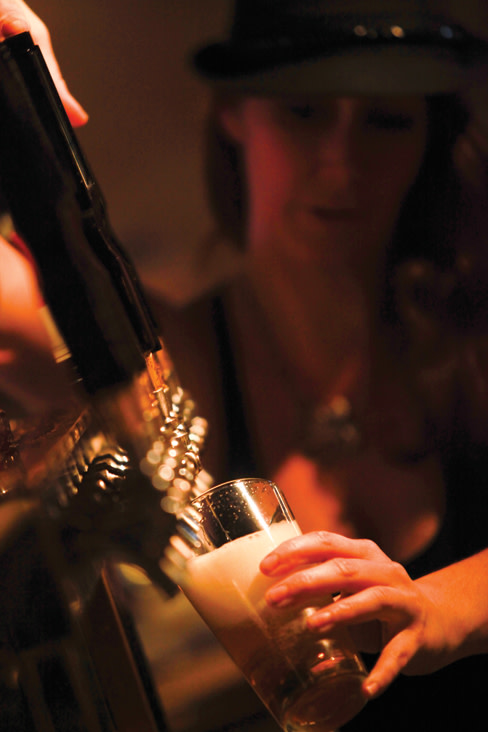 The trip from Bijou to Darwin's on 4th is one from small and cozy to big and sometimes boisterous—and that's not a bad thing, especially for solo revelers. The crowd here tends to be younger and, like us, already enamored of chef Darwin Santa Maria's "Evolutionary Peruvian Cuisine," his uniquely delectable plates large and small based loosely on his native country's urban street foods. At Happy Hour, you get a sneak peek at the wonders served in the adjacent dining room and can wash the bar bites down, if you're in the mood, with a couple of house-brewed cold ones for $5 apiece. Selected cocktails, including a refreshing and rather minimalist mojito, are $6.
On the munchables list are half a dozen appetizers priced at $4 and another five at $5 each. Darwin is famous for his killer ceviches, which go for $9 to $15 in the dining room and are worth every penny. At Happy Hour at the big squared horseshoe bar, for just five bucks you can feast on a smaller portion of the tangy goodness of seasonal fish marinated in citrusy leche de tigre (tiger's milk), red onion and cilantro, with a skewer of fat cuzco corn and a bite of glazed sweet potato on the side. This, dear reader, is a bargain not to be missed.
Also high on our list are pollo antichucos, featuring two skewers of tender grilled chicken on a muscular rocoto (red chile pepper) pesto ($4) and the pork taco, which piles onto two soft flour tortillas a nice mound of pulled pork kicked up with charred tomatillo salsa, caramelized onions and pico de gallo ($5). For a very different sort of "sushi," try the spicy tuna causa, which nestles raw tuna with a lemon soy dressing in a nest of mashed yellow potatoes enlivened by aji charapita hot pepper sauce ($4).
A tour of these five outstanding Happy Hours will give newcomers a very good idea of what to expect from the restaurants' full menus, as well as establishing a new sundowner tradition. All are excellent places to wind down a long day or start a festive evening.
At a Glance
Bijou Cafe, 1287 First St., Sarasota,
(941) 366-8111
Happy Hour: Monday through Friday from
5 to 6:30 p.m.
The Deal: $5 bar bites, well cocktails and selected wines by the glass plus $1 off craft and domestic beers.
Darwin's on 4th, 1525 Fourth St.,
Sarasota, (941) 343-2165
Happy Hour: Monday through Friday from
5 to 7 p.m.
The Deal: $4 appetizers and $5 small plates, $6 cocktails, a couple of wines by the glass and two drafts brewed in-house.
Michael's On East, 1212 East Ave. S., Sarasota, (941) 366-0007
Happy Hour: Monday through Saturday from 5 to 7 p.m.
The Deal: $5 vintage cocktails, well drinks, Michael's own private label house wines and selected lounge bites.
Roy's, 2001 Siesta Drive, Sarasota,
(941) 952-0109
Aloha Hour: Every evening from 4:30 to
6:30 p.m.
The Deal: $6 appetizers, top-shelf cocktails and selected wines by the glass plus $3 Kona Fire Rock Pale Ale.
The Table Creekside, 5365 S. Tamiami Trail, Sarasota, (941) 921-9465
Happy Hour: Sunday through Friday from
4 to 6:30 p.m.
The Deal: $5 tapas, $5 selected cocktails and house wines, $2.50 draft beers.
Happy Couples
Sarasota sommelier Julie Pepi on which wines best complement bar-food favorites.
PORK POTSTICKERS
The need for acid is upon us again. This dish is usually made up of salty (pork, soy and fish sauce), sweet (carrots and green onions) and spicy (ginger, sirachi). A pinot gris from either Alsace or Oregon has enough body and balanced acidity to bring out the many flavors of this dish.
FRIED CALAMARI
When pairing wines with fried food, I go with either a prosecco from Italy or a cava from Spain. Why? Bubbles, whether in beer (also a good match for fried foods) or wine, cut the fat and make the dish seem creamier. These lighter-style sparkling wines are bright and citrusy—a harmonious match with the squid.
CEVICHE
This dish requires a wine with zippy acidity—at least the same amount of acidity as the dish. Still, New Zealand sauvignon blanc is not a good choice as it is overly tart. An aged riesling from Alsace or a cru gamay from Beaujolais is always a great choice.
SEARED TUNA
Tuna is tricky. Most whites that are commonly paired are completely underwhelming, as tuna is very flavorful. I'd suggest a rosé from France. They're commonly made with grenache, syrah or mourvedre. That means you get the more robust red varietals needed, but in a lighter, fresher style.
TUNA SLIDERS
The best way to complement the hints of marin, yuzu and soy in a well- seasoned tuna slider is to go steely, with a dry wine that exhibits bright fruit as well as mineral character. My choice here would be chablis.
BEEF SLIDERS
For a simple burger patty with fresh condiments, I'd go for something that is fruit forward and ripe, like dolcetto or Valpolicella. As the toppings become more complex—say, blue cheese and onion relish—you'll need something along the lines of cabernet or zin to balance out the intense flavors.
We Also Recommend
For upscale takes on classic Happy Hour staples, check out Mattison's City Grill's bar menu for fried calamari with jalapeño tartar sauce, crispy chicken wings in Siracha chili sauce with Asian mustard dip or to-die-for bruschetta with pesto goat cheese. Bar menu served from 3 to 5 p.m. daily.
Decidedly American inventions like "Pigs in a Blanket" (hot dogs wrapped in a cheddar biscuit) and a meatloaf slider (topped with fried Velveeta) are Happy Hour standouts at Libby's Café and Bar. The bar menu also includes Asian-inspired creations like "Seoul Kitchen" chicken lettuce cups and a host of mind-blowing eggrolls (think cheesesteak, Reuben and more). Daily Happy Hour from 4 to 7 p.m.
Sushi lovers delight in the Happy Hour at Bradenton's Pier 22, featuring original maki creations like the River Roll (seafood salad, salmon and cucumber). Their bar-mates can opt to enjoy their fresh seafood in non-sushi applications, like grouper artichoke gratin, Appalachicola oysters and Terra Ceia clam "Stuffies."
The transcendent bar menu at Beach Bistro, Zagat's highest-rated restaurant in the region, is epitomized by playful indulgences like "Lobsterscargots," "Death By Foie Gras" and, best of all, the "White Castle" Slider: beef tenderloin topped with foie gras, demi-glace and béarnaise, on a garlic bun.
With small-plate options on most menu items, Carmel Café embodies true Happy-Hour style at every dining hour: Diners can nibble on a variety of Mediterranean-inspired flavors like chicken Madeira, spinach gnocchi and grilled lamb and beef sliders, with a mint cucumber sauce.
Check out our Sarasota dining guide by clicking here.