Article
The Eat Beat: What We Ate and Loved This Week
Our top five picks on the local dining scene this week.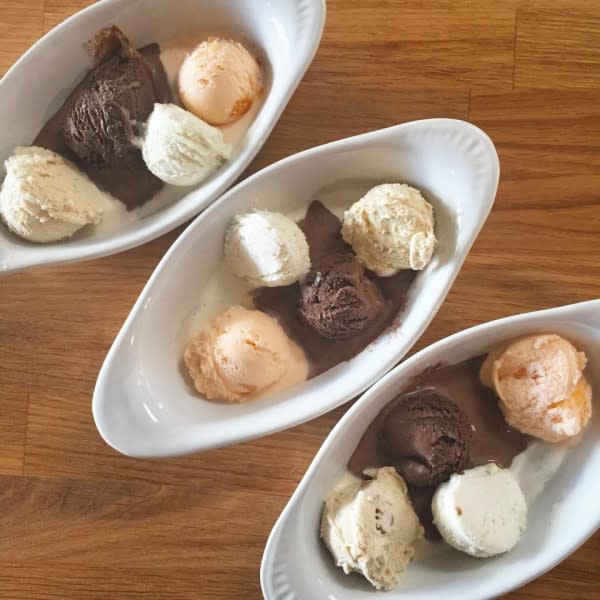 In these dog days of summer, there's nothing more refreshing than ice cream—and thankfully, Flour Parlor is close enough to our office that we can get our fix. In addition to its baked goods, the shop serves up a variety of ice cream flavors from St. Pete-based Working Cow Creamery (above). We're partial to the sweet, creamy salted caramel, which comes loaded with chunks of praline and starts at $2.50 for a single scoop.
We don't even attempt to resist following the aroma of the Alday's BBQ truck to where it pulls into its weekend spot at 1135 Beneva Road. We loved the half pound of baby-back ribs with two sides and plenty of extra sauce for $12.50. Succulent and juicy-tender ribs with just the right amount of fat on the bone, because we all know that the most concentrated delicious flavor is in the fat. We can also attest to the rich and deliriously good taste of the brisket, chicken, pulled pork and spare ribs. We've never tried the salmon. That would too healthy.
Maemi is a cute little restaurant in University Park that specializes in Peruvian and Japanese cuisine. We flipped over the Maemi dynamite roll ($14)—shrimp tempura, avocado and Japanese mayo topped with baked crab, grouper and Maemi's special sauce. Wonderful!
Even if you're only visiting State Street Eating House + Cocktails for a little post-work beverage, make sure you treat yourself to a bite from the downtown lounge's "snacks" menu (also discounted for happy hour). The mini lobster rolls ($6.75) are an absolute indulgence: two small (a little more than three inches long), sweet rolls overflowing with big chunks of succulent lobster meat, ever-so-lightly dressed with butter and sea salt—simple, delectable and gone in about 10 seconds. You can share, but you'll only wind up resenting your companion for eating the other one.
Head over the bar at Jack Dusty and order yourself a Sazerac (while doing your best Jack Nicholson impression). This drink originated in New Orleans in the early 1800s and was originally made with cognac, which we recommend requesting in place of today's more common rye whiskey—the cognac's sweet taste is perfectly balanced with a couple dashes of Peychaud's bitters, absinthe and a lemon peel (a combination that's as pleasing to the nose at it is to the mouth).