Article
The Eat Beat: The Top 5 Things We Ate This Week - 7/23/15
Our top five picks on the dining scene this week.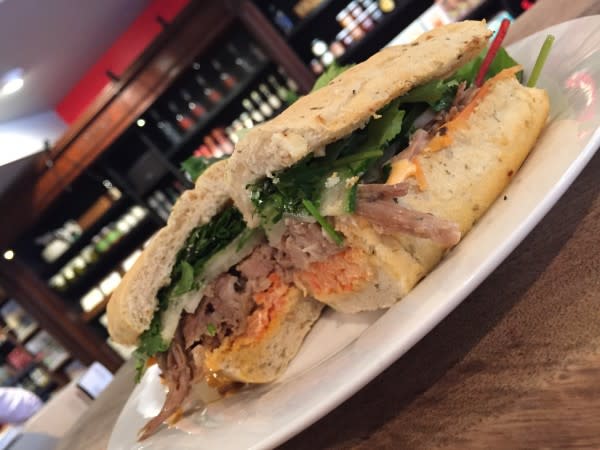 The banh mi sandwich ($12, pictured above) at Brown Bag Provisions, inside Artisan Cheese Company in downtown Sarasota, features seasoned pulled pork, sweet pickled carrots, pickled daikon, sliced cucumber, cilantro and Sriracha aioli, all nestled inside a rosemary baguette.  Brown Bag Provisions' menu changes weekly, but the banh mi is so popular that it's on it frequently.  Call in your order early as they sell out quickly—on our visit this week we got the last one of the day.
It's a little like being at summer camp, ordering the camp basket at Owen's Fish Camp and eating the corn bread-battered fried fish, shrimp and oysters with our fingers. The only food item that required a fork was the crunchy red-cabbage coleslaw, which had a nice balance between sweet and savory.  A casual, totally satisfying meal for $19.99. We enjoyed it on Owen's enclosed porch and not anywhere near a camp fire.
Through August, The Capital Grille is running its annual Generous Pour offer. For an additional $28 with dinner, you can sample eight wines ranging in style from pinot grigio to Cabernet. This year's lineup features women winemakers; our favorite wine was Kinton's Syrah, made in 2007—Capital Grille master sommelier George Miliotes says this is the perfect year to drink it.
Thin crust or deep dish? Spicy sauce or sweet? Toppings?! Pizza choices are limitless, but right now we're recommending Valentino Pizzeria Trattoria's veggie pizza ($13 for a small; $19.95 for a large). The thin crust pie is topped with tons of veggies—spinach, broccoli, onion, peppers, mushroom, tomato, black olives and breaded eggplant—and the slightly sweet tomato sauce and melty mozzarella hold it all together. Delicious!
We think the chicken and waffle sandwich ($11) on the brunch menu at downtown Sarasota's new World of Beer may be the best chicken and waffle combo in town. The boneless, battered fried chicken—which has a bit of a kick—is sandwiched between fluffy waffles and chopped bacon. Dip the whole thing in warm maple syrup and pair it with a "beermosa" for a perfect brunch.