Article
Exactly What to Do in Sarasota on Saturday Nights
When the sun starts to set, the action heats up at four fun weekend hotspots.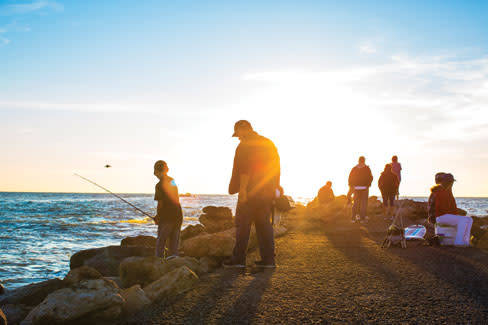 South County Sunset Celebration
In a land of transplants, few places say "local" like Venice's North Jetty. It is young surfer and family-friendly, a fisherman's haven and beach-lover's dream. Looking across at the quieter, more touristy South Jetty, 300 feet of water and a world of attitude away, the North Jetty is a 660-foot, rock-and-concrete outcropping designed to protect Venice Inlet from eroding tides. And on Saturday nights, it's one big peninsular party. Old-timers swap stories around a wooden picnic table, their sunset shadows outlined on the walls of the weathered North Jetty Fish Camp bait shop (there's also a brand-new concession stand just a few dozen feet up the hill). Sunburned 20-somethings holding Bud Lights holler to buddies drifting by in jon boats and skiffs. There are grills and camping chairs and popular horseshoe courts, while a broad, sandy break in the mangroves gives kayakers a launch for sunset paddles. All down the rock-lined jetty stretching into the Gulf, fishermen contend with caught lines and bold egrets, while onlookers sit statue-still, faces to the orange sky, soaking in the last rays of the day.
While You're in South County
Join the sold-out audiences attending musicals, comedies, dramas and other high-energy productions at the award-winning Venice Theatre.
Kick up your heels in downtown Venice, where Miami and Venice avenues offer window shopping and sophisticated restaurants like Made in Italy (and its adjoining martini bar) and Bushido Sushi Bar.
Cavort over cocktail umbrellas at Sharky's on the Pier, a big beachfront restaurant with perfect sunset views, live music, a great fishing pier and tiki-tastic energy.
Embrace nature at Caspersen Beach, a grand expanse of unspoiled Sarasota sand, sea oats and soft waves, offering rare solitude and great shelling.
Join music lovers for the Venice Symphony's Saturday evening performances in the beautiful (and acoustically superb) new Venice Performing Arts Center.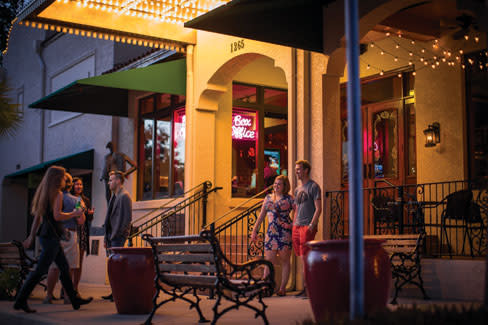 Showtime at Downtown's FST
What started as Florida Studio Theatre in a little historic building on Palm Avenue has grown into a sprawling theatrical campus with five cool performance spaces, including the impressive new Gompertz Theatre. On weekend nights, they all might be staging simultaneous shows, ranging from classics to edgy drama to musicals, musical revues and comedy improv. There's even the Green Room restaurant, serving pre- and post-show dinner and drinks. FST is famous for its fanatically loyal subscribers, and as many as 1,500 theater lovers, performers and staff fill the two-block area on Saturday nights. Walk through and you'll see excited audience members discussing their respective shows at intermission or afterward, starstruck fans hoping to hang with performers, and city sophisticates planning future visits over current cocktails.
While You're Downtown
Take a bayfront stroll around the colorfully lit jumping dolphins fountain at Bayfront Park—then catch some tunes at the park's O'Leary's Tiki Bar and Grill.
Sample craft suds at the brand-new World of Beer overlooking the sidewalk fountain at the corner of Main and Links—a popular hangout for fun-seeking locals.
Pick up the latest Pulitzer Prize winner at Bookstore 1, then wander down Main to Clasico Café and Bar or Café Epicure, which also has a chic martini bar. Sidewalk tables offer primo people watching.
Join the party at the intersection of Main and Lemon, where Mattison's outdoor live music competes for attention with the historic Gator Club's rousing crowds.
Grab a late-night gourmet sandwich at Monkey Business, then walk right on through to moody, magical Pangea Lounge—famous for its mixology and a fave of the restaurant industry crowd.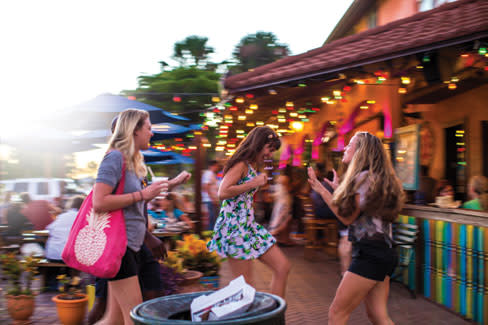 Siesta's Beach-Bar Street Bash
Siesta Village is Sarasota's version of the Jersey Boardwalk—less kitsch and more class, but still a bustling street scene of evening bar-hopping and souvenir-shopping. Park in the public lot off Canal Road and stroll Ocean Boulevard for a world of nighttime adventures. There's always an overflow of happy ice-cream eaters outside Big Olaf Creamery, which doubles as an A+ high school hangout and family treat. Siesta Key Oyster Bar serves up an Old Florida porch scene with live acoustic music, fish tacos and plastic cups of tropical cocktails; next door, the Daiquiri Deck specializes in frozen concoctions and a college attitude. Also right there: the iconic Beach Club, trippy island-style Gilligan's, the Old Salty Dog and plenty more eats and treats. When you get tired of walking, flag down a pedi-cab and ride in style. Later in the evening, nearby restaurants tend to take to the street, offering pizza and other munchies as bar patrons pause to soak in the scene (and some much-needed slices) en route to the next stop.
While You're on Siesta
Stroll on the flour-soft sands of Siesta Key Beach, recently named America's Best Beach. Bring your camera—the sunsets reflecting off sand and water make for one spectacular light show.
Host the best barbecue ever at one of the beach's shady pavilions, available for rent and a perfect spot to set up camp with a few dozen of your nearest and dearest.
The oldest bar on Siesta, the Crescent Club, a few miles south, is the perfect antidote to the Village's beachy college vibe. A dark little dive dripping with atmosphere, it inspired the doomed hurricane party in John D. MacDonald's Condominium.
Early evening is a great time to explore Siesta Key's lush, hidden neighborhoods, where you'll find some of Sarasota's prettiest homes.
See the stars—and the water—like never before atop a paddleboard, your headlamp illuminating the water, mangroves and surrounding wildlife. Siesta Key Paddleboards offers nighttime tours.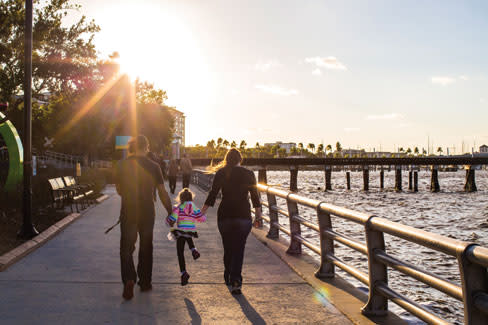 Family Fun at Bradenton's Riverwalk
Downtown Bradenton's new mile-long Riverwalk draws the whole town to the Manatee River's edge. Beautiful all on its own, the park also includes interactive exhibits for all ages, from the Tidal Discovery Zone to the kiddie fountain to the giant cymbal-like parabolas that create a sonic illusion when you stand between them—the kinds of things that get strangers laughing and playing together. An amphitheater hosts performances—scheduled and impromptu. A soft and sandy beach volleyball court is great for a game or two, and a skate park on the east end keeps the length of Riverwalk well-populated with cruising teens. Best of all, there's no shortage of seating, from swings to benches to surprisingly comfortable concrete lounge chairs, all oriented so you can gaze out across the river—not to mention at the steady stream of folks ambling by. As the sky fades from orange to black and the pathway lights kick on, fishermen tap their toes to the tunes of buskers on nearby benches serenading the scene.
While You're in Downtown Bradenton
Join the enthusiastic audiences at the Manatee Players' grand new home, offering an extensive schedule of high-quality musicals and more.
Extend your stroll with a walk over the Green Bridge—great views of the river, culminating in a long fishing pier and park on the Palmetto side.
With its wrought-iron balconies and white-lighted trees, Old Main Street has a little New Orleans to it, but with an all-Bradenton line-up of watering holes, including O'Bricks, McCabe's, the Lost Kangaroo and more.
The first Saturday of the month rocks at South Florida Museum, open until 8 p.m. for family night. Then at 8:30, kick back in the museum's Bishop Planetarium for the Rock Hall of Fame show, featuring awesome images set to classic rock hits.
Sample the suds in the taprooms of two brand-new breweries, Darwin and Motorworks, less than a mile from each other near baseball's McKechnie Field.
For more news about what's happening in Sarasota County, click here to read our Hot and Happening blog. >>
This article appears in the December 2014 issue of Sarasota Magazine. Click here to subscribe. >>