Article
The Eat Beat: The Top 5 Things We Ate and Drank This Week - 7/9/15
Beetroot hummus, Kobe meatballs, homemade potato chips--and more.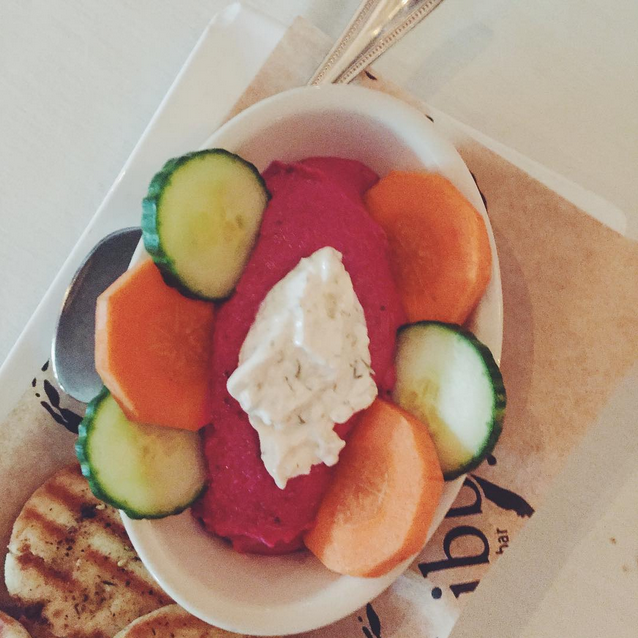 Our panel of food experts share the top five things they ate this week.
1. Libby's Café + Bar has rolled out some new menu items for summer—among them a tasty beetroot hummus ($8) that's served with crunchy seasonal vegetables, dill tzatziki sauce and warm rounds of addictively good toasted pita bread. It's the perfect appetizer to share with a friend, and the bright pink color of the hummus—thanks to those beets—makes the dish beautiful to look at, too.
2. The Kobe beef meatballs and fettucine special ($21.95) at Flavio's restaurant on Siesta Key taste as good as they sound—rich meatballs mixed with organic herbs, fresh pasta and a classic homemade red sauce. Yum!
3. If you're in the mood for classic quiche, look no further than the traditional quiche Lorraine ($9.25) at Burns Court Café in downtown Sarasota. The custard is eggy and flavorful, filled with bacon and cheese, and the crust that holds it all is sturdy and buttery. It's served with a fresh green salad, and we recommend pairing it with one of the café's excellent coffee selections.
4. Sports fans gotta get your Gecko's on. We watched USWNT's dominating World Cup finals win over Japan with a plate of the local grill's famous blue cheese chips ($8.50): a heaping pile of crispy, homemade potato chips, topped with creamy blue cheese fondue, bacon, red and green onions (we do love our onions) and a generous drizzle of sweet balsamic glaze. It's salty-sweet, crunchy-creamy, onion-savory goodness. Tastes like…victory.
5. Pangea Lounge's spicy smoked mussels ($8) are perfect for sharing with a table full of friends. Served chilled, with a dozen half-shelled pieces, the sweet meat of the shellfish is heightened by tangy-spicy barbecue sauce, while crispy Saltines provide contrast to the mussels' chewy texture and relief from the sauce's kick. We say grab your pals and head here for a night on the town.