Article
Sarasota Hotspots for the Older Tourist
Mr. Chatterbox offers his tried-and-true wisdom on Sarasota hotspots for the, ahem, older tourist.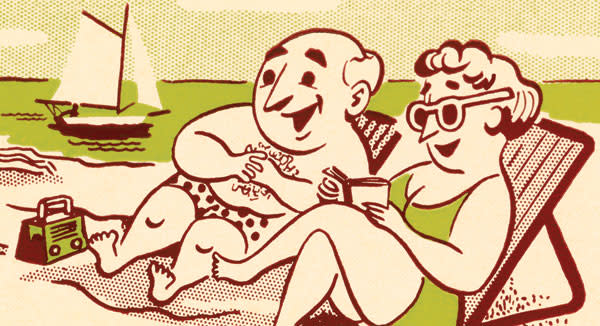 In this, our annual Visitor's Issue, we offer all sorts of advice on what to see and do when you're here for a vacation. But what about us older people? We can't spend the day at the beach; we're always getting skin cancer burnt off our face as it is. And I don't know about you, but a meal in a fancy restaurant does awful things to my increasingly delicate digestive system. Plus, when it comes to local nightspots, I already know my favorite: bed. So here it is, and long overdue—a guide to Sarasota for the older tourist. Get out your reading glasses.
First, forget the Ringling unless you're in a wheelchair. Those galleries are immense and on crowded days it gets competitive for a seat on one of the benches. There's so much space, in fact, that I keep telling the Ringling they should institute mall walking every morning and evening. Imagine, scuttling past those Rubens at 7 a.m. Just think of the publicity they would get. It's the kind of thing that would finally put the Ringling on the map.
Instead, I suggest you check out Sarasota Memorial Hospital. Every time I have a stroke or heart attack it's the first place I head for. They have a lovely emergency room where the little cubicles are named after local people who gave money. It takes your mind off things to realize you're in the Marjorie and Bill Hirons Cubicle.
The hospital is famous for its all-around pleasantness, and people from out of town are often flabbergasted by how nice it is. When my lawyer, well into his 90s, was down here from New York, he had a little episode of something or other, so we rushed him over there, and he was so impressed he wrote them a fan letter.
They don't have tours of the hospital per se, but it certainly is worth a visit, just to get your bearings for the future. They have a valet parking system that really works; and though the layout is very confusing, they have volunteers posted at the bottlenecks to point you on your way.
There's a great gift shop and two different places to grab a bite. One opens out onto a patio and features mostly Boar's Head sandwiches. As far as I can tell there's no bar, so you'll have to sneak that in yourself.
Yes, Sarasota is full of live theater, but I suggest that if you have only one night—or better yet, matinee—to devote to this, you head for the Westcoast Black Theatre Troupe. Here—if you pick the right show—you'll hear the music of your youth, for the theater is at its best when it does one of its Motown or R&B revues.
The cast members—mostly young, thank God—are so talented that several have gone on to Broadway. They keep things moving at lightning speed, and the young male performers are shameless at flirting with the old ladies in the audience. Many of the women become so stimulated that they rise up and begin to perform the Frug. Keep your Shakespeare, keep your Beckett. To me this is what theater is all about—old ladies dancing.
Shopping has always been an important part of the vacation experience, particularly when it rains. We have great boutiques and department stores, but the older I get, the less I can figure out why anyone would shop anywhere other than the Goodwill.
Sarasota has been overtaken by the Goodwill. New ones seem to be opening every other month, and they are enormous places, the size of a Publix, spotless and well-run. All levels of society shop here, and I am tactfully not mentioning by name some of the socially prominent people disguised in sunglasses and hats whom I've seen perusing the racks.
Clothing is the big attraction. As you get older your taste in clothes changes. You don't want anything trendy; nothing looks more pathetic than an old person in leggings or a motorcycle jacket. You need a classic look, something kind of loose that's going to cover up bulges and humps. Plus, it should be easy to get food stains out of. For the life of me I can't figure out why I suddenly have all these food stains down the front of my shirt. I don't remember dropping any food. How do they get there?
For the last year of her life my mother lived on hard candy. It's all she really wanted and it made her happy. Now I'm afraid it's happening to me. The older I get, the more my sweet tooth is taking over.
So you can imagine how excited I am that Sarasota finally has a candy store worthy of the name. It's called Dulcefina and it's on South Tamiami Trail. They have candy from all over the world, and most of it is sold by the pound—more specifically, $4.99 for 8 ounces. You get a little bag and a shovel and then you go from jar to jar, digging in.
An awful lot of it is the hard candy my mother loved. I can't even begin to describe all the flavors and countries involved. Who had any idea they had so much candy in Israel? My own personal favorite is the licorice. They must have at least 30 different varieties, and many of them are the sweet and sour, or salty and sugary kind that are only found in countries like Sweden and the Netherlands. They're very gooey, though. I've already lost two fillings and a crown.
My favorite restaurant in Sarasota is not one of the sleek beauties downtown but rather Dutch Valley, located on U.S. 41, right next door to the now demolished XXX-rated movie theater where Pee-Wee Herman was arrested. The story goes that when elderly patrons had heart attacks in the theater, the staff would drag them over to Dutch Valley to spare them any embarrassment.
Dutch Valley is a classic old-time coffee shop, complete with Naugahyde booths and hyper-friendly waitresses. The food perfectly matches the décor. The best deals are the complete dinners, in which you get soup (the lemon chicken is best, if a touch gelatinous), salad, entrée with sides (I recommend the baked cod) and dessert: jello, ice cream or rice pudding. The entire repast will set you back maybe $12. And even better, they serve breakfast all day.
Not surprisingly, Dutch Valley is extremely popular, especially with older snowbirds, and during season there can be a wait during peak hours. So I suggest you combine lunch and dinner and eat around 3 p.m. That way you can make do with a snack before you go to bed around 8 p.m.
As long as you're here you might as well take the plunge and examine retirement homes, or whatever euphemism you care to employ. Down the line, you're going to have to decide, do I go into one or do I come up with a different strategy?
Sarasota is a great place to do the research. They all offer tours. But if you have time for only one, I suggest Plymouth Harbor. It's one of the oldest and certainly one of the fanciest. Right now its residents are still one generation older than boomers, but give it 10 years and I'm sure the place will be full of the boomer spirit. There will be New Age classes, a disco, a marijuana bar in the basement—surely we'll have medical marijuana by then—and on special occasions they'll wheel over Simon and Garfunkel from Continuing Care for an impromptu concert.
That's the thing about Sarasota—no matter how old you are, there's always a promising future.