Article
Where to Find Sarasota's Best Wings
Our judges put their palates to the test to find the best wings in town.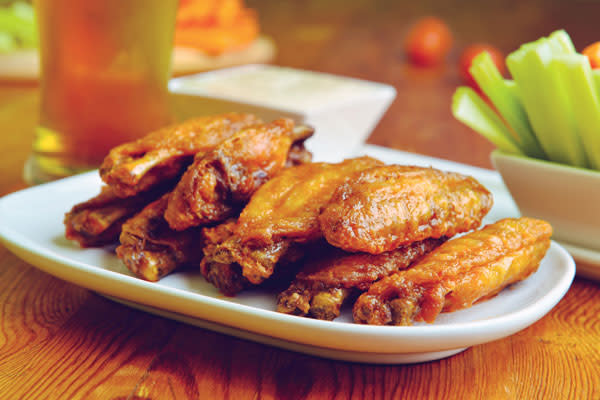 Lots of restaurants serve wings, but who has the best in town? We polled our Facebook fans to find their favorite spots, then asked wing enthusiast Justin Powell, ABC7's Joe Bardi, our contributing food editor Judi Gallagher, associate editor Hannah Wallace and illustrator Rob Jones to taste and tell.
Best Overall
And the winner is…Munchies 420's Gold Rush wings, which are served "naked" (that is, no breading on the jumbo wings) and tossed in a sauce made with mustard seed, apple cider vinegar and sugar. "I could have easily eaten a dozen of these," said Powell.
Best Breaded
The White Horse Pub's buffalo wings are not only big, saucy and juicy, they're also breaded, adding an extra layer of texture to an already good base. Breaded wings aren't for everyone, but if you like them, this is your spot.
Best Traditional
If you want a traditional wing-eating experience—tasty, fried wings served with a classic Buffalo sauce, blue cheese dressing and celery—then Gecko's has you covered. You wouldn't have to ask us twice to hunker down with a plate of these, a big beer and a football game.
Best Gourmet
That would be MADE's rich confit duck wings—fried crisp, tossed in peach barbecue sauce and served with an addictive buttermilk-green goddess dressing and crudités. Talk about raising the bar.
Best Variety
Maybe you're an adventurous wing-eater, opting for flavors like roasted garlic, teriyaki, Thai spice and even peanut butter and jelly (yes, seriously). If so, J.R.'s Old Packinghouse Café is the place for you—there is truly a wing flavor for every palate.
Click here to see more Sarasota's Bests, including cupcakes and French fries. >>