Article
A Dinner at Rosa Fiorelli Winery and Vineyard
Dinner at Rosa Fiorelli Winery and Vineyard spotlights one of our region's hidden gems.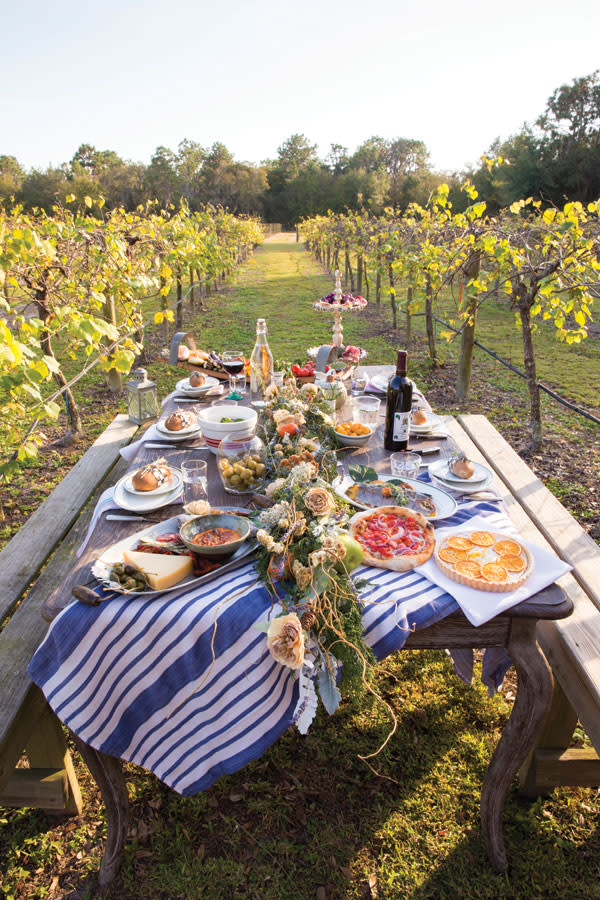 As you drive east through Bradenton on your way to a dinner in a pastoral vineyard, the scenery quickly changes. Strip malls and subdivisions give way to rolling green fields dotted with hay bales and grazing cattle; out here you're more likely to see a horse than a person. Your mindset changes, too. Suddenly, you notice you're no longer white-knuckling the steering wheel, battling Sarasota's seasonal grind, but instead relaxing, taking in the view and anticipating the experience ahead.
A 30-minute drive from downtown Sarasota, Rosa Fiorelli Winery and Vineyard is located just south of Lake Manatee in Bradenton. The picturesque 10-acre property is home to a working vineyard, where rows of muscadine and Florida-friendly hybrid grapes are grown, harvested and bottled. The business is run by Rosa Fiorelli and her son, Salvatore, who took over operations when Rosa's husband, Antonio—a Sicilian-born winemaker who started Fiorelli Winery as a passion project in the early 1980s—passed away in 2013. They make 10 varieties of wine, ranging in flavor from sweet to semi-dry, and business is booming: Salvatore says the winery produces 12,000 bottles a year (that's 2,000 to 3,000 gallons of wine).
Continuing his father's legacy is important to Salvatore, who grew up tending to grapes alongside Antonio in the vineyard, but left the business after graduating high school to join the Marine Corps and attend college. He earned a business degree and began a career in auto insurance claims, but returned to his roots at the winery full-time after his father's death.
"It's an honor," he says. "It's quite a change from a desk job, but it's wonderful. And [my father's] spirit is there."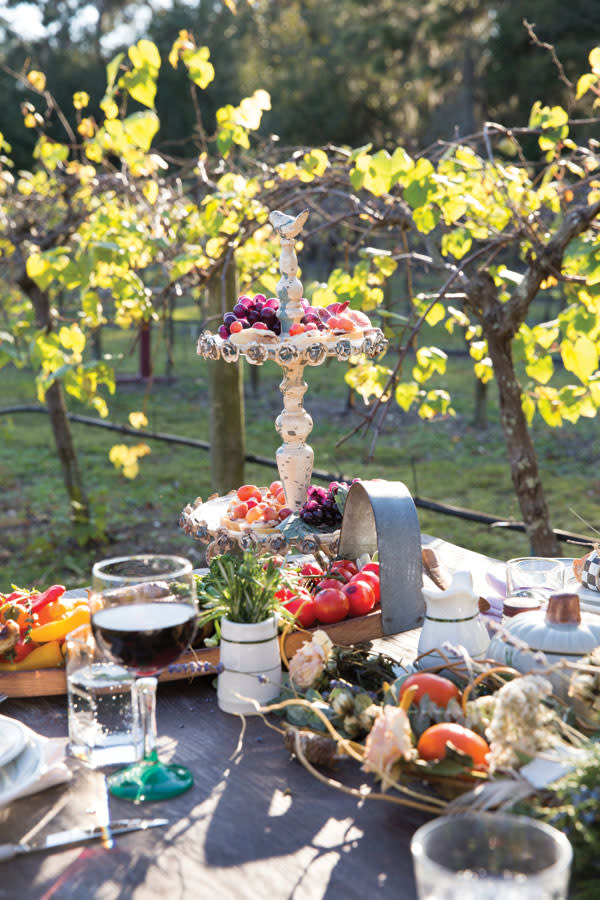 The grapes Salvatore harvests today were planted by Antonio, and the wines he produces bear his father's imprint. "My father created some unique wines based on a traditional Italian style of winemaking," Salvatore says. "The harvest is a synergy of his hands and mine."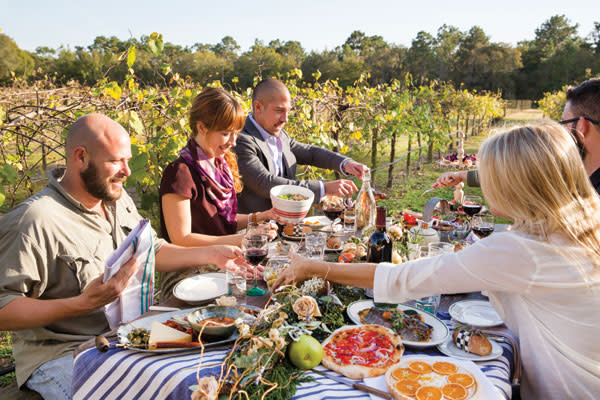 Of course, the best way to savor the winery's offerings is to drink them in the lush green vineyard, and the Fiorellis frequently host wine dinners, weddings and other celebrations there. For tonight's dinner,  Antonia (AJ) Latteri-Caster and the team at her Anna Maria-based event-planning company, The Loft 5, have created a rustic, Italian-inspired tablescape, complete with an earthy floral centerpiece and striped linens, that complements the vines and the trees surrounding the vineyard. Guests gather around the table, glasses of wine in hand, then settle into their seats in the golden glow of the setting sun. Bowls of olives, flatbreads and plates of charcuterie, pan-roasted chicken, fruit and cheese are passed; smoked trout with seared Meyer lemons, capers and bacon follows. A lemon tart with dried oranges, as pretty as it is delicious, ends the meal.
All too soon, the sun dips below the horizon, and guests drift back to their cars, making peace with the idea of heading away from this idyllic setting and back to a faster-paced way of living. Meanwhile, Salvatore and Rosa walk through the vineyards, discussing plans for the workday tomorrow, as they head back to their home on the property.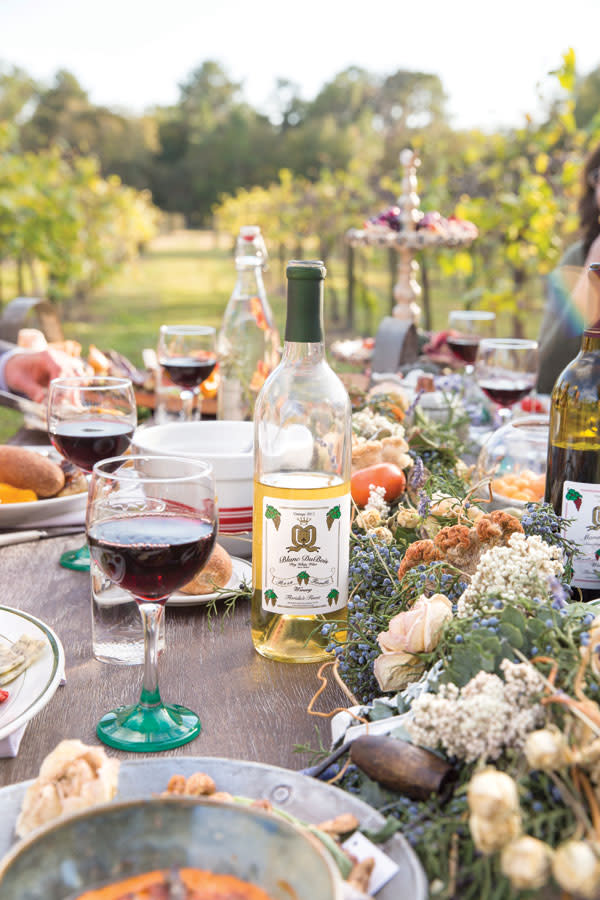 Tasting the Wines
All wines are available for purchase online or at the vineyard's wine shop.
Since its transition from Antonio Fiorelli's passion project to a full-fledged business in 1998, Rosa Fiorelli Winery and Vineyard has racked up an impressive number of awards for its wines, which are made with muscadine grapes that Fiorelli brought over from Italy, as well as Florida-friendly hybrid grapes. The winery won silver or bronze medals in a variety of categories in the Florida State Fair's wine competition from 2001-2012; it also won a bronze medal at the 2004 International Wine Competition for its red muscadine dessert wine and has placed in the Finger Lakes International Wine Competition in years past as well.
NV Aurora Muscadine White
Notes of peach; subtly dry with a smooth finish.
NV Blanc du Bois Classico
Semi-dry white aged for seven months, with notes of pear and citrus.
NV Blanc du Bois Dry
A young, dry white with notes of grapefruit and green apple. Light-bodied.
NV Conquistador Blush
Sweet notes of clove, apricot and raisins.
NV Florida Muscadine Blush
Semi-sweet with notes of cherry; smooth finish.
NV Red Muscadine Dessert
Sweet dessert wine with notes of black cherries and candied apple. Medium-bodied and smooth.
NV Red Noble
Notes of candy apple and black cherry; subtly dry with a hint of sweetness. Best served chilled.
NV Rosato
Light, semi-dry rosé.
NV White Muscadine Dessert
Sweet dessert wine; notes of orange blossom and honeysuckle.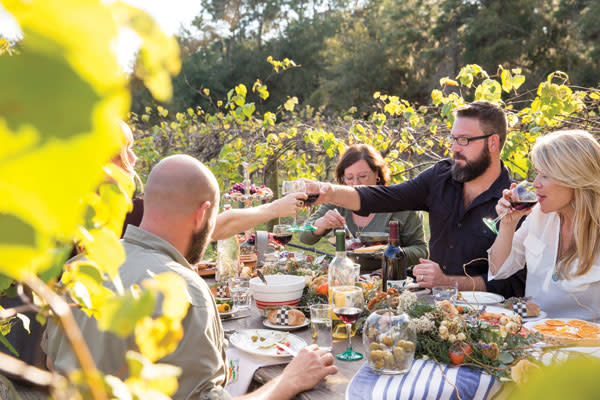 A Vineyard Menu
Inspired by her recent travels through Italy, The Loft 5's AJ Latteri-Caster created a menu that complemented the winery's offerings.
Sparkling mineral water with fresh sage
Array of crunchy breads accompanied by salsa Vendemmia
Individual loaves of bread wrapped in paper and tied with sprigs of fresh rosemary and lavender
Flatbread with fresh tomato and red onion
Stuffed olives
Cheese board with nuts and capers
Roasted sweet peppers, grilled seafood sausage, pan-roasted chicken with herbs, vine-seared tomatoes with olive oil drizzle, purple asparagus, baby broccoli with lemon zest and sweet onions, all served on a wine barrel plank
Smoked trout with seared Meyer lemons, capers and bacon bits
Roasted grape crostini with goat cheese, cranberries and candied orange peel
White bean salad with pancetta, red onion and Italian parsley
Lemon tart with dried oranges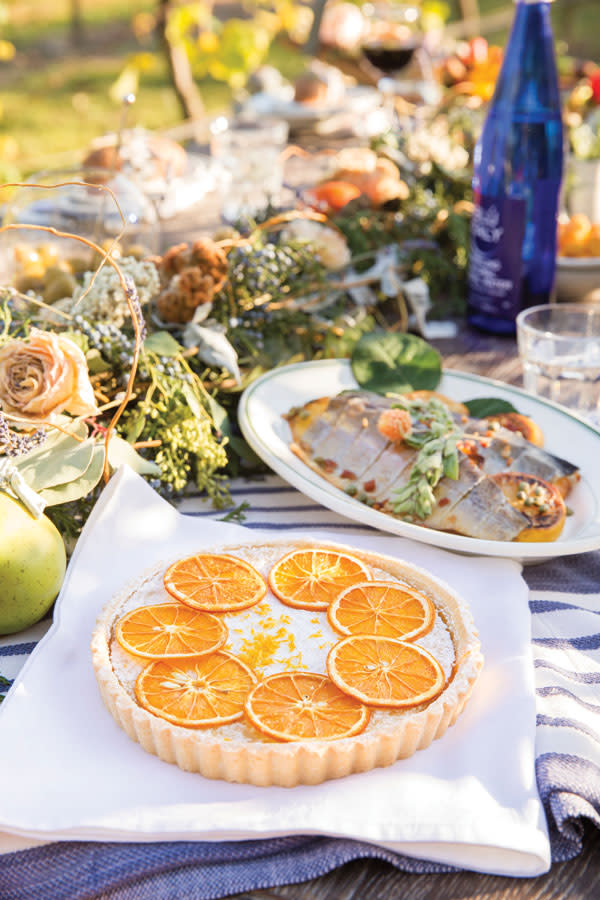 Torta al Limone
For pastry:
7 ounces all-purpose flour
3 ½ ounces granulated sugar
3 ½ ounces unsalted butter, softened and cut into pieces
2 egg yolks
2 teaspoons grated lemon zest
Pinch of salt
Preheat oven to 350 degrees Fahrenheit. Sift the flour and sugar into a mound, make a well in the center and add lemon zest, egg yolks, butter and pinch of salt. Mix thoroughly, then knead briefly. Wrap dough and chill in the refrigerator for one hour.
After one hour, on a lightly floured surface, roll out dough. Place pastry in a tart tin, adjusting to fit, then add filling (recipe follows) and bake for 25 minutes, then cool for 30 minutes. If not serving immediately, refrigerate tart until serving time.
For filling:
3 eggs
¾ cup granulated sugar
Zest of 2 ½ medium Meyer lemons, divided
Juice of 1 medium Meyer lemon
5 tablespoons unsalted butter, softened
Powdered sugar
Dried orange rounds, for serving
In a large mixing bowl, cream eggs and sugar with an electric mixer set to medium speed, then add lemon zest, juice and butter until well combined. Pour into crust-lined tart tin. Bake for 25 minutes; when ready to serve, dust with powdered sugar and lemon zest and arranged dried orange rounds on top of tart.
Rosa Fiorelli Winery and Vineyard, 4250 C.R. 675 E., Bradenton, FL 34211 (941) 322-0976 fiorelliwinery.com
For an inside look at how Rosa Fiorelli Winery and Vineyard produces its wine, go to sarasotamagazine.com/winery.