Article
My New Hometown: Dr. Frances Daly Fergusson
Vassar President Emerita Frances Daly Fergusson on why she chose Sarasota.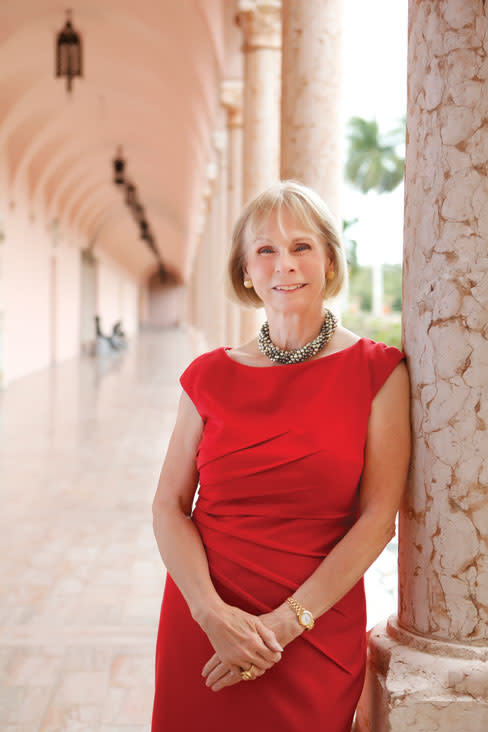 With an academic background in art history and a current role on the executive committees of the School of American Ballet, Second Stage Theatre and The Getty Trust, Dr. Frances Daly Fergusson—Vassar College President Emerita and now full-time Longboat Key resident—is focusing her talent on the Ringling Museum of Art as one of its newest board members. In between taking in performances at the Sarasota Orchestra and Asolo Rep, and co-producing the upcoming Sarasota Opera production of Jerusalem, she finds time to accompany her husband, John Bradbury, to Tampa Bay Lightning hockey games.
Why We Came
"John is an avid tennis player, and we were looking for a place that's warm and where he could play. We bought the sixth apartment we looked at. We'd only spent a week on Longboat Key, and it was a completely uncharacteristic move for us. We've never regretted it for a moment."
What Surprised Me
People might be surprised just how rich the philanthropic landscape is here.
I Love The Ringling.
"It's fantastic. I go over for a couple of hours and spend time in two or three of the galleries getting to know the art each time I visit. I'm excited that Steven High is moving it into a more contemporary art direction and about the new Asian wing."
The Current Art Season
"Anu Tali with the Sarasota Orchestra is just wonderful. She will be bringing a new kind of energy and adventurous programming to the orchestra. We're great sports fans, too, and we're season subscribers to the Baltimore Orioles spring training."
What Surprised Me
"People might be surprised just how rich the philanthropic landscape is here."
Morning Beach Walks
"I love communing with the birds and looking at the vastness of the Gulf of Mexico."
For more Sarasota news and updates, click here to read our Hot & Happening blog. >>
This article appears in the January 2014 issue of Sarasota Magazine. Like what you read? Click here to subscribe. >>