Article
Take a Tour of Sarasota's Famous Piers
Join us for a stroll along some of the region's most inviting walkways.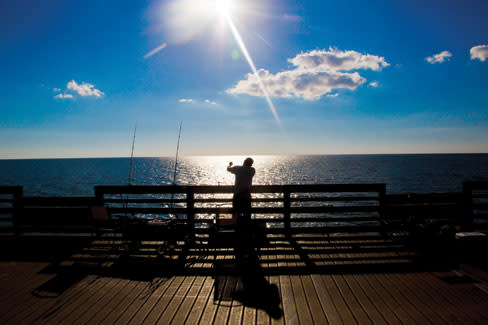 Here on the shores of the Gulf of Mexico, there are no mountains on which to build our temples. Here we have piers. They are our horizontal ziggurats, stretching not up to the heavens, but out to the sea. We spent a blissful week exploring some of the piers residents and visitors love most and discovered that these simple walkways between land and sea offer peace, transcendence—and excellent fishing.
In the heart of downtown Sarasota, the Saprito Pier juts off the northeastern base of the Ringling Bridge like an arm reaching out to test the waters of Sarasota Bay. While downtown sightseers often opt for the bridge's high-up city views, fishermen stick to the pier. Dwarfed by the bridge's massive underbelly, they practice their time-honored rituals: the long cast and the slow reel, the spinning heave that spreads a cast net into a perfect circle.
What do pier fishermen fish for? "The print's this small, and the list is this long," says a lean and friendly Peter Murfitt, gesturing first with pinched fingers and then with arms extended. From behind his register at Papa's Bait and Snack shop on the 700-foot Venice Pier, Murfitt ticks down the list of what he's seen people land today alone: "Spanish mackerel, jack, a couple of redfish." Over the years, he's seen sharks 10 to 12 feet long caught from the pier.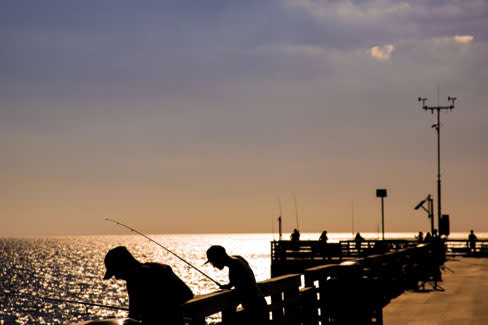 The City of Venice actually purchases the fishing license for Venice Fishing Pier, inviting everyone and anyone to fish from it for free. The tall, strong structure dominates the South County shoreline, presenting from its endpoint nearly 270 degrees of unfettered horizon, with sea grasses and the occasional low-slung condominium completing the view. At its base is bustling Sharky's On the Pier, recently named Florida's No. 1 beach bar.
Despite Venice Beach's reputation for an abundance of shark's teeth, Murfitt admits that he doesn't encourage shark fishing. "Sharks are at the top of the food chain," he says. "We lose them, it's all going to change." (The largest sharks caught are usually released. "They're pretty good about it," he says of the fishermen. "There's no sense keeping a fish that big.")
Stroll down many piers, Venice included, and you'll pass periodic altars of hard-plastic cutting-board filleting stations topped with short hoses for rinsing. At the end, the pier will widen to an open space of eddying humanity: fishermen standing as patient as pelicans; tourists like laughing gulls.
Children flit about from rail to rail—tiny, manic snowy plovers—chirping about every amazing oddity they spy: "Is that a stingray?" "Is he trying to catch a shark?" "Look at all the fish! There must be a hundred of them!" "Is that a sandbar? You can walk out there!"
There's a constant stream of group photos against the backdrop of the seemingly endless Gulf: "Hey, Cindy, go stand over there with Richie. I'll take ya's both."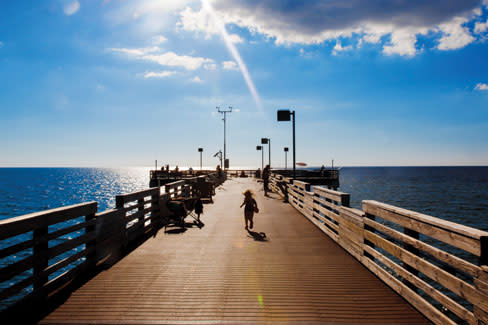 Five islands to the north, the Anna Maria City Pier offers reading material of sorts throughout the length of its low-slung, near-water-level walk. One thousand commemorative planks, sold in celebration (and restoration) of the pier's recent 100th birthday, bear etched in-memoriams and private messages hinting at people's history there: "Sly & Bo & Families." "Doug Fox – For the Good Times."
Northern Anna Maria is at the outer limits of our Sarasota/Manatee community, giving way to vast Tampa Bay and beyond. At the city pier's end, in addition to a cozy, air-conditioned restaurant, there's also a tiny outdoor bar featuring a handful of weathered, mismatched bar stools that look like they must have been fished from the drink on more than one occasion.
The whole structure rocks subtly with the waves, forever serenaded by the steady wheeezzzz of reels unspooling and fishing line cutting the wind. On a clear day, from that little graffiti-carved wooden bar, you can look out across more than six miles of sparkling waters and see the famous angular profile of the sunset-orange Skyway Bridge.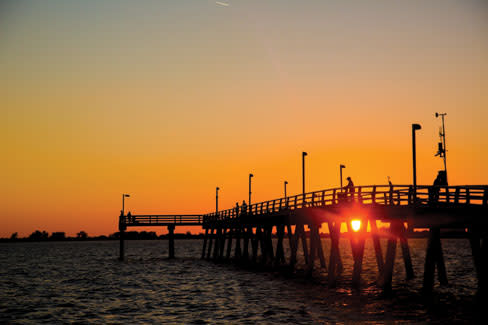 There's a similar view just half a mile north at the Rod & Reel Pier, a favorite among locals especially. It's an iconic two-story fish-and-burger joint, that just happens to sit on stilts over green Gulf waters, its relatively short walkway also featuring etched messages from patrons past. "It's just a great part of the neighborhood," says Anna Maria business owner Joan Bowling, who, like many Rod & Reel regulars, walks to the pier from her home. "And, even better, you can walk back," she adds.
This fall, the restaurant on the Rod & Reel Pier suffered a fire that forced it to close for several months. To help with repair costs, patrons banded together to sell T-shirts with the slogan, "Established in 1947. Got smoked 2013." While the Rod & Reel was closed, Anna Maria City Pier sold can "koozies," the proceeds benefiting Rod & Reel employees. The koozies read, "Solving the world's problems one beer at a time."
It's a mantra that works for many who visit these piers. Others find different inspiration, whether in landing the big one, contemplating the distant horizon, or simply discovering underfoot a Sanskrit proverb imprinted on a board along City Pier. "Look to this day," it reads, "for it is life."
Hear more local fishermen talk about why they love our piers: 
[iframe][/iframe]
Pier Review: Top Local Piers
Rod & Reel Pier
875 N. Shore Drive, Anna Maria
Length: 300 feet
Year built: 1947
Facilities: Two-story neighborhood restaurant at the end of the pier serves breakfast, lunch and dinner; tiny bar at very end.
Anna Maria City Pier
100 S. Bay Blvd., Anna Maria
Length: 750 feet
Year built: 1912
Facilities: Restaurant at the end of the pier serves lunch and early dinner; small, outdoor bar on the north side.
Bradenton Beach City Pier (Bridge Street Pier)
200 Bridge St., Bradenton Beach
Length: 500 feet
Year built: 1927 (converted from a bridge to a pier in 1967)
Facilities: The three blocks of Bridge Street leading up to the pier feature a number of restaurants, cafes, shops and more. Closed for renovations until spring 2014.
Riverwalk Fishing Pier
Waterfront Drive, Bradenton
Length: 300 feet
Year built: 2011
Facilities: Part of downtown Bradenton's 1.5-mile Riverwalk attraction, which also includes a skate park, children's fountain and much more.
Tony Saprito Pier
420 John Ringling Causeway, Sarasota
Length: 550 feet
Year built: 1979
Facilities: Hart's Landing bait and tackle shop is just on the other of the bridge and accessible by an under-bridge sidewalk.
Venice Fishing Pier
1600 Harbor Drive S., Venice
Length: 720 feet
Year built: 1966 (rebuilt in 1984)
Facilities: Sharky's on the Pier restaurant at the base; Papa's Bait and Snack Shop less than halfway down, with fishing pole and sand-sifting "Florida snow shovel" rentals.
View from the end of Venice Pier. Inset, from top: Anna Maria City Pier, seen through sea oats; a storm approaching the Rod & Reel.
The Saprito Pier offers downtown 9-to-5ers a chance to get some fishing in before the day is done. Inset: Sharky's outdoor dining is just steps from the entry arch at Venice Fishing Pier.
This article appears in the December issue of Sarasota Magazine. Like what you read? Click here to subscribe.