Article
Volunteer of the Year: Harriett Palotto
Sarasota Magazine's 2013 Volunteer of the Year: Harriet Palloto.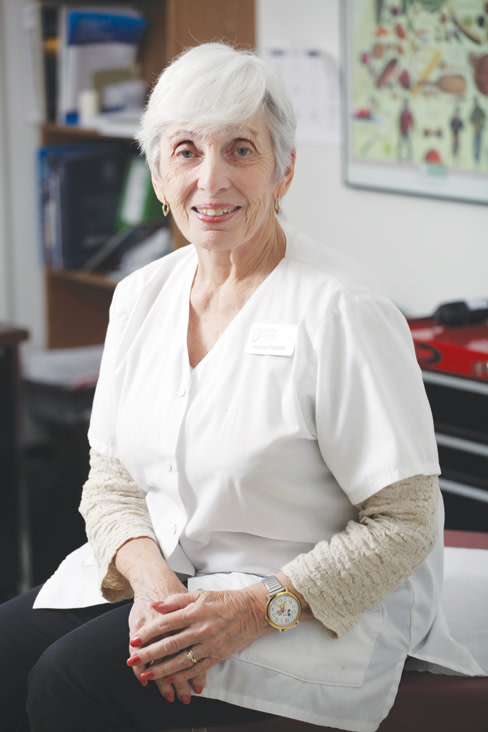 When describing her volunteer work, 81-year-old Harriet Pallotto uses the word "love" a lot: "I just love being with the patients," she says. Or, "I love contact with people." Or even, "I love mornings!"
Three days a week, Pallotto, a retired nurse, arrives at Senior Friendship Center's downtown medical office at 7 a.m. (right after eating breakfast with her husband at Main Street's Coffee Carousel). Before most people arrive, Pallotto is looking over patient charts, calling hospitals and doctor's offices for more information, even making coffee. A seasoned professional, she's not timid about making sure the doctors use the proper forms; she even teases them about their handwriting.
Pallotto's 61-year career goes like this: She graduated from nursing school in 1952, got married 10 days later and had her first of two daughters within the year. In the next six decades, she held nursing licenses in five different states, including her native Delaware, as well as New Jersey, where she spearheaded the revitalization of an Atlantic City nursing home that had previously been closed because of "deplorable conditions," she says.
In her Sarasota retirement, Pallotto's lifelong calling continues, both with Senior Friendship Center as well as Sarasota's Resurrection House. "I like to be busy," she admits. "How much housework can you do in a two-bedroom condominium?" Picking up an extra volunteer shift leaves her "revitalized."
"We have so many needy people here. I just can't imagine not doing what I'm doing," she says. "I love it."
Read our 2013-2014 giving register here.