Article
Starting Over
Five baby boomers start second careers in Sarasota.
Sarasota consistently ranks as one of the top places for baby boomers to retire, but many of those new arrivals have no intention of pursuing a life of leisure. Yes, they've left behind their former careers for a warmer climate and our city's cultural and natural amenities—but "retire?" "That's a horrible word," says Pat Gussin, who after working as a globetrotting executive in the health industry started Longboat Key's Oceanview Publishing with her husband. Gussin says she prefers the word "graduate."
That's a good choice of word. Highly educated and dedicated to perpetual self-improvement, the 78 million baby boomers are starting new businesses at a record rate. In fact, they have a higher percentage of entrepreneurship than people ages 20 to 34—the age we traditionally associate with entrepreneurs. When it comes time to retire, many boomers opt instead to graduate to new careers of their own making—and a lot of them are doing so right here in Sarasota and Manatee.
Meet five boomers who came to our retirement hotspot and kept right on working—this time to start the businesses of their dreams.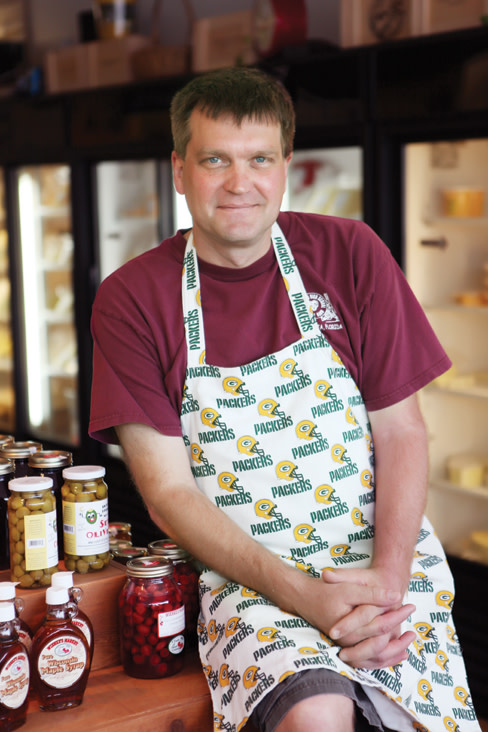 Karl Nelson
After a lifetime—and several work-related injuries—in the construction business, Karl Nelson, 48, moved with his wife and children from Wisconsin to Florida "to do something different." He stumbled into his new career through old connections—Wisconsin cheese makers he knew through his family's dairy farm up North. Realizing those familiar cheeses were new and appealing to Florida consumers, Nelson opened Greenleaf Cheese on South Tamiami Trail in 2007.
Big break
"I came back [from a trip to Wisconsin] with a bunch of cheese and brought it to a neighborhood party. People were coming up to me saying, 'Where did you get this?' I said to myself, 'Maybe I'm onto something.' Then I looked in the phone book—there wasn't even a category for cheese."
How's business?
"We've grown a lot, and the wholesale is really taking off. It started out with one customer going back to another town saying, 'You gotta get hold of this guy's cheese.'"
Biggest challenge
"The economy. I started right when everything was down the tubes, then we had the oil spill, then the senators fighting on TV about budgets and stuff. When the senators started fighting, my door stopped swinging. Got through it by hunkering down."
Plans
"I'm leaning toward going [strictly] to wholesale. Trying to see if someone else would run the store. I've got such awesome customers; otherwise I would've already made the switch."
What makes you proud?
"Taking the challenge of a dream of doing something different and succeeding at it. I believe I've grown as a person."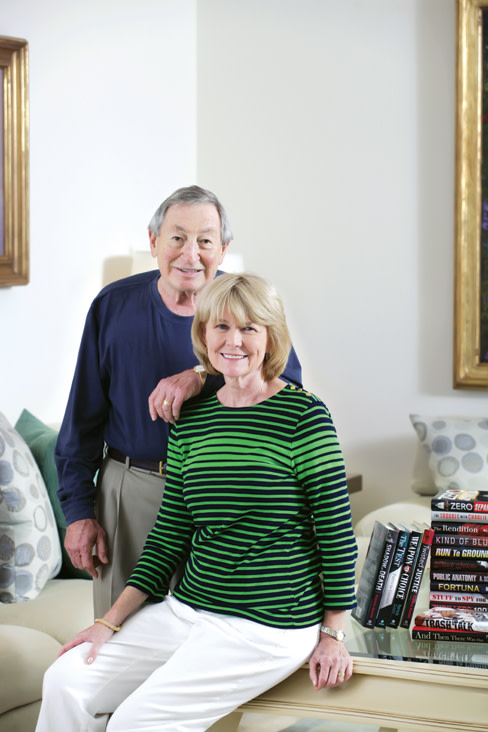 Bob and Pat Gussin
Bob and Pat Gussin each enjoyed successful careers as high-level Johnson & Johnson executives, but their worldwide work travels often kept them apart. When they retired in 2000, they began attending writing workshops, where Pat, now 69, worked on her first novel—a thriller, her favorite genre—while Bob, now 75, talked publishing with other would-be authors. Eventually, Bob said, "I want to start a publishing company. I think I can do better for these people." In 2006, they opened Oceanview Publishing, dedicated to publishing thrillers; Pat's novel, Shadow of Death, was among the first books they published.
Big break (Bob)
"I called Warren Phillips, retired CEO of Dow Jones. He said, 'It's hard work and you'll probably never make any money.' He told us every aspect of publishing. Then he called a distributor in New York and recommended us. Immediately we had a distribution company, and that distributor works with Amazon. We call Warren and his wife 'the godparents of Oceanview.'"
How's business? (Bob)
"The first year, 2006, we put out five books. Today, we publish one hardcover book a month—80 total so far—and we have 47 authors. We have two books under movie contract now, and one under TV contract."
Why it's rewarding (Bob)
"People say, 'You're doing it the right way; I'm tired of playing golf every day.' We've got no regrets. We work from home. We're having a wonderful life. The surprise is that we are successful, too."
Advice (Bob)
"Ask yourself one question: If I do this—whatever you want to do—what is the worst-case scenario? And then ask yourself, can I live with that? If the answer is yes, why not take your shot?"
(Pat)
"Then you open the door, and one thing leads to another."
Brian Weiner
In 2000, at the height of the dot-com boom, Brian Weiner and his business partner scored big, selling their digital printing business, Noalart Graphics, to a publicly traded company. Rather than turning to golf or world travel, Weiner, now 59, and his partner began to study charity work. "I felt there could be ways to make not-for-profits better business people," he says. In 2003, they founded The 1 to 1 Group, which provides targeted business development for nonprofits, featuring data-driven, personalized direct-mail campaigns.
Why it's rewarding
"[Noalart] was a money-making opportunity for us. Now, our goal is to make the world we live in a better place. I love the organizations and people we
work with. In 10 years [in business], we will have raised about 100 million new dollars for our clients."
Biggest challenge
"Many people in not-for-profits viewed [us] as a threat. They felt we [would] provide a technology tool that would allow the organization to get rid of a development director. But really, we freed that person from burdensome minutiae. Being successful was a matter of finding people who were leaders, risk-takers."
Core beliefs
"Treat different people differently. We tend to classify people into big buckets. I want to hear what you have to say, and I want to find a way to recognize that. We can create 1,000 letters, each targeted to the individual."
Bottom line
"My wife has joined the company. I have a business partner who's like my brother. If you can have a business where you effect meaningful change and work with people you love and respect, that's a great way to wake up."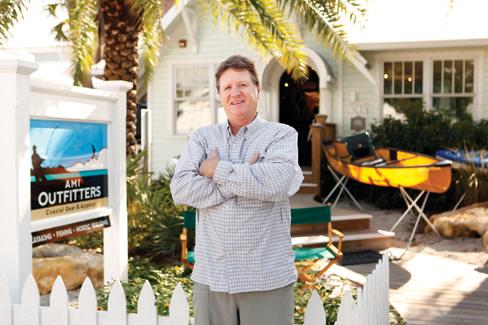 Steve Traves
When you've spent 30 years traveling the country as a location photographer, Steve Traves, 57, says, "9-to-5 appeals to you." An avid kayaker, cross-country skier and fisherman, Traves had toyed with the idea of running his own sporting goods store. After realizing that Florida has fewer outdoor sports retailers than many other states, Traves opened AMI Outfitters on Anna Maria Island in October 2012.
How's business?
"The first few weeks, we were inundated. We had tremendous Christmas sales. We have no mortgage, no employees and we're not drawing a salary. We're almost at a point now where we own all of our inventory; we don't have any loans against it."
Customer service
"A lot of times you walk into a store and the [shop] person doesn't look up. We practically tackle people when they walk in the door. If they want to be left alone, we say, 'Terrific, let us know if you have any questions.'"
Why it's rewarding
"This has become our social life. People come in and spend a half an hour just chatting. All of a sudden we're meeting folks and getting involved with organizations like Sarasota Bay Watch; now I'm president of Kayak Anglers of West Florida. You open the door to the shop, and that opens a lot of doors to a lot of things."
Advice to would-be retailers
"Do your homework; listen to your customers."
Plans
"This space is not going to hold us for long. Unfortunately, in this building, there's nowhere to expand. I might
keep this location and open another one."
Bottom line
"I'm surrounded by things I love. There aren't many men who walk in here and say, 'Poor Steve.'"