Article
Party Girl: Circus Sarasota Gala
Our party girl, Veronica Pastore, heads to the 2013 Circus Sarasota Gala.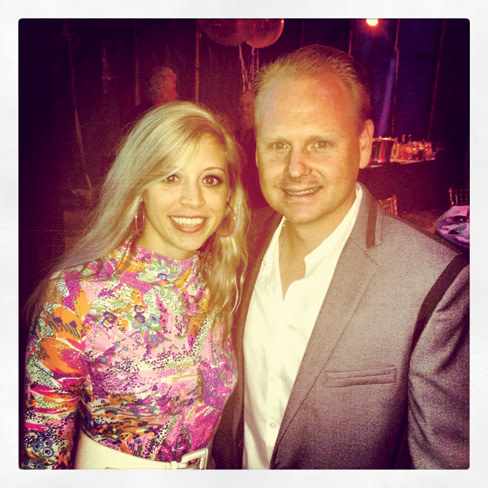 What amazed me at the Circus Sarasota Gala was not silly clowns or garish costumes but all the graceful girls and guys inside their Big Top, installed at the corner of Tuttle and 12th Street for this year's winter season. I was surprised that the first young lady I met, draped in a sultry canary-yellow gown with strategically placed gemstones on the top, was not an entertainer but actually a staffer in Circus Sarasota's marketing department. Turns out Julia Jacobs Barreda has history with the circus arts as well—both as a performer and as Dolly Jacobs' niece.
Oh, yeah, the family biz thing: Dolly, of course, is one of the most famous aerialists of all time, co-founder of Circus Sarasota, and daughter of Lou Jacobs, himself perhaps the most famous clown of all time. Dolly was stunning, too, rocking a full-length blue sequin-encrusted gown that gave her glamorous curves and cast sparkling shadows everywhere she strolled.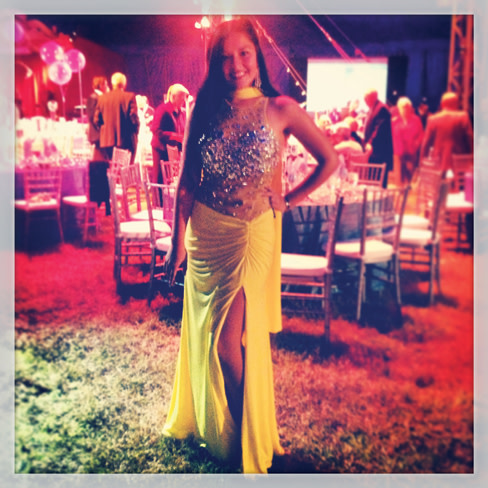 I think the guests, instructed to attend in "circus-inspired" attire, provided most of the laughs, with ladies like Mary Ann Robinson and Renee Phinney donning silly chapeaux, Eric Manzi and Sean Gerathy in bright, patterned pants and even Sen. Bob Johnson in an oversized bowtie and red nose. Many chose "circus chic," including the bad boys and girls of the HuB, ever accessorized with their smartphones. Kimberly Marlow and Jennifer McAlister each incorporated a smart circus-inspired touch: a broad belt with chains and a perfectly placed flower, respectively.
My own look was perhaps more '70s than circus, but I fit right in with my multicolored, long-sleeved maxidress, especially when I wandered over to a section of circus costumes on display. Aerialist and instructor Kathy Merritt offered me a giant fluffy boa that looked so good with my outfit that I raced off to find one of the photogs present to snap my new look, but Kathy ran after me and said I unfortunately could not take it from the costume department. Whoops.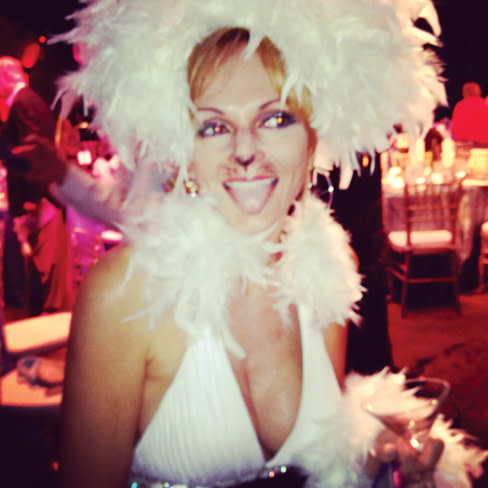 I was glad she caught me, though, when she introduced me to Rafael Palacios, another circus legacy whose mother (a high-wire walker from Germany) and father (a trapeze artist from Mexico) met in the circus in 1952. This year he's flying with Dolly for Circus Sarasota, fulfilling a "lifelong dream," says Rafael, who got his start at Circus Circus in New York City at age five.
Another performer present began even younger: Nik Wallenda, who debuted publicly at age two and hasn't stopped since. I guess if you are a seventh-generation scion of the famous Flying Wallenda family the circus is literally inborn, though I hear that Nik trains for six hours a day six days a week to prep his record-breaking feats. In addition to his athletic prowess, he's also a pro at handling his fans with grace and dignity, including a certain "party girl" who clamored for a photo.
After millions watched his high-wire walk at Niagara Falls on national TV last summer, Nik is a bonafide big deal. At the gala, attendees bid for the chance to see Nik and Circus Sarasota founder Pedro Reis atop the high wire, something Reis claimed he hadn't done in more than
30 years. As soon as auctioneer Michael Klauber heard a price he felt was fair ($5,000), Nik slipped off his shoes and scrambled up the scaffolding like a spider. Then he and Blake Wallenda supported Pedro on a pole as they quickly executed a perfect walk across a wire only two inches thick, nearly 50 feet in the air. No harness. No net.
Descending and grabbing his shoes and dinner jacket, Nik returned to his table, a few beads of sweat standing out on his forehead. Despite his making it look quite easy, the task was clearly hard work.
A little later, I met Nik's mother, Delilah, who shared the story of how she was named: by Cecil B. DeMille, who in 1952 was in Sarasota shooting his circus epic The Greatest Show on Earth. DeMille decided that if Delilah's mother should give birth to a girl, she would be named after Hedy Lamarr's character in his most recent hit film, Samson and Delilah. Another vision of loveliness in a glamorous gown, Delilah Wallenda is a worthy namesake, and also a lifetime performer in her family's field.
Back at our table, as a clown discovered coins in our pockets and under our elbows, I reflected that the circus gala was showing me the real art of the Big Top, as opposed to my preconception of it as something silly for kids. In reality it is supremely athletic, beautiful and always, always a spectacular show. Though I didn't get any water squirted in my face, I did come away inspired by Nik's personal motto: "Never give up." These circus families can't stop, won't stop and I surely hope they don't—I'd like to take my own family to see them someday.
Click here to read Veronica Pastore's Party Girl blog.