Article
What To Do in Sarasota This Weekend: 1/25/2013
Sarasota events: What to do in Sarasota this weekend, 1/12/2013.
Your Weekend Top 5
1. On the heels (pun intended) of his history-making walk over Niagara Falls and before he tackles the Grand Canyon this summer, daredevil wire walker Nik Wallenda will headline this year's edition of Circus Sarasota, opening Friday in the Big Top on 12th Street and Tuttle Avenue. Through Feb. 15; tickets start at just $10. And catch Wallenda walk a wire high across Bayfront Drive at 10:30 a.m. Tuesday; his journey will start from a crane near the Unconditional Surrender sculpture and end up at Marina Tower.
2. Feeling adventurous? The Ringling Museum's intriguing New Stages performance art series opens this weekend at the Historic Asolo Theater with Marc Bamuthi Joseph's moving Word Becomes Flesh, a series of performed letters to an unborn son. Bamuthi Joseph has been called one of America's most vital and productive performing artists.
3. The Friends of Myakka River Friday night present The Sauce Boss in an open-air concert at Myakka River State Park. The renowned slide guitarist will serve up the blues while he cooks a big pot of gumbo, which he'll serve to the audience after the show. It's the first of the season's Moon Over Myakka concerts. Bring your lawn chair and an appetite.
4. GuitarSarasota opens its season Saturday night with Peruvian classical guitarist Jorge Caballero, the youngest musician and only guitarist to win the acclaimed Naumberg International Competition Award.
5. If, like us, you've been meaning to check out Warm Mineral Springs, here's a good opportunity. The Historic Preservation Coalition throws its third annual Ancient Waters Celebration there Sunday afternoon—speakers, raffle, silent auction and a catered dinner. Your $30 ticket includes a day pass to the springs that you can use at a later date.
Next Week
Superstar violinist Joshua Bell joins the Cleveland Orchestra Monday evening at the Van Wezel for works by Beethoven and Berlioz. They're the kickoff to the Sarasota Concert Association's Great Performers series.
More than two dozen spectacular glass sculptures from the collection of Richard and Barbara Basch are on exhibit at Ringling College's Basch Gallery. Creative Spontaneity in Glass continues through March 23.
Chef Jeremy Hammond-Chambers' winter cooking classes begin next Wednesday evening with a culinary tour to India to Thailand. Since Hammond-Chambers lived in India for a while, this should be a real treat.
Free & Free-ish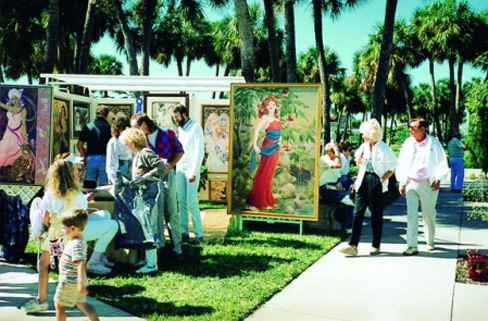 The big, big St. Armands Circle Art Festival  is Saturday and Sunday. More than 200 painters, photographers, sculptors, jewelry makers and ceramic, wood and glass artists from 30 states will present their wares in this juried show.