Article
Step Inside an Art Deco Home in Cherokee Park
This month's Home of the Month was built in 1937 in Sarasota's Cherokee Park neighborhood.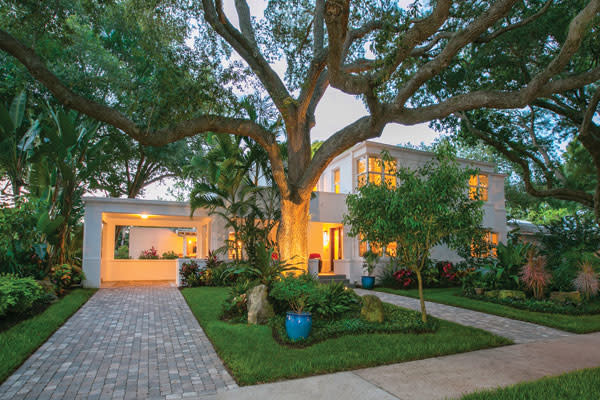 Most of Sarasota's Art Deco architecture is, sadly, gone. When I moved here 30 years ago you could find examples all over town. Now there are just a few left: among them the Municipal Auditorium, the abandoned residence on Oak Street near the First Presbyterian Church—and our Home of the Month.
A large suburban residence built in Cherokee Park in 1937, the house is beautifully framed by old oaks. Strong horizontal lines define the façade, along with block-like geometrical shapes. It's unmistakably of the period, with many original touches—two porthole windows look out on the front porch.
The home was built by James C. Brown, the developer of Cherokee Park. The next owner was Col. Russell Mayo, whose father was surgeon to the King of England. Back in those days, Cherokee Park sounds like it was a glamorous place indeed. In addition to members of the Palmer family, Baron de Luze lived down the street and Prince Cantacuzene was around the corner. But it was the current owners who transformed what could have been an outdated historical curiosity into one of the most distinctive homes in town. In 2012 they hired architect Clifford Scholz to renovate and enlarge the place. He added a new section at the rear of the home, comprising an elaborate, state-of-the-art kitchen, family room and master suite.
Scholz's secret is restraint. He chose a simple design motif—the three-tiered molding that runs through the original home—and continued it throughout the new sections. The result subtly blends the old with the new. Sometimes it's hard to tell the difference. The doorknobs with the Art Deco design? Original. The glass-paneled closet doors? Original. The shower in the hall bathroom? Impossible to say.
The home in its new incarnation is large (3,700 square feet) and perfectly suited for today's living. It's set on a beautifully manicured lot, with several terraces, including one off the second-floor bedrooms. There's also a detached three-car garage. There's no pool, but there is a place for one—you just have to take out the putting green.
Interested? 1753 North Drive $1,875,000 | Contact Allen Conrad, (941) 544-0143 Re/Max Alliance