Article
Sarasota Boasts Treasure Trove of Mid-Century Modern Architecture
Yes, tourists come for the beaches, but if we get smart, they'll also come to see our treasure trove of mid-century modern architecture.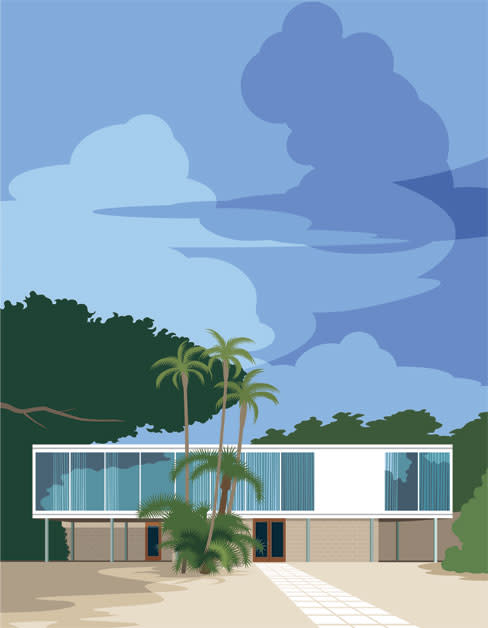 Of all the art forms that have contributed to Sarasota's unique status as a town where creativity is in our DNA, architecture remains the poor stepchild.
The performing arts are so ingrained with the local economy and the town's image of itself that people love them, whether they attend or not. Individual artists are fussed over endlessly, at the Chalk Festival, the Film Festival, the Improv Festival, RIAF and a host of other events. And the circus—what Sarasotan's heart doesn't swell with pride at our incredible heritage and, thanks to Nik Wallenda, the second wind it's getting?
And then there's architecture.
It seems that there's always some fight going on. This building must be saved, one faction says. Tear it down, says another—much larger—faction. Just about any new, unusual building creates a feeling of shock and outrage. Only public art—that series of enormous sculptures that decorate the bayfront—arouses the town's passions more.
This is ironic, because to many in the outside world Sarasota is regarded as an architectural shrine. Architecture lovers come from all over to look at our famous structures firsthand. Sure, every town has an interesting building or two, but we're different. The Sarasota School of Architecture, seen with the hindsight of 60 years or more, is becoming recognized as not just one of many regional styles of modern architecture but a defining moment. This was the time and place where mid-century architecture achieved its purest, most elegant form. Many people find these buildings inspiring, the way great art is inspiring. And with the success of Mad Men, the potential fan base has been increased dramatically.
They're not just art; they've become part of our popular culture.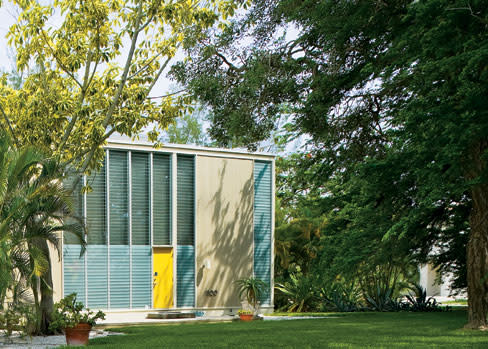 And people do come to see them. The Hiss Studio and the Umbrella House have become underground tourist attractions in their own right, with cars slowing down to get a good look and people getting out their cell phones and cameras to take pictures. Fortunately, both of them deliver the goods. Just as The Last Supper or Rembrandt's Nightwatch provoke a little spasm of aesthetic pleasure in the right person, so do these two mid-century modern beach houses. Then, when the architecture lover catches his breath and his heartbeat returns to normal, it's off to St. Armands Circle, where, pleasantly lulled by his once-in-a-lifetime experience, he'll overspend on dinner.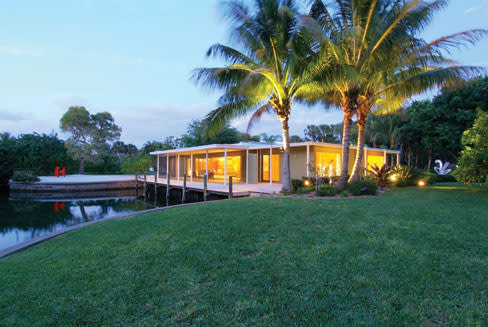 Which is, of course, the real reason Sarasota should capitalize on its architectural heritage—it's a little gold mine just sitting there. These architecture tourists are just what we're looking for—affluent, sophisticated and intellectually inclined. They very well may be delighted enough by what they see to think about moving here, or at least return for another look. And when they realize that these beautiful buildings have a spectacular beach attached to them, along with excellent restaurants and more high-end stuff to do like ballet, opera and theater, that other towns just don't have no matter what their architectural heritage—well, am I the only one who's starting to smell money?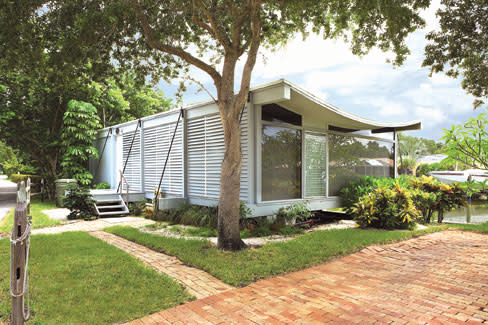 There are hurdles, to be sure.
Problem No. 1 is the lack of effective communication between the local architecture community and the powers that be. The architectural groups believe that buildings like Riverview High School and the Paul Rudolph wing of Sarasota High should be preserved for their aesthetic value alone. This has proven not to work. Economics are against them. They're too expensive to preserve. And they're difficult to adapt for contemporary use. The same holds true for many privately owned structures—beautiful but modest-sized mid-century homes built on gorgeous plots of beachfront now worth millions.
But I can't help but think that if Sarasota's architectural heritage became a source of income, the town would start singing a different tune. All over the country there are models we could follow. South Beach has turned its Art Deco district into a major asset, not just bringing in tourists but refashioning itself into the hippest, coolest place in Florida—just on the strength of what used to be a bunch of rundown old hotels and apartment buildings. Likewise, Palm Springs is one of the hottest destinations in the country. Why? Its collection of mid-century modern homes.
Could Sarasota do this?
There are some issues to overcome. South Beach and Palm Springs have more to sell than we do. They have more structures, in more concentrated areas. What we have is more dispersed. You have to search it out. Sarasota would have to be sold as an "architecture plus" destination. You look at some beautiful buildings, then you go to the beach. Take in a couple more buildings, then an opera matinee.
And to really become an architectural destination, we're going to have to complete the experience by letting tourists inside some of these places. Columbus, Ind., another small city with incredible—and tourist-wise, lucrative—architecture, solved this problem by opening the best and biggest modern home as a museum/historic home. We could do that here, if we could only figure out a way to handle the parking. And placate the neighbors….
Like I say, there are some hurdles.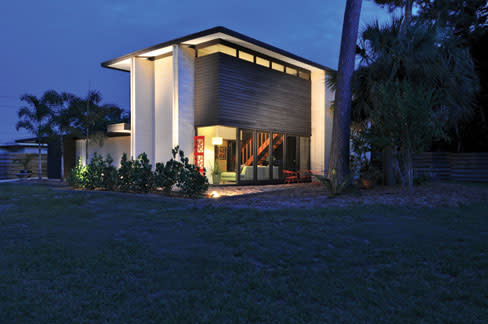 One good way to start would be a special week. Many cities with homes to show off have a yearly festival. In Natchez, Miss., they have the famous Pilgrimage, when all the historic homes, all privately owned and lived in, are open to the tourists and you go from one to another. The townspeople wear period costumes and serve mint juleps and sweet tea. We could do that. Only instead of hooped skirts we'd wear cabana sets and capri pants and serve Tab.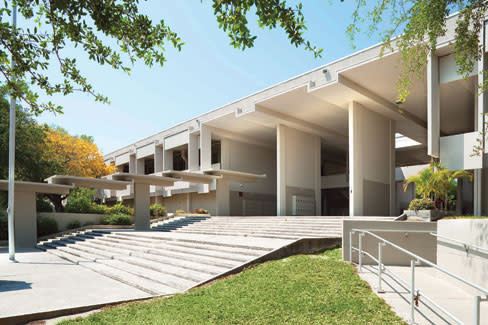 Specially organized tours held from time to time are another possibility. We already have some, actually, and they work out pretty well. They are usually sponsored by an architecture group, two recent ones being the Frank Lloyd Wright Conservancy and the Docomomo group. Both had similar formats. People came from around the country and stayed at a hotel that was very happy to get them. There were several bus tours to see buildings, with Lido Shores being the "must see." Architects accompanied the tours and there were also presentations and panel discussions, plus the social events that Sarasota does so well. (By the way, the jewel in the crown of these tours is the mandatory sunset cocktail party at the Paul Rudolph-designed beach club at Sanderling.)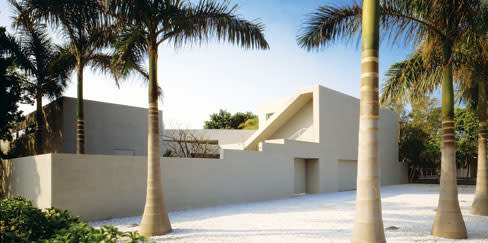 One thing that would help enormously would be the makeover of a Lido or Siesta Key Beach motel into a hip Sarasota School boutique hotel. People would be able to experience the style firsthand, and travel magazines and websites would eat it up. There would be a restaurant and bar, of course, plus a very cool pool. Sarasota has far too many aging beach vacation condos from the '70s that, frankly, don't interest many affluent travelers these days. I realize that the style and atmosphere of such places are the responsibility of private investors and not some city or county policy, but everything we can do to encourage them should be done. We're limiting our appeal with mile after mile of bland, dated architecture that lines our prized asset—the best beaches in the country.
A more understanding and proactive attitude on the part of the people who set policy would help, too. Our architectural heritage should be prominently touted on all official—and unofficial—websites. There is one excellent brochure available—Tour Sarasota Architecture, which is free at the Visit Sarasota Welcome Center at 701 N. Tamiami Trail.
Of course, the owners of these homes would have to buy into the idea, but since most are architecture fans who are immensely proud of their homes, that shouldn't be a huge problem. And that contentious attitude that so many Sarasotans have when it comes to change or minor inconvenience will have to be addressed. After one of the weekend tours I mentioned above, one the participants told me that somebody tried to run him over. Now, I don't know exactly what this means, although he swore it was true. I think it was more likely a dirty look from a homeowner whose $5 million mansion had a tour bus idling in front of it. But still—we're going to have to impress on the residents that these visitors are good for the town and we need to welcome them rather than try to run them down.
We're at a crossroads. What little we have left of this treasure trove is under constant threat. Some of this is indifference, some of it economics. But the timing is suddenly in our favor. People want to come and see it. There is money to be made.
Are we going to make this work?
For a quick introduction to Sarasota School architecture, check out these five buildings. >>