Article
Spirits of Sarasota: Selva's Star Burst
Fruity, fizzy effervescence.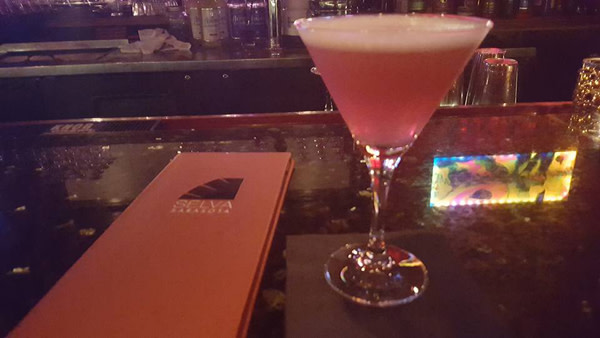 This week: The Star Burst at Selva Grill
The drink: Dragon berry rum, lemon, cranberry juice and lemon-lime soda, garnished with a slice of strawberry. Shaken, the carbonated soda gives it a fruity, fizzy effervescence, which carries an aroma that very much resembles the candy referenced by the drink's name. But despite that allusion, the drink itself isn't cloying—the cranberry keeps it dry, so that the sweetness shines mostly in the nose.
The bar: Aside from limited, intimate seating areas on either end, Selva's lounge is almost exclusively its long bar, always moodily lit in red hues highlighted by blues and yellows. Though the space itself is narrow, the bartenders are backed by windows looking out onto the dining room, which, combined with the high ceilings and elongated space, keep things feeling roomy. It's a popular happy-hour spot, and for good reason.
Food: Even before its lounge rose to prominence, Selva's longtime status as a downtown destination began with its food, and the bar bites continue that tradition, with lots of seafood options, plus steak, lamb and duck. The crispy shrimp with wasabi aioli and mango salsa is a favorite, as are any of Selva's famous ceviches, but really, with happy hour dishes ranging from $5 to $9, you can't go wrong.
Other notable potables: The signature cocktail menu is heavy on vodka and rum, including a selection of mojitos. Effervescence is also big, with most drinks utilizing soda or even champagne. The Selva Mojito, for instance, has orange instead of lime and also includes pineapple juice and champagne along with the traditional mint and simple syrup.