Article
Baltimore Snowball Factory Opens in Downtown Sarasota
Baltimore native Eric Garfield brings snowballs to Sarasota.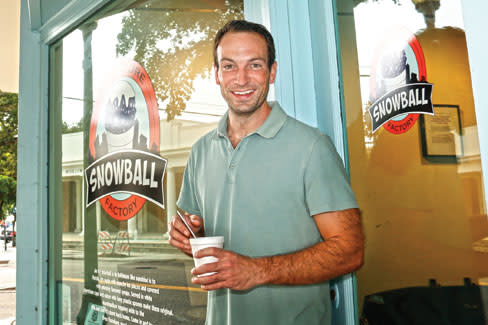 Snowballs in Sarasota? Yup, you read that right. Baltimorean Eric Garfield always wanted to open a snowball shop—the frozen treat is extremely popular in the Northeast—but the long winters kept that from being a viable option in Maryland. He thought about opening a shop on Florida's east coast, but settled on Sarasota after hearing the city mentioned during—what else?—an Orioles spring training game. "It was an easy decision—I thought, 'Who wouldn't want to live and start a business here?'" he says.
And how are they made? Snowballs, which have been around since the early 1900s and begin popping up in Baltimore every spring, signaling the arrival of better weather, begin with ice cubes. Garfield processes them through a Koldkiss ice machine, also made in Baltimore, to create something with a texture akin to hard snow. "It's not shaved ice, not like a slushy or Slurpee; there's crunchier bits in it," he explains. Then that ice is combined with flavored syrup and served in a Styrofoam cup with a white plastic spoon.
Most popular flavors: In Baltimore, the traditional flavor is egg custard, which Garfield likens to "a very sweet vanilla" (there are no actual eggs involved), topped with marshmallow. And it's the most popular flavor at the Baltimore Snowball Factory, too, with chocolate coming in "a distant second," Garfield says.
Factoids
In the future, Garfield hopes to expand his snowball enterprise with more shops and a food truck or cart.
Snowball fans can mix and match 160 flavors, everything from lime to root beer.
Everything at the Baltimore Snowball Factory is gluten-free, and sugar-free options are available.
Baltimore Snowball Factory, 14 S. Orange Ave., Sarasota, (941) 706-3657
Click here to read past Foodologist interviews. >>
This article appears in the November 2014 issue of Sarasota Magazine. Click here to subscribe. >>