Article
Recipe: Made Restaurant's Double-Dipped Fried Chicken
Get the recipe for Made Restaurant's popular double-dipped fried chicken.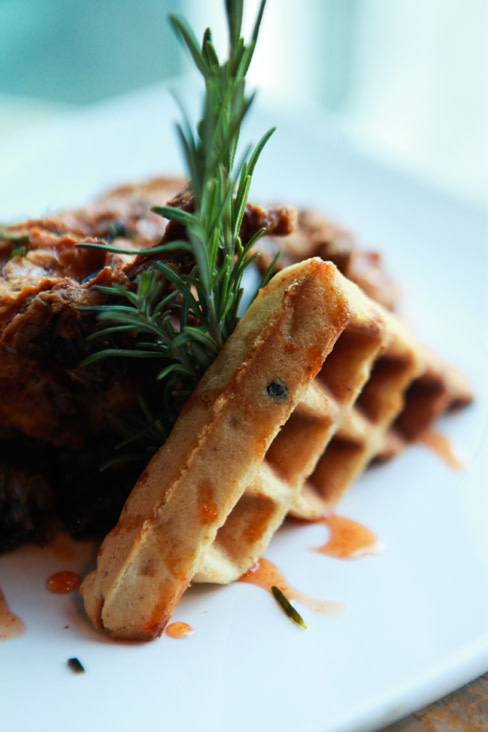 In our June issue, John Bancroft finds lots to love at Made restaurant in downtown Sarasota--including the restaurant's signature double-dipped fried chicken. Well, lucky for you, we convinced Made's chef to give us his recipe so you can replicate the dish at home whenever you heart desires. Happy eating!
Double-Dipped Fried Chicken
1 (3 to 4 pound) chicken, cut up into 10 pieces
Kosher salt
3 cups all-purpose flour
2 Tbsp. garlic powder
2 Tbsp. onion powder
2 Tbsp. sweet paprika
2 tsp. cayenne pepper
Freshly ground black pepper
1/4 cup granulated sugar
1 quart buttermilk
3/4 bottle Cholula hot sauce
Oil for frying
1/4 bunch fresh thyme
3 big sprigs fresh rosemary
1/4 bunch fresh sage
1/2 head garlic, smashed, husk still attached
1/4 cup honey
Put the chicken pieces into a large bowl. Cover the chicken with buttermilk, half of the Cholula,and the sugar . Cover and refrigerate at least 2 hours or overnight.
In a large shallow platter, mix the flour, garlic powder, onion powder, paprika, cayenne, and salt and pepper until well blended. In another platter combine the buttermilk and rest of hot sauce with a fork and season with salt and pepper.
Drain the chicken and pat it dry. Dredge the pieces, a few at a time, in the flour mixture, then dip them into the buttermilk; dredge them again in the seasoned flour. Set aside and let the chicken rest while you prepare the oil.
Put about 3 inches of oil into a large deep pot; it should not come up more than half way. Add the thyme, rosemary, sage, and garlic to the cool oil and heat over medium-high heat until the oil registers 320-325 degrees F on one of those clip-on deep-fry thermometers. The herbs and garlic will perfume the oil with their flavor as the oil comes up to temperature.
Once the oil has reached 320 to 325 degrees F, working in batches, carefully add the chicken pieces 3 or 4 at a time. Fry, turning the pieces once, until golden brown and cooked through, about 12 minutes. Total cooking time should be about 30 minutes. When the chicken is done, take a big skimmer and remove the chicken pieces and herbs from the pot, shaking off as much oil as you can, and lay it on a tea towel or brown paper bag to soak up the oil. Sprinkle all over with more salt and a dusting of cracked black pepper. Repeat with the remaining chicken pieces. Once all the chicken is fried, scatter the fried herbs and garlic over the top. Serve hot top with a mixture of honey and a little more hot sauce for a hot and honey crust.
Read food editor John Bancroft's review of Made here.