Article
Meals on Wheels
Cooper Levey-Baker searches out the best food trucks in the area.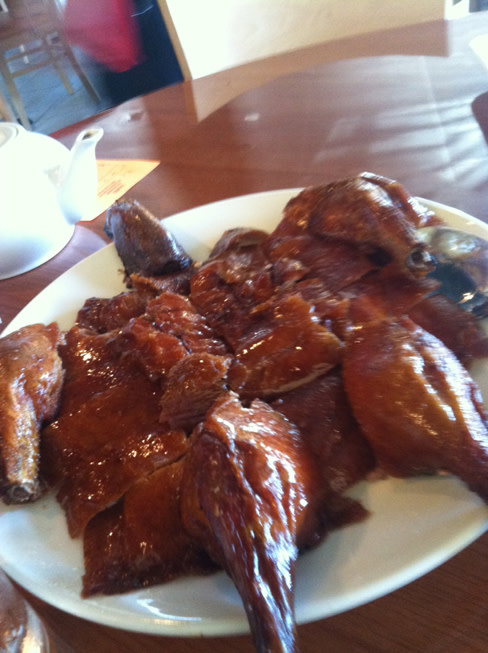 Screech! That's the sound of me hitting the brakes. The cause? Food, of course. It's day one of my grand attempt to discover the best roadside cuisine our region has to offer, and I'm already spotting vendors I didn't even know existed.
I backtrack along Dr. Martin Luther King Way, back toward the tall white truck I spotted in a vacant lot just east of the train tracks. I can't tell what the truck is serving, but I see a red-lettered menu and a Jamaican flag, and I'm sold. A few scattered tables dot the grass- and palmetto-strewn lot. A Port-a-Potty stands guard near a parked car blaring distorted dub.
Inside the truck stands Ronnie Sparks, happy to serve up one of his generous $6 lunch specials: oxtail, curried goat or curried chicken, accompanied by a side of steamed cabbage and Jamaican rice and peas (which is actually, I learn, rice and beans). Sparks, a Jamaica native, has been in the mobile food game with his brother for three years now, and handles most of the cooking. He calls the truck The Garrison, and focuses on executing a basic menu to perfection. He might occasionally spice things up with some stewed fish, but his foundation is those three main proteins: oxtail, goat and chicken. He has no formal training, has no need for it. "In Jamaica," he says, "you're born with that cooking instinct."
I set a Styrofoam container full of curried goat down on the trunk of my car, and my wife and I tear into the meat. It separates from the bone in clean chunks, little knobs of muscle and fat that melt in your mouth. My 11-month-old son, who's never eaten meat, stares longingly. He knows he's missing out.
While ambitious food vendors have always lined up roadside to hawk their wares, the popularity of mobile food has exploded around the country, and diners here have embraced the trend. In fact, many of the trucks I find parked around town have been operating for years, well before trucks were hip in Miami and Los Angeles.
But the surge in popularity has inspired more gourmet experimentation. While most of the longer-lasting trucks serve working-class classics like smoked ribs and tacos, two years ago, a coterie of trucks banded together under the name Ringling Picnic (now Suncoast Food Trucks), serving innovative versions of dishes like sliders and mac 'n' cheese and winning a Sarasota Magazine Best of 2011 award in the process.
Situated somewhere between the humble hot dog cart and a brick-and-mortar restaurant, food trucks provide aspiring chefs a decent-sized kitchen without the burden of long-term leases or mortgages. And those small kitchens themselves can be an asset. Warning bells go off any time I eat at a place where the menu is as thick as a phone book. No menu that extensive can feature only fresh items, and how can one chef possibly master all those dishes? Overextension is rarely a problem at a food truck, where the menu is usually concentrated on a handful of well-honed specialties, and where a lack of freezer space makes freshness a must.
At least those are the rules of the game in Sarasota and Manatee, where the number of Mobile Food Dispensing Vehicle licenses issued by the Florida Department of Business and Professional Regulation has jumped by 20 percent over the last five years. The vast majority (74 percent) of those licenses are in the hands of Manatee County vendors, who are way ahead of their Sarasota counterparts.
Indeed, after hitting The Garrison, I drive north into Manatee County, to a Tallevast Shell station with a food truck parked outside for a trip to Thailand.
Monty Jones of Sarasota Thai Soup estimates that he's been to Thailand 10 times over the past 20 years, and the idea of bringing mobile Thai to Manatee County was inspired by the food vendors who line Thai streets. But it's his Thai wife, Janya Jones, who really makes things happen. Her grandmother, an excellent cook, passed along her secrets, Janya says.
I ask for a big bowl of her Thai soup, and take a seat at a small, shaded table next to the Jones truck. Reminiscent of pho, Janya's soup is a savory combination of broth, flat noodles, big hunks of carrot, parsley, green onions, sprouts and two kinds of beef. It's delicious enough to make me forget that I'm sitting in a gas station parking lot. Also on her menu today: pad Thai, fresh spring rolls and grilled chicken skewers. Janya says that it was hard work going from amateur home cook to mobile entrepreneur, and that the couple's truck, fortified with shiny bamboo trunks, represented a significant investment. But the business is a hit. "I like to give food to people," Janya says.
Drive a few miles west in Manatee, and you're in an entirely different culinary community.
Just ask Rose Pattison, who started parking her truck outside the Goodwill on old U.S. 301 about a year and a half ago. The Pennsylvania native originally served Atlantic City-inspired "boardwalk foods," and even named her shop Bigfoot Hot Dogs and More, but she switched up her menu drastically when she realized her customers didn't want pizza and Reubens sandwiches. They wanted tacos. Now, 50 percent of her business is what she calls "Texas tacos," softly shredded steak wrapped in flour tortillas that may bear little resemblance to classic al pastor, but are delicious in their own right.
The Goodwill location and its nearby bus stop bring steady blue-collar traffic Pattison's way, as does the heavy road repaving going on right in front of her setup. Construction vehicles idle and machines clank away while cars drift by. Men in Gatorade-green vests and white helmets direct traffic, at least until lunchtime calls, when one worker strolls over to Pattison's hut to grab some grub.
Pattison calls her tacos "Texas tacos" to differentiate them from the more extensive and authentic Latin-American options you encounter if you head north on old 301 into Oneco. Word-of-mouth Manatee County history holds that Oneco got its name from Reasoner Brother Nurseries, which was founded in the neighborhood in 1881. The area was a "one company" ("one co.") town. Today, it's a heavily Latino quarter, with Hispanic nightclubs, grocery stores and, of course, food vendors.
Taqueria Alexander is planted on a small field of maroon mulch between a Family Dollar and the Oneco Market. Mexican native Juan Chavez, who takes orders through the small Alexander window, says the truck's menu is a mélange of Mexican regional cuisine; that menu, illustrated with bright color photographs, runs the length of the truck. I fall back on the basics: two tacos and a molote.
Owner Marciela Tecomalman brings out the plates, the main items flanked by fresh radishes and cucumbers, soft grilled onions and a hot pepper grilled until its skin is blistered. The tacos feature braised beef and chicken, topped with cilantro and red onion. The molote is a Twinkie-sized slab of corn dough wrapped around those same meats, refried beans and solid helping of queso fresco. My only note on all that: yum.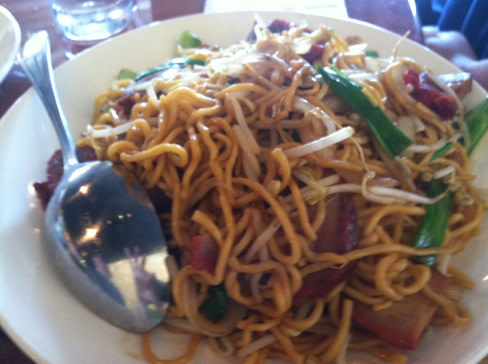 While the food along old 301 is tasty enough to transport you out of your surroundings, away from the neighborhood's rundown strip malls and dusty byways, up at Don Popowski's On the Roll, the location actually makes the food taste better.
Situated in the parking lot of Bradenton's South Florida Museum, in the shadow of the Green Bridge, On the Roll offers customers calming views of the Manatee River along with breakfast and lunch specials. Boat flags hoisted in the nearby marina flail in the strong breeze.
Popowski put together the tall green On the Roll truck with a friend in Connecticut, where they worked together for four years. He moved to Bradenton because he has family nearby, and because he found a houseboat for sale here. After a lengthy process acquiring his license, Popowski opened up shop, with the museum's support, right after New Year's.
While we chat, Popowski cracks open an egg, toasts a bun and grills some bacon, putting together the meanest breakfast sandwich I've found in these parts. The egg is cooked perfectly, pulled off the flattop the moment everything goes from liquid to solid, and the bacon remains crisp. Popowski tosses a handful of thin, freshly fried potato chips next to the sandwich, and I'm in heaven.
On the Roll customers mainly consist of museum visitors, folks headed to the office in the morning and workers on their lunch breaks, Popowski says. If I worked nearby, I'd be here every day, cholesterol count be damned.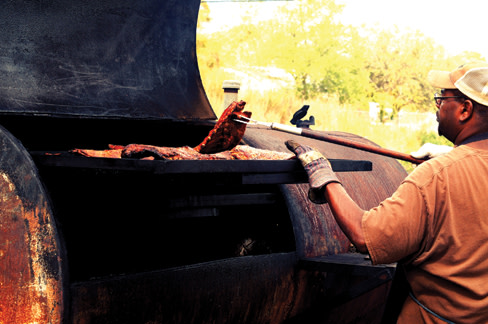 Perhaps the most iconic roadside food: barbecue. Drive around the region on a typical Saturday, look for clouds of smoke and just let your nose follow the scent of sweet wood smoke and pig fat.
Just down the road from The Garrison, AJ BBQ is an exercise in keeping things simple. Your main course options are chicken or pork ribs, either a half or full slab. A.J. (no last name— "I just use A.J.") starts cooking around 7:30 a.m. every Saturday, using a combination of charcoal and oak in classic "low and slow," "old-school" style. He worked in a nursing home kitchen for seven years, but he's self-taught at smoking. "I started on my own," he says. "I just made mistakes in the beginning." Mistakes he must have learned from, because his ribs are magnificent. The meat is tender and juicy and slides off the bone like butter.
No wonder there's a steady stream of customers—mostly Newtown neighbors, according to A.J.—pulling into the bare dirt lot where he sets up. The property butts up against The Purple Store, a convenience shop just across Martin Luther King from the North Sarasota Public Library.
My single quarrel with A.J.'s ribs: He offers only a sweet, mustard-based sauce—no spicy option. "I don't like spicy food," A.J. says with a laugh.
For a dose of heat, I have to head to 17th and Tuttle, where D&R has been setting up shop every Saturday for nine years. Owner Dale Hill spends all day Friday smoking his ribs with burning oak, then finishes off the meat on the spot on Saturday. "All I can tell you, bro," Hill says, "is I get good results."
Indeed. While A.J.'s ribs are soft and juicy, D&R's run denser, with an almost caramelized, leathery exterior developed over all those hours in the smoker. These ribs pack a punch, and have been known to make a fridge smell like a campfire if you should happen to have any leftovers.
When I order a half-slab, Mott Johnson, who has worked with D&R for years, pries the meat from the grill and hacks it up with a hatchet, as he tells me about D&R's intensely loyal fan base. One customer, he says, came straight from the airport to the D&R parking lot. "They make this their first stop or their last stop," Johnson says. I believe it.
Smokers aren't just for ribs, either. Up at Johnny B's Barbecue, owner Johnny Bell sets up his rig to cook your traditional chicken, ribs and pulled pork, but he also cranks out a Florida classic: smoked mullet. Bell's rig is a custom-made hodgepodge of components, with long wooden planks for a floor, fluorescent lights strung up underneath a metal roof and an old round 76 gas station sign hung out front. He sets up shop in the Whitfield Square parking lot, right outside Gold Star Donuts and Papa Joe's Sports Bar, the kind of place where Happy Hour starts at 8 a.m. For those who might need some quiet reflection, a nearby bench overlooks a rectangular retention pond.
Bell purchases his fish fresh from Cortez, one of the Gulf's last remaining fishing villages, and smokes the mullet for a couple hours. The key to his fish is "proper seasoning," he says, and that "secret recipe" indeed separates Bell's fish from varieties I've had before. While Bell's mullet doesn't have the mushroom-like chewiness of the fish cranked out at, for example, Cortez's Star Fish, it does possess a nice kick, a chili-and-cayenne heat that melds well with the fish's soft flesh.
Bottom line: You should try this stuff, all of it. Mobile food is often as good as anything you can find in a place with walls and a ceiling. It's inexpensive to boot. And should you see a car swerving in and out of traffic, executing dangerous U-turns in pursuit of smoke drifting from a gas station parking lot, it's probably me. Come say hello.
---

Find That Food Truck
The Garrison
Open 10:30 a.m.-9 p.m. Thursday-Saturday at the corner of Dr. Martin Luther King Way and Leonard Reid Avenue, Sarasota.
Sarasota Thai Soup
Open from 11:55 a.m. until the food is gone every Friday outside Dang Welding & Machine Shop, 2251 17th St., Sarasota, and each Saturday and Sunday in the Shell parking lot at 4460 Tallevast Road, Sarasota, (941) 555-4505.
Bigfoot Hot Dogs and More
Open 9 a.m.-3 p.m. Monday-Friday outside Goodwill, 7501 15th St. E., Sarasota, (570) 417-9574.
Taqueria Alexander
Open 9 a.m.-10 p.m. Sunday-Thursday and 9 a.m.-6 p.m. every Friday at 5209 15th St. E., Bradenton, (941) 592-4361 or (941) 565-0892.
On the Roll
Open 8 a.m.-1:30 p.m. Monday-Friday outside the South Florida Museum, 201 10th St. W., Bradenton, (941) 962-0029.
AJ BBQ
Open 11:30 a.m. until the food is gone every Saturday at the corner of Dr. Martin Luther King Way and Mango Avenue, Sarasota (941) 312-3124.
D&R
Open 10:30 a.m.-4:30 p.m. every Saturday at the corner of 17th Street and North Tuttle Avenue, Sarasota.
Johnny B's Barbecue
Open 10 a.m.-7 p.m. every Saturday in the Whitfield Square parking lot at the corner of Whitfield Avenue and 12th Street East, Sarasota.
Did we miss your favorite roadside vendor? Tell us in the comments below!