Article
The 5 Best Things We Ate This Week - 8/20/15
Our panel of experts share their top five picks on the local dining scene this week.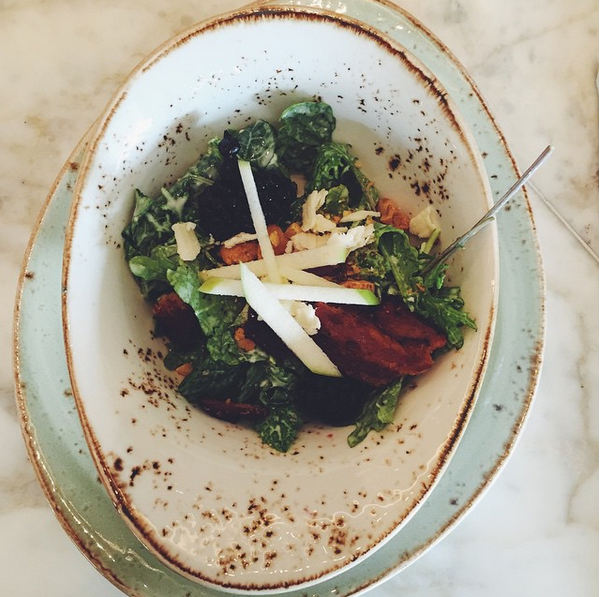 The kale and white cheddar salad ($16, pictured above) at Jack Dusty is exactly what you want to eat in this hot, hot weather. The salad, comprised of Winter Park cheddar cheese, local baby kale, bacon, apple slices, almonds, blackberries and dressing, is light yet filling, and all the flavors—salty, sweet, crunchy, creamy—work perfectly together. Add a glass of wine and you've got the perfect summer dinner.
The Parmesan beignets at Indigenous ($8 per serving) are famous and for good reason. These cloud-light little morsels make the ideal appetizer or, if you really want to indulge, order two batches, a glass of wine and call it dinner. The small beignets (deep-fried choux pastry) come to the table warm and are flavored with honey, pear and thyme and dusted with freshly grated Parmesan cheese. Delicate flavors brilliantly mingle. You cannot eat just one.
The roasted beets salad ($9) at the new Muse (formerly Treviso) at The Ringling is as beautiful as you'd expect for a dish from a museum restaurant. Baby spinach is topped with red and golden roasted beets, Florida peaches, black currants and crunchy flaxseed crumbles, and the whole thing is enhanced by a delicate blue cheese vinaigrette. This dish is perfect for our climate and a welcome nosh between museum visits or before the theater.
If you're like us, you start to hit the proverbial wall at around 3 p.m. each day—which is right when we take a stroll to Buddy Brew for a cold brew coffee ($3). The coffee, which Buddy Brew roasts itself, is potent—it'll definitely propel you through the afternoon—and we recommend asking for it with a splash half-and-half and Buddy Brew's house-made caramel, which add just the right amount of sweet creaminess.
The caramelized onion and Brie burger ($10.95) at Shakespeare's English Pub won our Sarasota's Best Burger contest last year, and rightfully so. It's big and juicy, and the melted cheese and onions give it a great gooey texture and sweetness. It comes with fries or coleslaw, but trust us, go for the fries.