Article
The Eat Beat: What We Ate and Loved This Week
The five best things our panel of food experts ate and drank this week.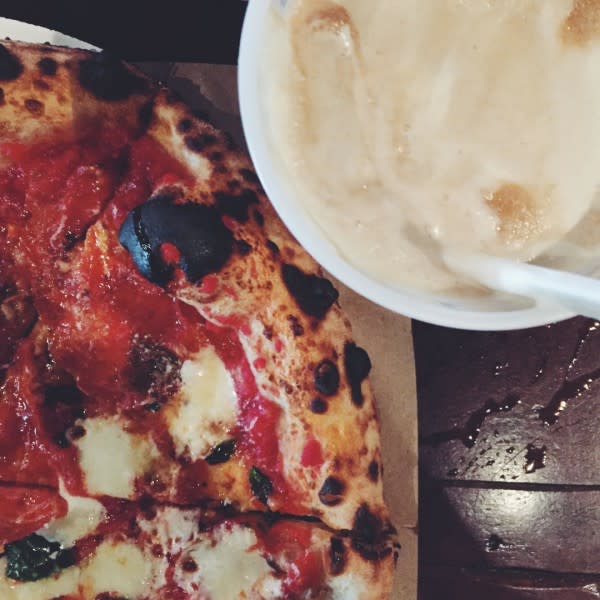 1. Polpo Pizza Co.'s Bee Sting pizza ($15, pictured above) has gained a big following locally, and for good reason. House-made dough—perfectly chewy and charred in spots—is topped with garlic-chile infused olive oil, red pepper flakes, fresh oregano and basil, house-made mozzarella, spicy calabrese and Parmesan, then drizzled with hot chile pepper-infused honey. Sweet, spicy, savory—it's everything good in one 12-inch pie.
2. The Greek rice pudding with poached pears at Apollonia Grill on Cooper Creek Boulevard is wonderful. It's creamy, with hints of orange blossom, and we love the balance between the poached pears—which add a lovely caramel flavor—and the simple, sweet rice custard. (This was originally a Savor Sarasota offering, but it'll now be on the menu indefinitely.)
3. The Mauna Loa cocktail at The Table Creekside has a Hawaiian name because of the pineapple infused vodka (there's jalapeno and cilantro in there, too), but it could be a Sarasota signature summer refresher. The vodka is muddled with sugar cane and the bar chef adds club soda and garnishes with lime, cilantro and more sugar cane. Entirely refreshing and frosty—could be a palate cleanser between courses at dinner. $12.95, and trust us—you want one.
4. We apologize if it sounds like hyperbole, but the Main Bar Special ($7.50) is, seriously, the best. Sandwich. Ever. Main Bar, the Main Street landmark (adorned with dozens of historic Sarasota circus and entertainer photos), takes its classic Italian sandwich and serves it on pita bread, which somehow adds to the addictiveness. It's not unusual to devour it in three bites and be tempted to order another. (Pro tip: Try it toasted, with a side of house-made jalapeno mayo.)
5. The Peperonata Pasta stand at the downtown Sarasota Farmer's Market is a must on Saturday mornings. There's a huge variety of piping-hot empanadas (we're partial to the breakfast, butternut squash and spicy beef varieties), and combined with an iced coffee from Pastry Art, they make for a perfect start to the weekend.