Article
The Eat Beat: Five Things We Loved This Week - 6/11/15
Our food experts pick the their top five bites in Sarasota-Manatee this week.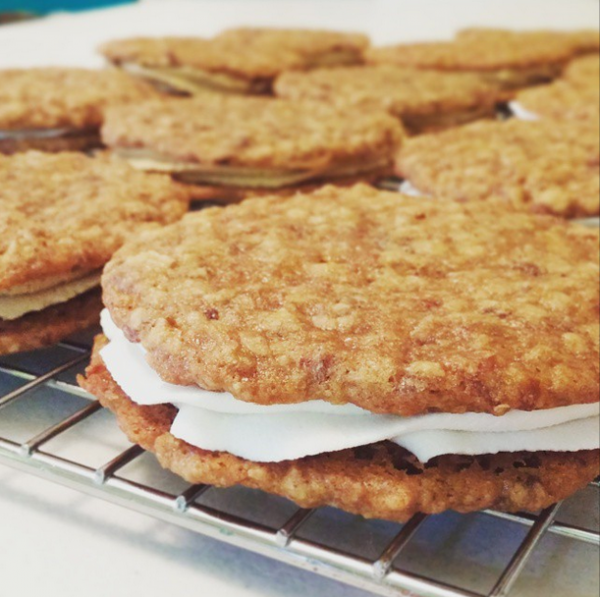 1. The gluten-free, vegan treats from Retrobaked in Village of the Arts are some of the best in the area—whether you're on a special diet or not. Everything owner Rachel Sokolewicz whips up is tasty, but her Little Debbie-inspired oatmeal cream pies ($3.75) are a favorite—they taste even better than the original. And P.S.: Look for more on Retrobaked in our July issue.
2. The carnitas quesadilla ($3) from Doña Betty's food truck in Bradenton (at the corner of 55th Avenue and 14th Street): tender, well-seasoned pork, melty cheese and fresh cilantro, served (like everything else from the truck) with a side of sautéed onions and refreshing salsa verde. It's stuff-your-face good. Our go-to for late-night dining in Bradenton. Gracias, tia!
3. Shakespeare's Caesar salad with blackened tilapia ($11.95) is the best iteration of this dish we've encountered. The spicy-savory rub works splendidly with the creamy Caesar dressing, and light, bready croutons absorb the flavor. The salad is so big you can save some for a snack later.
4. The Chimay burger ($12.50) is so satisfying that our restaurant reviewer had two in the last week at the new World of Beer on Main Street in downtown Sarasota. She's crazy about this particular WOB, because it serves food (some don't) in a boisterous tavern atmosphere. The juicy, messy beef burger is layered with bacon, sautéed mushrooms, caramelized onions and Chimay cheese, a semi-soft Belgian cheese that is washed in Chimay Trappist beer. Brioche bun. Outstanding. Have it with a Belgian Tripel beer.
5. State Street's chickpea-yellow zucchini burger ($8.75) is one of the best vegetarian burgers we've ever had. The patty is firm and crispy, topped with iceberg lettuce, two onion rings and a sumac-tomato spread. Pair this with a side of State Street's hand-cut fries, and you've got a delicious vegetarian meal.
Photo courtesy of Retrobaked