Beach Eats
Our Concession Stand Favorites
Where to grab grub on the beach.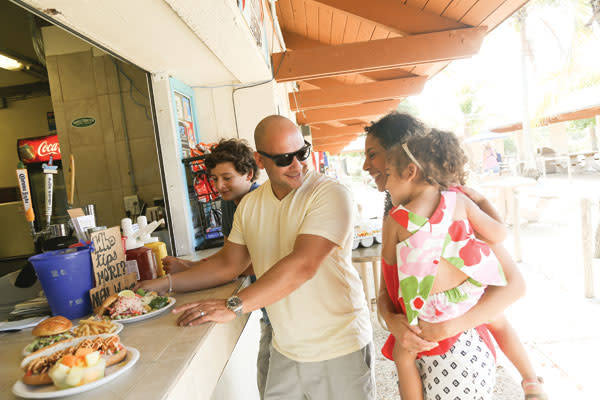 Manatee Beach
This big wedge of sand connects directly to the Anna Maria Island Beach Cafe, which slings a big list of breakfast and lunch items from a small window facing the Gulf. Along with all-you-can-eat pancakes, you can find everything from Greek salads to clam strips, plus a huge, shady patio with white plastic tables underneath a web of clear fishing line that keeps the birds away. Don't miss the small, about-to-collapse shack serving daiquiris and beer. 4000 Gulf Drive, Holmes Beach
Coquina Beach
Located in a small shack alongside a gift shop and restrooms, Coquina Beach Cafe's wooden deck looks out over a vast swath of Bradenton Beach dotted with umbrellas. Diners trudge out to the water's edge, lugging containers loaded with burgers and onion rings to their towels and then coming back for more rounds of beer and margaritas. Try the café's outstandingly juicy flattop-grilled chicken sandwich for a satisfying (and cheap) lunch. 2651 Gulf Drive, Bradenton Beach
Lido Beach
Renowned for a rotating menu that includes favorites like lobster rolls and fish tacos, the restaurant at the Lido Beach pavilion has a following among landlubbers as well as tourists. It serves basics like cheeseburgers and fries, plus less common fare like New York strip sandwiches. A warning: This place's posted hours of operation are more like a suggestion of when they might be open rather than a hard schedule. 400 Benjamin Franklin Drive, Sarasota
Siesta Key
Sarasota's iconic beach is in the middle of a facelift, with the county dropping $21.4 million on expanding the parking lot, restoring the beach's historic pavilion and building a two-story concession spot. The food at the new joint includes stuff like nachos and panini, at sometimes high prices. $9.75 for fish tacos made with non-Gulf seafood? Come on. But the elevated deck offers one of the best lunchtime views in the region. A great spot to observe the Siesta masses. 948 Beach Road, Sarasota
North Jetty Park
The North Jetty Fish Camp offers ultra-cheap hot dogs and breakfast sandwiches (as well as shrimp and sardine bait for fishermen). A $2.99 hot dog is boiled then topped with whatever you like and wrapped up tight in a wax paper shell. Fishermen and tourists hang out at picnic tables that overlook the Venice Inlet. It's a quiet spot to sit and think, indeed so serene that on a recent visit, one dude was napping with his head clunked down on a wooden table. 1000 S. Casey Key Road, Nokomis
Humphris Park
Visible just across the inlet from North Jetty Park, this chilled-out spot is home to Anita's Sandcastle, a small food stand with a handful of umbrella-covered picnic tables. The menu is mega-basic, with bagels, "world famous" hot dogs, chips and drinks. But those hot dogs are ginormous and grilled up over a real flame, making them better than many. Benches line the inlet, providing a pleasant spot to eat and then just stare. 2000 Tarpon Center Drive, Venice
Venice Municipal Beach
The signature feature of the Venice Beach Pavilion, built back in 1963, has to be its "hyperbolic paraboloid" concrete roof, a wing-like diamond structure that rests over the open-air patio and concession stand below. The restaurant specializes in breakfast sandwiches and fried favorites like fish and chips. The bread on a BLT is served nice and crisp; the sandwich comes loaded with crunchy bacon and stacks of light-green lettuce. A sublime midday treat. 101 The Esplanade, Venice
Service Club Park/Brohard Beach and Paw Park
The view from the Venice Fishing Pier is magnificent. To the north, sunbathers lay out towels. To the south, mutts and their owners run wild on our only dog-friendly beach. Below, green waves slap up onto the sand. Halfway up the pier, you'll find Papa's Bait & Snack Shop. Papa's doesn't serve a ton of human food, just burgers and microwavable pizzas, plus popcorn, chips, candy bars and other grab 'n' go items. Nothing special, but then there's that view. 1600 Harbor Drive S., Venice.