Article
From the Editor: My First Time on a Sarasota Beach
Pam Daniel recounts her first memory of a Sarasota beach.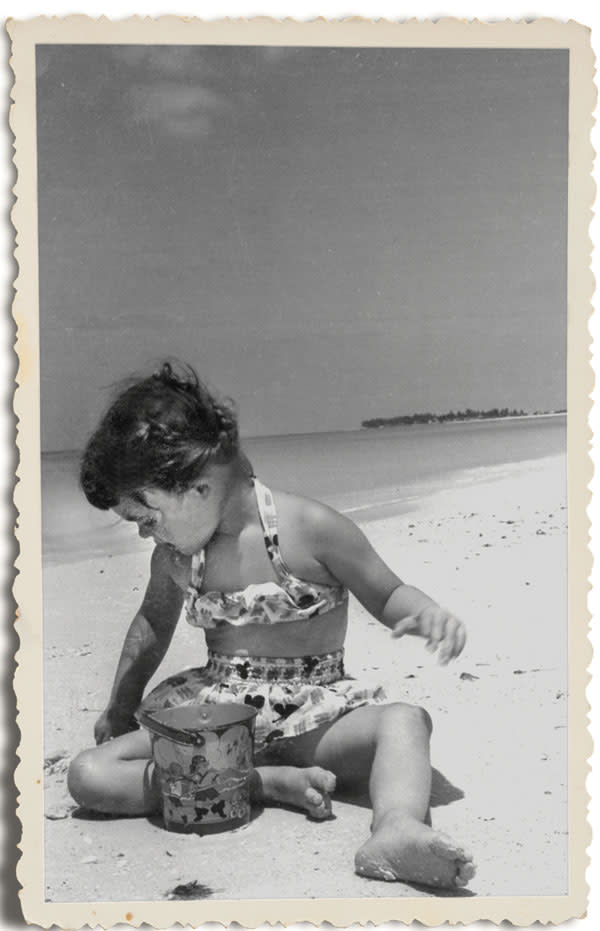 I was 4 years old when I first stepped onto the cool, soft sand of Lido Beach. I may have noticed the Lido Casino, that gleaming-white Art Deco building that was designed by Ralph Twitchell in 1940 and served as the center of Sarasota beach life until, to our everlasting shame, the city demolished it in 1969. Maybe my mother pointed out the four giant concrete sea horses that looked out from its second-floor terrace at the Gulf of Mexico.
But I have to confess I don't remember anything about Twitchell's architectural masterpiece; true to form, I instead remember what I was wearing—a vividly patterned two-piece bathing suit that was the first fashion item I'd ever craved. "I want a bathing suit that's purple, pink, red and black," I kept telling my mother; and though she warned me we weren't likely to find one like that, we did, in a St. Armands shop, and I wore it every single day for the rest of our vacation.
Each morning, I ran to the water's edge and plopped onto the wet sand, where I'd uncover tiny nations of coquinas, miniature clams with pearly, pastel-colored shells that scrabbled deeper into the sand before the crystal-clear waves rippling ashore could sweep them away. Every now and then, I'd look across the blue-green, shimmering expanse of the Gulf and marvel at the warmth of the January sun on my winter-white shoulders.
That was the beginning of a lifelong love for Sarasota's beaches, an affection—no, call it a passion—that just about anyone who lives or visits here shares. With 35 miles of some of the most beautiful shoreline on earth, Sarasota attracts beach-lovers from around the globe. Their numbers have swelled since Siesta Key Beach was named the nation's best beach in 2011. Since then, Siesta and Lido have won more national and even international awards, but those of us who live here know that each beach has a beauty and personality all its own.
To help you discover the best of our beaches, we've compiled an insider's guide to their many attractions. Naturalist and historian John McCarthy—who a few summers ago, spent a steamy week walking every inch of beach in Sarasota County, and lived to tell the story on our pages—offers a quick look at each of our public beaches, and a few in Manatee County, too. Cheap eats expert Cooper Levey-Baker set off on his own grueling journey, snacking his way through beach concession stands from north to south to find the tastiest treats. (New England lobster rolls on semi-tropical Lido Beach? Works for us!)  We also report on the science behind those spectacular sunsets and follow the adventures of Ginger, a dolphin that Mote Marine Laboratory has been following for more than a decade.
Elsewhere in the issue, our Real Estate Junkie blogger highlights some of the best neighborhoods for baby boomers who have decided to buy a vacation home. (Tip: Today's golf-course communities are designed for the diehard boomer athletes as well as golfers.) Food and wine editor Marsha Fottler helps visitors find the perfect restaurant in a variety of categories, from seafood shacks to trendy urban hotspots. You'll also find comprehensive listings of arts and cultural experiences, attractions, top resorts and more. And to give you a deeper dive into our city, we asked associate editor Hannah Wallace to research how Sarasota ranks on a variety of measures, from wealth and education to quality of life.
Some of the information she uncovered surprised us, but one finding we already knew to be true. I realized it myself many years ago, during that blissful winter week on Lido—and you will, too, as soon as you spend some time by the Sarasota shore. Here it is: When compared to people in communities all over the United States, we in Sarasota score No. 1 for happiness. Now isn't it time you head to the beach?