Article
Lifeguard Cody Sullivan Keeps Beachgoers Safe
Cody Sullivan, a lifeguard on Manatee County beaches, shares his tips for staying safe in and around the water.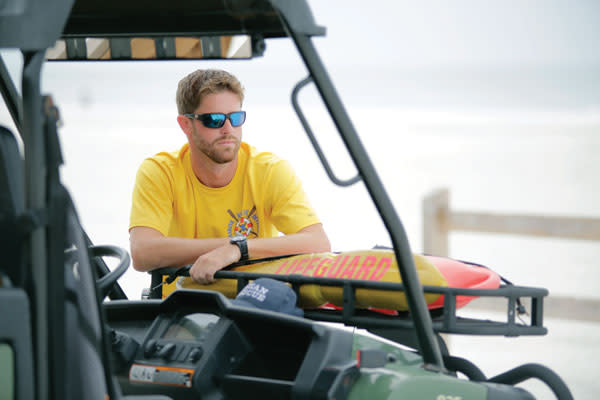 ''I grew up in Bradenton and was a lifeguard at a local pool before joining Manatee County Marine Rescue. Nine years later, I love it every day.
We're on duty at 9 a.m. and I work between Manatee Public Beach and Coquina Beach. I'm a lifeguard/EMT, so I'll often work alongside an advanced life support unit and stay on duty until 9 p.m. We respond to emergencies on the entire island.
Aside from running medical calls and being dispatched all along the island, every day I'm in the [lifeguard] towers making sure our swim area is safe. We also answer questions, notify the public when storms come in and clear the beach if there's lightning. It can be crazy—you  have to [respond] to multiple situations at once.
I see plenty of sea life—jellyfish and sting rays are the majority of first aid. There are also dolphins and manatees. A manatee once washed up near Beer Can Island, and [we worked with] Mote Marine to help it back into the water. I'd never seen one that close up.
One time, we had a call for a down diver about three miles offshore. We rendezvoused with a MSO marine unit and went out on their vessel while assembling our scuba tanks and dive equipment. We retrieved the body off the ocean floor about 35 feet down. You learn to deal with your emotions. It's not your emergency, it's someone else's—and if they sense your nervousness, it's going to reflect on their outlook. I've taken that [thought] with me on every call I've ever been on.
My No. 1 piece of advice is to swim at a guarded beach. Every day, we fly a flag to indicate water conditions for the day, so people can see what they are. Be confident in your swimming abilities and never swim alone.''