Article
"Why I Moved to Sarasota"
Intriguing new people are moving to Sarasota at record rates. What brings them here?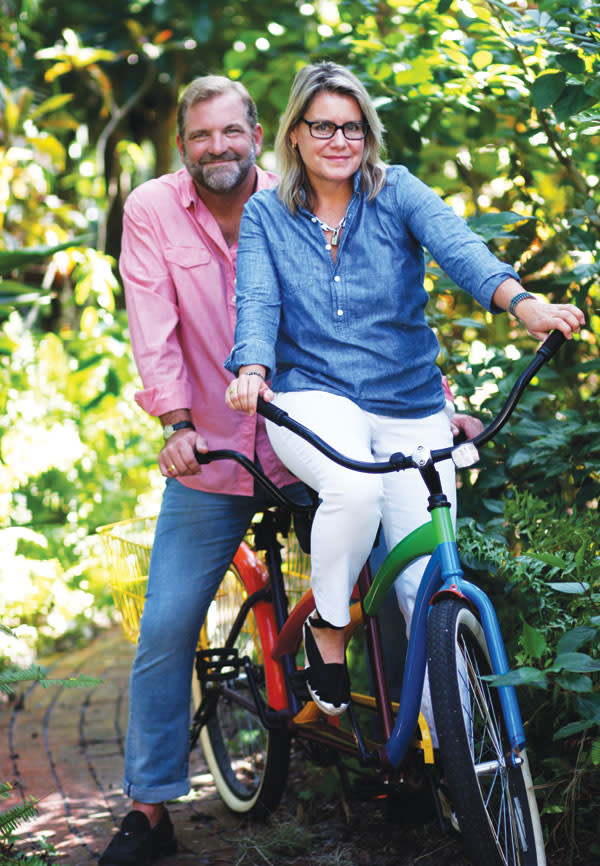 Anne-Marie Russell with husband Mike Hein / Photography by Dale Ann Clancy
"I CAME FOR THE ARTS."
The opportunity to build an art museum from the ground up drew Anne-Marie Russell, 48, to Sarasota. Russell arrived here from Tucson, Ariz., where she'd done much the same thing with the museum of contemporary art. Now, as executive director of Sarasota Museum of Art (SMOA), set to open around January 2017 in the old Sarasota High School building, she's developing all the underpinnings an art museum requires—from a curatorial vision to educational programs to food service to a retail shop.
"The timing was perfect," says Russell of her move (with husband Mike Hein) to Sarasota's Indian Beach area. "I'm enjoying learning about this community and college [Ringling College of Art + Design, of which SMOA is a division]. There's a pride of place and an intellectual curiosity here. And people give so much of their time and expertise."
With a B.A. in anthropology and an M.A. in art history, she sees SMOA as presenting a forum for a "lot of diverse voices" when it comes to future exhibitions. And besides laying the groundwork for the museum, Russell has been enjoying everything from biking around their neighborhood and dining out ("We have both a great Vietnamese and an Ethiopian place within walking distance") to exploring nearby Tarpon Springs and visiting the public archaeology lab at New College. "When I see something I've never seen before, it changes the way I see the world," she says. "I seek this out myself and on behalf of our community." —Kay Kipling
Secret vice?  "I love to hunt for thrift store treasures." Biggest surprise? "So much 'old Florida' is extant. We spend weekends exploring—Egmont Key, Historic Spanish Point." What you miss about Arizona? "Sonoran hot dogs! I trained as a chef in Paris, and they're culinary perfection." Favorite artistic style?  "Pacific Islander stick charts meld the figurative, abstract, narrative, physical and practical into one exquisite object."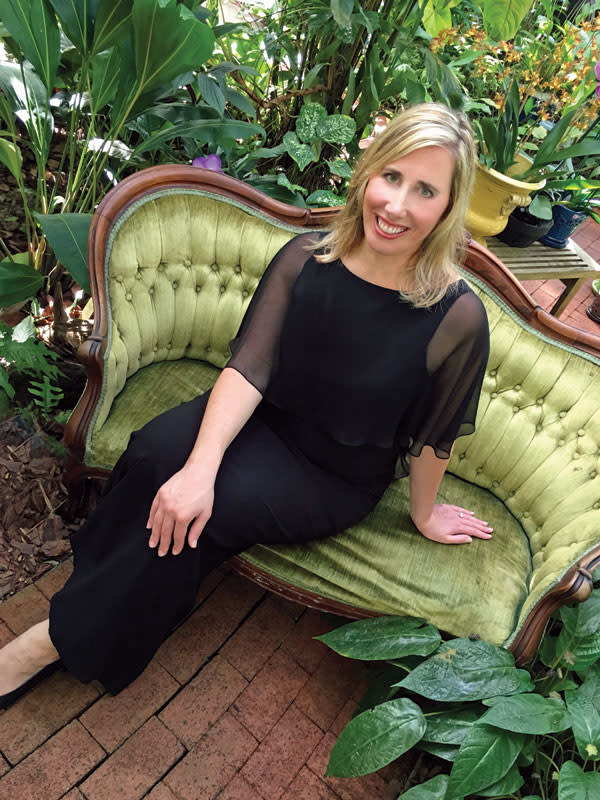 "I CAME FOR THE NATURE."
The lure of leading one of America's great botanical gardens—the only one in the world that concentrates on the study and collection of orchids and other epiphytes—drew Jennifer Rominiecki to Sarasota this year.
A New York native, Rominiecki, 42, studied art history in college, then worked at three of New York City's most prestigious cultural institutions—the Guggenheim Museum, the Metropolitan Opera and for the last 15 years the New York Botanical Gardens, where she headed up a mammoth $479 million fund-raising campaign—before moving to Sarasota in February as executive director of the Marie Selby Botanical Gardens. "I tell people I started in the visual arts, moved to the performing arts, and ended up in the living arts," she says.
Rominiecki wasn't planning to uproot her young family (she and husband Robert have two sons, 9 and 5) until a recruiter approached her. "I'd heard of Selby Gardens; it has a tremendous international reputation in the botanical garden world, but I'd never been to the west coast of Florida," she says. Upon her first visit, she says, "I was blown away by Selby and its potential—the location and the world-class collection. And I totally fell in love with the Sarasota community."
Besides guiding board and staff through the development of a five-year strategic plan and adding more exhibits and special events, Rominiecki says she's in conversation with "an international museum for a major loan in 2017; something really exciting." Stay tuned. —Ilene Denton
When I'm not at work "I go to the beach. I love them all. It's our favorite new family activity." Orchid or bromeliad? "That's like picking your favorite child!" Weeding or planting? "Planting, because to realize Selby Gardens' tremendous potential, it's going to take some planting."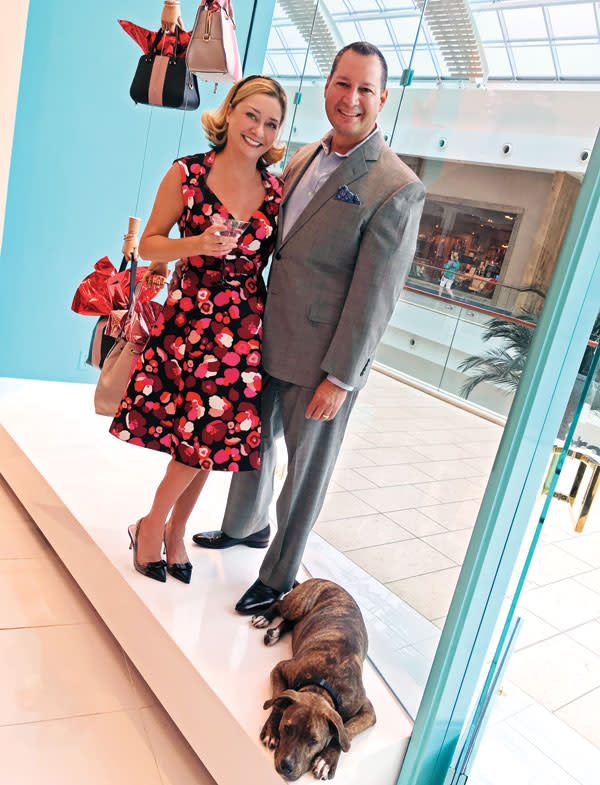 "WE CAME FOR THE JOB."
In 2013, when Octavio Ortiz, 49, was offered the job of managing the new $315 million Mall at University Town Center, all he and his wife, Jessica, had to hear was "Sarasota, Fla." Octavio, a retail veteran, was working in North Dallas, but he and Jessica, 43, love Florida, where she'd lived as a child. After he accepted, the couple and their son, Tav, flew out, to make sure they hadn't made a mistake. But before the plane even landed, looking down at the view of the glittering Gulf of Mexico, "We knew it was the right choice," says Jessica.
During the first year, while Octavio worked out of a construction trailer, dealing with the development of the center and preparing for the grand opening, the couple immersed themselves in the community, attending dozens of business and nonprofit events. They were especially impressed with how philanthropic the region is. "I've never seen anything like it," says Jessica, who has become involved with Nate's Honor Animal Rescue, founded by Nathan Benderson, developer of UTC.
It takes about three years for a retail center to evolve into what it should be, says Octavio, but even after that happens, he declares, "We have no intention of moving." With fewer malls being built, managers are moving less. Besides, they love the beach, the beauty and the friends they—and their son, now in high school—have made here. "I can't imagine living anywhere else," says Jessica. —Megan McDonald
Beach or nature trail? "Beach!" Guilty pleasures? Jessica: "Wine." Octavio: "Cigars and Scotch." Biggest surprise about moving here? "How welcoming the community is." Favorite family activity: "Dining out—often."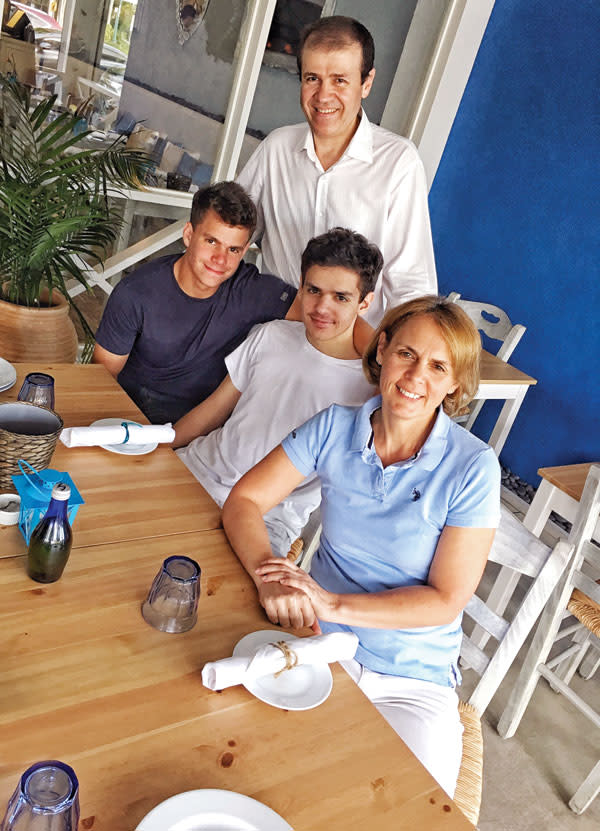 "WE CAME FOR THE SPORTS."
You might think that Dennis, 51, and Effie Tskaris, 50, moved to Sarasota to open their popular Greek restaurant, Blu Kouzina. But in fact, they came to the region knowing little about it—except that their son, Constandino, 18, would be attending Bradenton's IMG Academy, which is known around the world for its sports programs.  "We came for a tennis tournament [in 2013] and he decided to join the academy," says Effie.
The Tskarises are of Greek descent, but they were born and grew up in Johannesburg, South Africa, and lived in Singapore before they moved to Sarasota. Constandino had become a promising young tennis player, and "IMG offered good infrastructure to continue [with sports]," Dennis says.
Effie is a gifted cook, and in Singapore, the couple had opened a restaurant—also called Blu Kouzina. In addition, Dennis' family has owned olive groves in Greece for centuries. The couple wasn't looking to own a restaurant here, but one day, when Effie and her mother saw an empty space on St. Armands Circle, "I thought, 'Oh, it would be nice to open a place here,'" she says. So in March 2015, they opened Blu Kouzina.
Running the restaurant is all-consuming—"We're here all day, every day," Effie says—but the two appreciate the region's natural beauty, which she calls "calming and relaxing," as well as the warm reception their restaurant has received. "People like it, and they encourage us and come back," Dennis says. —Megan McDonald
Favorite pastime? "Just be at home with my dogs, George and Isabelle, and read a book," says Effie. "I like biking, too." Biggest surprise here? "We love the people and the ambiance, especially on St. Armands," Dennis says. Who does what at the restaurant? "I'm in the kitchen," says Effie, "and Dennis is more
people-oriented [at the front of the house]."