Article
Washington, D.C. Traffic Reporter Jerry Edwards Moves to Sarasota
D.C. traffic reporter Jerry Edwards enjoys life in our slow lane.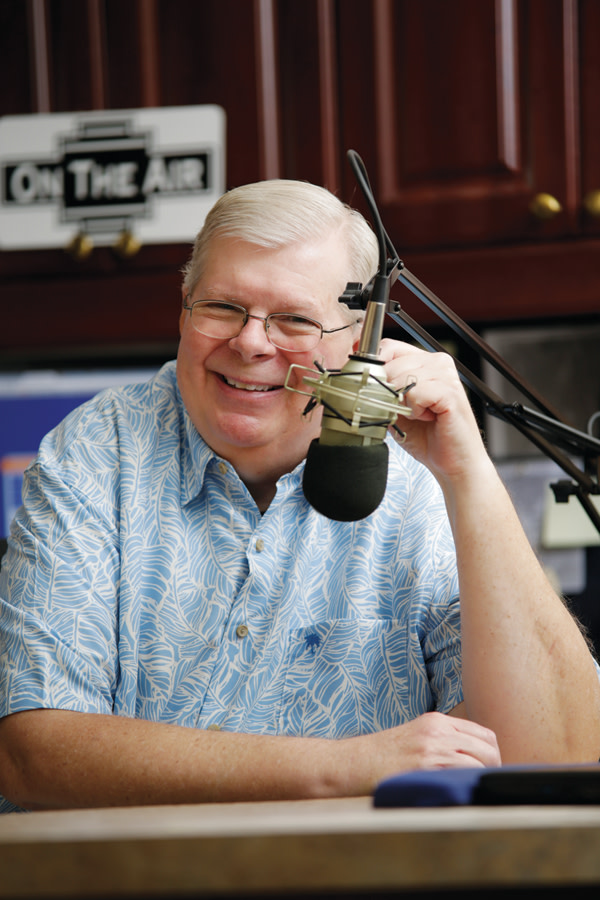 As a Washington, D.C., traffic reporter for 30 years, Jerry Edwards has covered one of the nation's most challenging transportation beats: the Capital Beltway. Since moving to south Manatee County with his partner, Duane Miller, Edwards has kept up his live weekday-morning traffic reports for WAMU 88.5 FM Public Radio from the comfort of his new home broadcast studio. "I'm careful never to say, 'I'm looking at the 14th Street Bridge,' or 'I had a snowy commute today,'" he says. "Honesty is everything. And there are no snow days here."
What Drove Us Here
"We started vacationing on Anna Maria Island; we were very attracted to Sarasota's theaters and restaurants. We're not beach people, but having the beaches so close by is wonderful, and there is such a wide variety of people here."
Traveling Man
"When we decided to move to Florida, WAMU asked me if I'd like to continue [reporting]. I built a home studio here in a spare bedroom and they gave me equipment, computers, software, special broadcast connection gear. Who does that for an employee?"
Braking News
"I see live cameras in Maryland, D.C., Virginia, and I have online scanners so I hear the police and fire departments when they're dispatched and when they arrive on the scene. Plus listeners call in information. I'm on the air Monday through Friday from 5 a.m. to 10 a.m. When I was on NBC4 TV [in Washington], I'd have to get up at 3; this is much better. And [now] my commute is just 10 steps."
What's the Rush?
"I'll never complain about Sarasota traffic. It's 5 to 10 percent of the volume of D.C.'s. I may whine about it in-season. [But] it's lowered my blood pressure while I'm on the road. I'm not a great commuter; I'm a great talker about it, but I don't like driving in it."
Destination: Theater
"It's hard to schedule much during the week because I get up in the middle of the night, but we go to the theater on weekends—the Asolo, Van Wezel, Banyan. In D.C. [going] to the Kennedy Center took a whole day. [From] suburban Maryland we'd drive to the subway, take the train and then take the bus. Here we can leave the Asolo and be home within 15 minutes. You can't buy that kind of lifestyle."