Article
Lands We Love: Myakka Ranches Showcase Idyllic Beauty
Their natural beauty is just one of the reasons to preserve three Myakka ranches.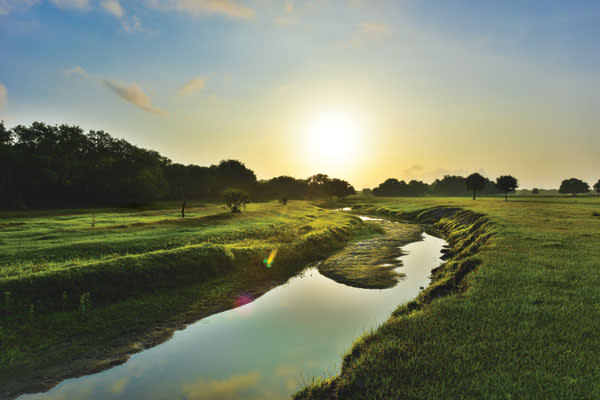 Equal parts quiet and wild, the forests, grass flats and wetlands of Myakka stand in scenic contrast to the bustling modernity of the coast. But these natural lands are also essential to the quality of present-day Sarasota, helping to prevent flooding and protect the purity of the water we drink as well as preserving wildlife and natural beauty.
Three working ranches—Triangle Ranch, Sheps Island Ranch and Orange Hammock Ranch—comprise more than 7,500 acres of natural but as yet unpreserved land along the Myakka River. The ranches, where cattle have been raised for generations, provide habitat for many species, including threatened gopher tortoises and endangered Florida panthers. They also surround, protect and filter freshwater from the river, including the drinking supply for many communities and the tributary for Charlotte Harbor, one of our least spoiled estuaries. Their vast plains channel flood waters away from businesses and homes, and the lands buffer recreational areas, which might otherwise overlook new developments.
Ranches are vanishing quickly in Florida, giving way to the new homes and communities that our fast-growing population demands. Recognizing this, Conservation Foundation of the Gulf Coast and the ranch owners are working with the state of Florida to protect the land through the purchase of a conservation easement. The properties would then become part of the Myakka Island Conservation Corridor, a 110,000-plus-acre protected wilderness along the Myakka River. The ranch lands could never be developed, but ranching operations could continue, preserving a historic way of life.
Ranch owners and the foundation had hoped state funds from Amendment 1, the "Florida Water and Land Legacy," which passed in November, would be allotted for the purchase during spring's legislative session. But the session ended in disarray, leaving the fate of these—and other conservation lands—in limbo.
"Our Florida economy rests on the quality of our natural environment," says Conservation Foundation president Christine Johnson. "And protecting lands around important water sources is the most conservative way to ensure our quality of life and that our economy continues to grow."
To learn more about the ranch lands and Conservation Foundation, go to conservationfoundation.com.