Article
SARASOTA MAGAZINE DECEMBER 2014
Sarasota Magazine December 2014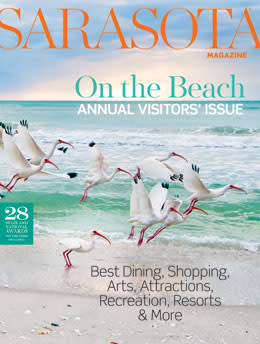 FEATURES
When the sun goes down, we find lots of weekend action at four fun -- and very different --hotspots. BY HANNAH WALLACE
Photographer MARY LOU JOHNSON captures the beauty of Sarasota's sea, sand and sky.
The holidays in this Amish - Mennonite community aren't about gifts or decorations. Instead, they're about heart. BY SHERRY GORE
Whether you're a visitor or resident, these seven Florida-flavored restaurants say, "Welcome to paradise." By Marsha Fottler
Beautiful botanicals inspire dazzling new jewelry designs. By Carol Tisch, photography by Barbara Banks
Artist and writer Michael Solomon digs into the treasure trove that was the life of his parents, the quintessential Sarasota painter Syd Solomon and his wife, Annie.
Departments
FROM THE EDITOR 
For returning visitors and snowbirds, PAM DANIEL ticks off some ways our city has changed this year.
The best shows to see this month.
Loren Mayo ascends to shopping heaven at Key to the Cure.
For boomers, the new Mall at University Town Center is more than a shopping experience -- it's a metaphor for their lives. Or so says Mr. C.
A museum-neighborhood residence blends traditional with modern updates. BY BOB PLUNKET
Carol Tisch spots the best in resort wear and accessories.
Stranded dolphins, tiny turtles and giant injured grouper -- it's all in a day's work for Mote's veterinarian. Photography by Robert Castro
THE VACATION GUIDE
Our comprehensive listings of attractions, culture, sports and recreational opportunities and top resorts.
2014 VACATION GUIDE: ATTRACTIONS
2014 VACATION GUIDE: ACCOMMODATIONS
2014 VACATION GUIDE: MUSEUMS AND GALLERIES
2014 VACATION GUIDE: ARTS & ENTERTAINMENT
New food and fitness workouts to keep you in the pink. By Hannah Wallace
LUXURY HOME 
A Lido Key triplex transforms to ultra-cool vacation cottages. Plus, give your bathroom a spa makeover.
Illustrator John Pirman sketches a rustic Gulf-front cottage at the hermitage Artist Retreat.