Article
Mr. Chatterbox's Guide to Venice, Italy
This month: It's easy to understand Venice, Italy. If you're from Sarasota, that is.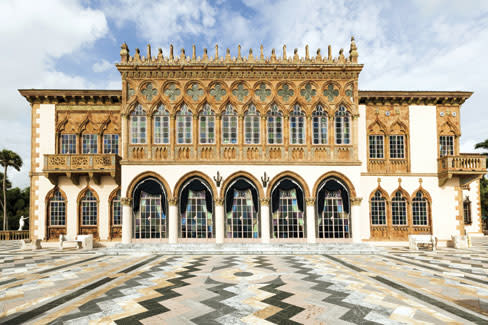 I just got back from Venice—the one in Italy, not the one down U.S. 41. I hadn't been there since I was in college, back in the days of Europe on $5 a Day. It was a beautiful city then, unique in the world, but very mysterious and a trifle incomprehensible.
It still is. But after 30 years in Sarasota I feel I understand it so much better. It's full of strange resonances that only a Sarasotan can understand. This time I felt an intimate connection to the "Pearl of the Adriatic," unlike all the other tourists, the hordes of them, who are encountering its eccentricities for the first time.
First of all, if you're from Sarasota, you already speak the lingo. Or one word, anyway, and it turns out to be a very important word—"ca." As in "Cà d'Zan." Venice is full of ca's, and at any given moment you are probably lost and looking for one. There's the Ca d'Oro, the Ca Rezonnoco, the Ca this, the Ca that. We're taught here that it means "house," but I think a more useful translation would be "small palace of once prominent family that lost all its money, now used for art exhibits and such."
Thanks to the Cà d'Zan, Sarasotans arrive in Venice perfectly prepared for the shock of the architecture. Venetian Gothic, scarce as hen's teeth in the United States, is something we're already used to.
I kept wanting to tell all the other tourists, "Believe me, I know all about ca's." It's a pleasant shock for us to see a thousand Cà d'Zans all lined up next to each other, like our local landmark has undergone a dreamlike metamorphosis and reproduced itself in countless variations and become an entire city.
Even the maps of the two cities look the same. First of all, they're about the same size, with all the uninteresting stuff off to the side on the mainland. In Venice they call it Mestre; here we call it Oneco. Then there's a bay that's a dead ringer for Sarasota Bay, and right in the middle of it is a glorious manmade island with canals, boats, little bridges and expensive houses—just like Bird Key.
They even have a barrier island named Lido. And it's exactly the same as our Lido—again with the expensive homes, condos here and there, nice restaurants and cafes, a couple of fancy hotels, like the Hotel Des Bains, where the guy in Death in Venice stayed. Yes, I realize that the Venice Lido is the very first one in the world, the one that all the others are named after—Venice also has the very first ghetto, the one that all the others are named after, too—but the resemblance was uncanny.
The other big "aha!" moment is the way both towns are covered with terrazzo. Back in the 1950s and 1960s, it seemed that every house in Sarasota had terrazzo flooring. There's so much of it that the classic remodeling problem is, do you polish it up and keep it, or do you cover it up with something else that doesn't look so dated?
Well, it turns out that terrazzo isn't some midcentury invention, but goes way back in history to the early days of the Venetian Republic, when they ground up marble chips and sealed them in goat's milk. The whole town is full of the most gorgeous terrazzo floors, with intricate patterns and unusual colors. Why don't we do that here? I know I'm giving away a sure-fire business idea—custom, Venetian-style, very high-end terrazzo floors—but I don't care. Take it and run with it.
But the similarities far exceed flooring. Both towns have a Biennale thing (here we call it Sarasota Season of Sculpture); both towns have a famous film festival; both towns have hyper-expensive real estate; both towns have beautiful water views everywhere you look; and both towns are chained to a spectacular waterfront location that is their blessing and their curse and has to be managed very carefully.
Even the tenor of life is similar, half physical beauty and the other half culture. If you spend more than a week in Venice, as I did, you find that you keep going to art exhibits. There's the Accademia, of course—their version of the Ringling Museum, and with paintings that are virtually interchangeable. But the real fun stuff is found in the changing exhibits that take place in the ca's.
I went to five or six. There was a show of American costume jewelry from the 1940s and '50s, then a collection of Irving Penn photographs, and the best of all—an exhibit about the life and personal style of Luisa, the Marchesa Cassati, one of the great beauties of the 1920s, the muse of artists from Boldini to Jean Cocteau to Man Ray. She was the kind of gal who kept a pet cheetah and went to parties wearing live snakes as jewelry. Vivien Leigh and Ingrid Bergman played her in movies, and John Galliano and Alexander McQueen have both done entire collections inspired by her.
It's that kind of exhibit we need more of in Sarasota—those reeking of glamour. There were paintings, photographs, couture, even some of Luisa's furniture. And it was in the palazzo owned by the Fortuny family, elegant and a little gloomy, complete with a pigeon that had somehow gotten in and flew from the Diors to the McQueens while guards half-heartedly tried to catch it.
This world is closer to Sarasota than you may think. At the Peggy Guggenheim Collection, the undisputed hot ticket in Venice at the moment, where the incredible modern paintings owned by the smelting heiress are displayed in a palazzo on the Grand Canal that once belonged to Luisa Casati, guess who the big star is? Max Ernst. You remember him. Eric and Amy Ernst's grandfather.
Yes, Max's son, Jimmy (born Hans-Ulrich), was a longtime fixture in the Sarasota art world back in the 1970s and 1980s, and after his death his wife, Dallas—one of the great "art wives" who was single-minded in furthering her husband's career—continued to live here much of the year, spending the summers with the cream of the New York art world in East Hampton.
Jimmy was a painter of considerable renown—these days his finely detailed abstracts go for up to $100,000—and he wrote a wonderful book aptly called A Not So Still Life. In it he details his childhood spent with people like Luis Buñuel and Salvador Dali, plus his later career as part of the "Irascible 18," a group of renegade New York artists who included Jackson Pollock and Mark Rothko.
I'm starting to smell an exhibit. Jimmy's work, his father's work, his friends' work, his kids Eric and Amy's work (they are both artists), maybe some of Dallas's clothes. If the Cà d'Zan is unavailable, we'll get an old McMansion that's in foreclosure. Something tells me that 400 years from now, the remaining ones will be our "ca's"—magnificent old palaces that people come from all over the world to see, complete with art exhibits of Sarasota's glorious past.
To read past Mr. Chatterbox columns, click here. >>
This article appears in the January 2015 issue of Sarasota Magazine. Click here to subscribe. >>