Article
Sarasota Magazine October 2014
Blissful living inside and out.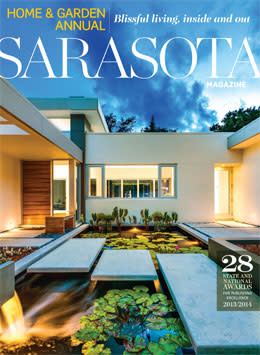 Subscribe to Sarasota Magazine
Features
A new island home by architect Guy Peterson is designed for three-generational family gatherings. By Ilene Denton
A Ritz penthouse undergoes a handsome uptown transformation. By Ilene Denton
Inspired modern architecture is in the genes of one Sarasota couple, whose Orange Avenue home draws on deep roots. By Carol Tisch
Love leads to treasures when collectors and creators follow their passions.
Real Estate Junkie Bob Plunket dishes on top sales, trends and more in the market this year.
Author-critic Alastair Gordon on rising sea levels and the buildings that should be designed to meet them.
Departments
Pam Daniel on how rising waters will reshape our city.
The Heat Index
People, issues and events on our radar, including this month's top tickets, Carol Tisch's shopping finds, Judi Gallagher's Hot Dish, Bob Plunket's Home of the Month, Heather Dunhill's Fashion IQ--and more.
Our political wag looks at the upcoming Florida election--and sees a Carl Hiaasen novel.
Health Report
New and improved mastectomy techniques, plasma power and more. By Hannah Wallace
Food and Wine
Marsha Fottler flips for Fins, and dines at the new Yume Sushi spot. Plus: Sarasota's best doughnut and Drum Circle Distilling's Troy Roberts.