Article
Mr. Chatterbox on the 2014 Florida Elections
This election offers a cast of characters worthy of a Carl Hiaasen novel.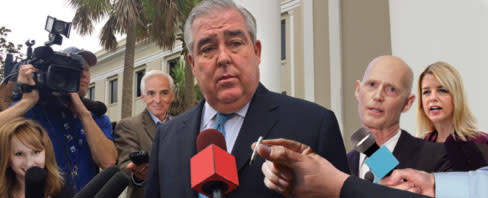 Something wonderful is happening in Florida at the moment, and it's our election. We always have good ones—heck, our elections are world-famous—but this year we've outdone ourselves. It's like a Carl Hiaasen novel come to life, only a little more improbable and outrageous.
There's a great cast, the best in years. We've got an incumbent governor whose company was charged with the biggest Medicare fraud ever. He has given the campaign its signature comic image, the "deer in the headlights" look. When confronted with an uncomfortable question, his eyes become so big that he looks like he's got two fried eggs on his face.
And then there's his opponent, who used to be a Republican governor but was seen hugging the president and had his career destroyed. So he's joined a different party, the exact opposite of the party he was in before, and is trying to convince people he's not an opportunist. And there's a deliciously ruthless young blonde involved, our almost-beautiful attorney general, who had an execution postponed because it conflicted with a party she was giving.
And the whole thing is being fueled by marijuana. Yes, for the first time, there's a marijuana initiative on the ballot. True, it's for the medical use of the drug, but nobody is fooled about what an enormous door is being opened. The theory is that it will bring out the liberal vote. What people aren't talking about is the blue-collar vote. That's what it's really unleashing. Yes, just talk to your plumber, your A/C man, your lawn service guy. Never have I seen a more mobilized citizenry. They just can't wait to get to the polls. At last they've found their cause.
This leads us to the real power behind the election, and certainly its star—John Morgan. Everybody knows his face and his voice. The face is on billboards all over the South, cherubic, Howdy Doody-like, with eyelashes so luxuriant he has to deny that he uses mascara. At Christmastime the billboards have him dressed up like Santa.
And that voice. He's from Kentucky, a poor boy originally, and his accent is very Paula Deen, only with an even bigger mouthful of pebbles.
He's famous for being the guy who revolutionized the way ambulances are chased. He turned it into a delivery system of legal services aimed at the working class and in the process has become immensely wealthy. Try as I might, I couldn't get a handle on his net worth, but his home is rumored to be worth $18 million—or is 18 million the square footage?—and he has a private jet.
His law firm is one of the largest and most visible in Florida, employing 260 lawyers and an enormous support staff, including 100 people who do nothing but answer the phone.
And he spends $45 million a year—in advertising.
And the law firm is just the tip of the iceberg. He's an owner of a bunch of other businesses, including a bank, several hotels, a casino in Biloxi, a portable toilet company, and Wonderworks, that upside-down building in Orlando that houses an indoor amusement park. I believe he no longer owns the group of chickens that would travel from casino to casino and play tic-tac-toe with the customers.
But forget the chickens. His real genius lies in grabbing the medical marijuana issue and leading it to what looks like a very solid victory. (I ought to know. I signed that petition five times.)
Oh—and did I mention he's Charlie Crist's boss? Yes, our former—and maybe future—governor now works for John Morgan. I'm sure I'm not the only one who sees the potential for a wonderful plot developing.
Of course, any good Carl Hiaasen novel needs some scheming females to make things even more outrageous, and we have some of the best. I personally miss Jennifer Carroll, who was elected lieutenant governor last time around. Unfortunately, she had to resign due to her alleged involvement in an illegal online gambling operation. (She's back on her feet, though. Now she's CEO of the country's largest female-owned munitions company.)
So the female lead this time around goes to our attorney general, Pam Bondi. I feel that in a sense I discovered Pam. I saw her at a rally during the last campaign and was amazed at her charisma and self-confidence. She was speaking along with Rick Scott and Marco Rubio and really blew them both away. Since then her tenure as our "top cop" has more than fulfilled her early promise.
True, she got terrible publicity during that execution fiasco. It turned out she had a party scheduled at her home on the same day as the execution of some criminal up in Starke. Since she, as attorney general, has to be "on call" during an execution just in case there's some last-minute problem—and who wants that "on their plate" while they're entertaining—she called the governor and asked him to postpone the execution. He said sure. Yes, it sounded awful when it all came out, but I doubt the guy in Starke minded—he got an extra two weeks of life.
Pam's biggest challenge at the moment is protecting the sanctity of marriage in Florida. This is tricky, as she has been married twice herself and was about to embark on her third marriage when she came to her senses and realized that there would be hell to pay if she went through with it.
What Pam envisioned was a destination wedding at the Ritz-Carlton in Grand Cayman. So she gathered 50 or so of her nearest and dearest (including the gov) and they all flew over, with Pam serving them cocktails, flight attendant-like, on the plane. Unfortunately, it just so happened that one of the governor's rivals in the Republican Party saw them in the airport and took pictures, which she then posted on Facebook.
From the online reaction, Pam realized she was in trouble. There it was, her big day—actually, her third big day—and they were ruining it. How dare she get married in the Caymans, flaunting her money and power, when all these gay people want to get married in Florida and she won't let them, and now she's pouring money into the Caribbean, which is our big competition for destination weddings? How dare she?
Pam looked long and hard at the handwriting on the wall and made a very Pam decision. She had a pretend wedding. The ceremony, the dress, the photographer—everything went through as planned, but any verbiage that made it official and legal was removed. It was "a celebration of our upcoming nuptials."
The real nuptials? Pam announced they'll be sometime in the future, in a Baptist church in Tampa, which certainly shows she's learned her lesson.
Now let's just hope no execution is scheduled that day.
Click here to read past Mr. Chatterbox columns. >>
This article appears in the October 2014 issue of Sarasota Magazine. Click here to subscribe. >>