Article
Why We Moved to Sarasota: Ellen Hanson and Richard Perlman
A New York couple settles into a Sarasota School gem.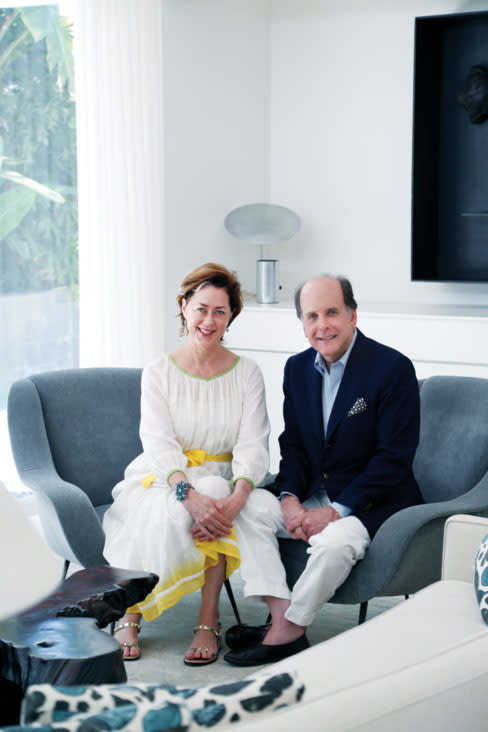 Last spring New Yorkers Ellen Hanson and Richard Perlman purchased the Pavilion House in Lido Shores, a Sarasota School of Architecture residence designed by William Rupp. Soon after, they sold their early 19th-century Greek Revival Home in Sag Harbor, which had been profiled by Martha Stewart, and headed south. Ellen, an interior designer with offices on Madison Avenue for 25 years, will open an office in the Burns Square area this fall. And Richard, executive chairman of ExamWorks Group, a provider of independent medical exams and other medical services, is opening a "small corporate outpost," where a dozen top company execs will work.
It's All Here
Richard: "We wanted a warm-weather destination and we looked all over Florida. Sarasota offered the best combination—the spectacular Gulf, the architectural beauty, the culture, the health care, the international airport so close by. It's all here."
We Love the Sarasota School of Architecture
Ellen: "We knew about Paul Rudolph, but didn't know his roots were here. We found this tiny gem of a house in Lido Shores; the minute we saw it, we fell in love. We've been to a number of Sarasota Architectural Foundation events, and we're very interested in being involved with that organization."
Favorite Restaurant?
Ellen: "Indigenous. Richard is a trustee of the James Beard Foundation, and we think Indigenous is on par with any great restaurant in America or the world."
We Spend Time
Richard: "In our pool or on Lido Beach with a great book. We'll likely soon become boat owners; we want to take advantage of the Gulf and the waterfront assets. And the Ringling Museum blows our socks off."
What Does Sarasota Lack?
Ellen: "Rich and I keep saying that more good things might cause growth and change to Sarasota's tranquil atmosphere. It's perfect just the way it is."
Richard: "Between the great restaurants and the beach and the Ringling and some great architecture, that's enough for now."
Click here to read past My New Hometown interviews. >>
This article appears in the October 2014 issue of Sarasota Magazine. Click here to subscribe. >>