Article
From the Editor: Sarasota's Rising Sea Levels
Pam Daniel on how rising waters will reshape our city.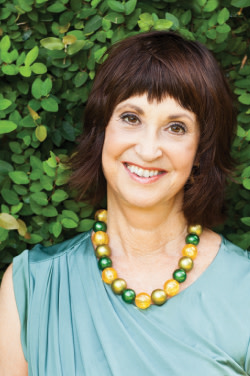 My grandson, Alan, is only 6, but he already cuts straight to the heart of a problem. I drive him to school every morning, and he always likes to hear what's happening at the magazine. When I told him I was thinking of writing about rising sea levels, which could inundate Sarasota's keys by 2100, he was dismissive. "How do they know?" he asked. Even when I explained that scientists all around the world have been studying this, he wasn't convinced. "That's not a good idea for a story," he said. "People won't believe it—until they see it."
And that, of course, is precisely the reason that most of us prefer to ignore the rising chorus of voices—which includes plenty of conservative insurance underwriters, CEOs and bankers along with the vast majority of scientists—warning of a slow-motion disaster that will reshape our world. In this issue, noted architect critic Alastair Gordon, one of the featured speakers at this month's Sarasota Mod Weekend, reports that in Miami, where the streets are already flooding during storms and high tides, architects and builders are failing to design new buildings that can withstand rising waters. They're not the only ones; federal, state and local governments have also been slow to react to what's coming, and most citizens have even less interest in the subject. Locally, Longboat Key is beginning to study the issue, but its assistant town manager has said the impetus has come from staff rather than residents.
But what are we actually facing? I decided to pay a call on Sarasota's David and Jennifer Shafer, whose Shafer Consulting helps educate government, businesses and communities about scientific issues, including rising sea levels. Masters of diplomacy and understatement, as consultants on this subject have to be, the two are the opposite of shrill extremists, and their conversation is peppered with remarks like, "This is not a catastrophe; it's an opportunity," and "We have time to react."
But then they showed me the map. (Click here to see a similar interactive one from National Geographic.)
Most scientists now predict the seas will rise between one and four feet by 2100. (While some debate remains about the rate and causes of global warming, sea level rise, which is easily documented, is widely accepted by scientists—and some have recently forecast much bigger increases.) The Shafers' map takes a conservative approach, depicting our region with just one-and-a-half feet of increased sea level. From Anna Maria south, large parts of the barrier islands are underwater—virtually all of St. Armands Circle is gone—and even the land that remains would be difficult to access, since the approaches to all today's bridges are submerged. And mainland shorelines have also retreated in many areas, with all of our bayous and tidal creeks flooded.
As I stared at the map in shock, I could hear David saying something about "possible negative effects on tourism" and "the local tax base may decline." Possible negative effects? According to what is a conservative scenario, in a century or so, the Sarasota we know and love, with its world-famous beaches, luxurious Gulf-front high-rises and pretty island neighborhoods, shops and restaurants, will have disappeared.
And yet—100 years is a long time, longer than anyone reading this will be around, longer even than our children will live. In the meantime, say the Shafers and other experts, there is much we can do. Yes, the seas are rising, but they're rising slowly. Scientists are now studying sea levels—and polar ice—with "fervor," says Jennifer, and as their knowledge increases, their predictions are becoming more specific.  If they're right, the first thing we'll notice here, probably in a few decades, is the kind of regular flooding Miami now faces. At some point, today's super-high tides, when the bays and rivers seem brimming with water, will have become the normal low tide.
Rising seas won't be the only reason; climate change is likely to bring "wetter wets and drier dries," says Jennifer, intensifying both droughts and summer downpours. If we invest in better infrastructure and smarter engineering, we can alleviate much of the flooding. We can also build more sustainable housing—put homes on pilings, for example, or move electrical systems higher. Indeed, David argues, we could become "an incubator" where innovations that allow us "to live with a moving shoreline" are tested and adapted by other coastal cities. That all sounds sensible and doable, and, according to David, it "will buy us 30 years or more."
But long before that, we Sarasotans will likely face another consequence of rising seas: rising insurance rates. In a perfectly logical world, one that we do not and never will live in, after a hurricane people would not rebuild their homes on shifting, narrow spits of sand that face future immersion. But after Katrina and Sandy, that's precisely what we did. The National Flood Insurance Program is now some $24 billion in debt, in large part because of those two storms. Yet when the government tried to raise flood insurance rates last year, I, as a homeowner who loves living on a barrier island, was part of the howling crowd that convinced them to scale back the plan.
In many ways, our government—responding to the will of the people—has minimized the risks of coastal living. It subsidizes insurance, replenishes beaches that will continue to erode—as we are talking about doing right now on South Lido, for a cost of $22 million—rebuilds roads that wash out year after year, and allows people to build ridiculously close to ever-approaching water. And yes, that's been great not only for waterfront homeowners but for Sarasota, as our legendary lifestyle brings us new residents, visitors and millions and millions of property tax dollars.
But if we don't want this happy scenario to change in the face of rising seas, others do. "Bankers and insurers are already planning for it," warns David. "The military is planning for sea level rise, and so are large corporations, who all have climate change officers now." At some point—sooner rather than later—government and businesses will refuse to put their money at risk by underwriting and rebuilding coastal homes and cities.
Longboat Town Manager Dave Bullock calls sea level rise the "No. 1 menace" our region faces. It's hard to disagree. It's past time for us to recognize and combat this threat. With creative engineering and intelligent planning, we can protect our community and lifestyle—not forever, but for several generations. And for those of us who love Sarasota, that, imperfect outcome as it may be, seems worth the battle.
Click here to read past "From the Editor" columns. >>
This article appears in the October 2014 issue of Sarasota Magazine. Click here to subscribe. >>