Article
J.B. McCourtney's "Florida Potraits 1977-2005" Opens at The Terrace Building
A look at photographer J.B. McCourtney's new exhibition.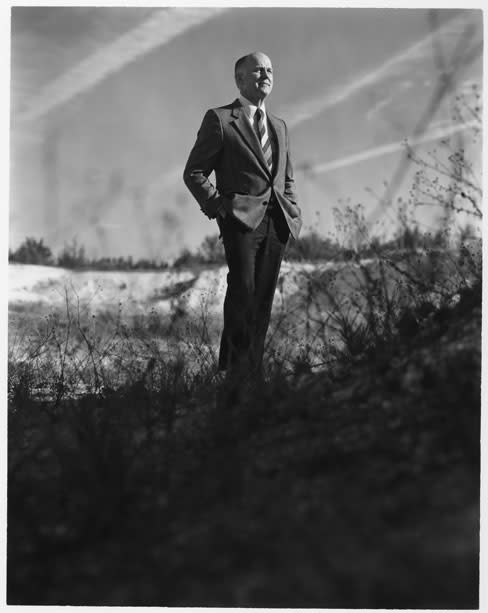 After attending the opening of Florida Potraits 1977-2005, by J.B. McCourtney (sponsored by Sarasota County Historical Resources at The Terrace Building and curated by Heidi Connor), a unique exhibition of 41 portraits of iconic Sarasota people, I felt impelled to write about it, simply because it is so exceptional, and to encourage everyone to go see it. I understand that the exhibition will remain in place quite a while, so dear reader/art lover, you have no excuses.
Lifelong Sarasota resident and photographer, J.B. "Brad" McCourtney has achieved a level of photography that is exceedingly rare. His art is rooted in tradition, working as he does with large format field cameras and developing and proofing his own black and white prints, anathemas of course, in this day's bedazzlement with the instant results of the phone camera. McCourtney's outcome is photography so rich and refined one almost ceases to notice its perfection, as the images he has captured are made indelible through his skills.
McCourtney combines this perfection of craft with an even more significant gift: a demographic that cuts through every strata of humanity, through rich, poor, black, white, famous, unknown, left, right, beloved and notorious.  I can't think of any other portraitist in the South who has achieved so level a playing field.  It's uncanny, really- his choice of subjects- and all are integral to Sarasota's history. McCourney's portraits make us conscious of something we may have only semi-consciously understood before: the amazingly rich diversity of interesting people who have always been in Sarasota.  So this exhibition is a true celebration of craft and content tied to the region. The perfect show.
And please don't assume because I've used the word "diversity" that this is an assemblage of subjects that was put together to satisfy a politically correct agenda. This exhibit is not a polemical social discourse but is the organic outcome of Brad's relation to other human beings. The portraitist's art is not easy. It's as difficult as how people imagine themselves to be or to look, so no one can get this kind of images without being deeply motivated to go through all that it takes.
Whether one is attracted or not to his subjects personally, what is admirable is how he finds the essence of their characters. Through the elaborate dance that was required of him, over hours or even multiple meetings to get the subjects to drop their guards long enough so he could capture their character, authenticity is demonstrated in every portrait.
In addition to the images, McCourtney writes text for each one. His comments are short biographical / anecdotal side dishes that expand our appreciation of who we are looking at.
Yet we know who we are looking at, simply from the images. I mean we know essentially who we are looking at. Then, if we don't know their name or what position they have occupied socially, we need only check the text next to the photograph to find out. It is then we have the full pleasure of combining the essence that we experienced by seeing the image with the biographical information written with brevity, modesty and good humor. Taken together, it's an absolutely marvelous experience.
I was taken by the image of Arvida Corporation developer, Robert Wilhelm (pictured above), who stands like the great conqueror over the lands he has overtaken.  That "dream of power" exudes from his face and the phrase "manifest destiny " comes to mind, as the com-jet trails in the sky behind his head provide counterpoint to the dark foreground of underbrush being cleared, as he stands triumphant, expecting the future. Yet there is something in the photo, something of an alienation to nature, that seems to convey that the implications of his vision may be greater than he realizes.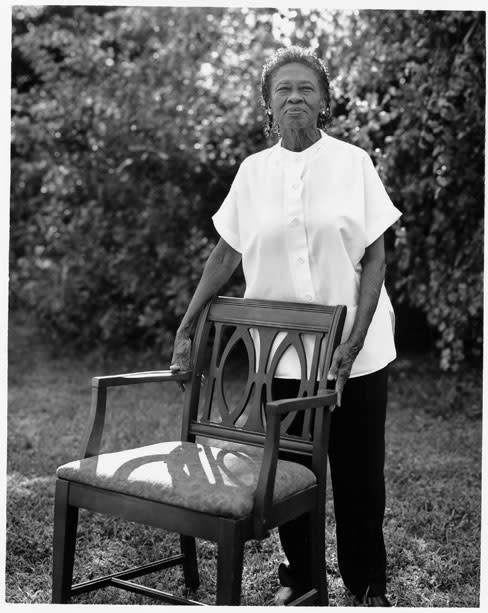 In contrast, a soulful portrait captures the dignity of Juanita Hamilton, the cook and constant companion of philanthropist Marie Selby; the photograph was taken after Selby's passing.  Hamilton is standing outside, holding an empty chair Selby had occupied, and her face seems to tell all, the history and import of their time together. Playing so integral, if outwardly humble a role in Selby's life, Hamilton has a dignity that to demands of us an appreciation of a friendship that transcended the limits of race, social class and education.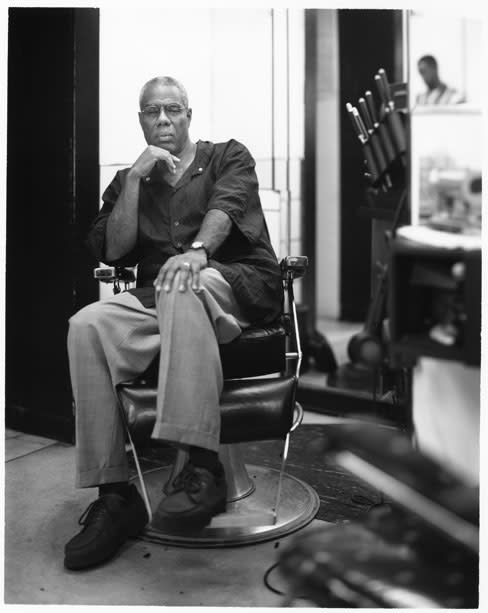 Of the activists and leaders in the community there are many pictured here. Jetson Grimes sits in his barber's chair with the gravitas of a stern yet patient king. This civic leader and activist has long championed the African American community in Sarasota and the appreciation of Newtown by the larger community. This sumptuous image of shadows and light shows all the hope and disappointment that must accompany all that he has tried to achieve for his community.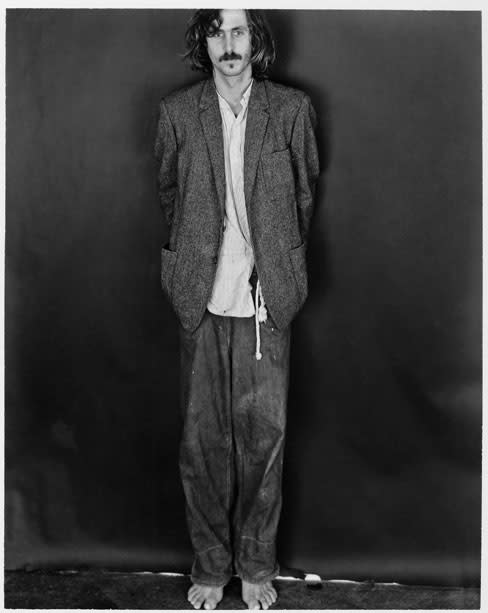 Maynard Hiss, son of one of Sarasota's most important cultural movers, Phillip Hiss, who, among other things helped established the Sarasota School of Architecture, is no slouch in his own right. Maynard was an early environmental and community activist. His image here seems to come out of the last century, like a kind of Parisian poet / seer.  He's in a loose suit that seems to engulf him, his face emblazoned with the idealism that drives him; and he's barefooted, a sure sign of a Sarasota native.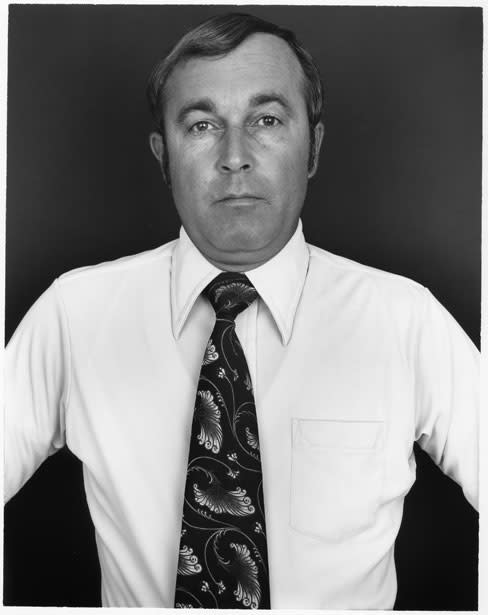 Jim Hardcastle and Katherine Harris: notorious Sarasota. Both these public servants have had careers that were controversial. Sherriff Hardcastle's was fraught with various allegations of corruption, until finally they made it unsustainable. Yet during the years he controlled law enforcement there was certainly no ambiguity as to who was in charge and he was liked and disliked in equal measure.  This very frontal image of him, in a white shirt with wide lapels and paisley tie seems out of character, an appeal perhaps to look more like the left, his constant antagonist.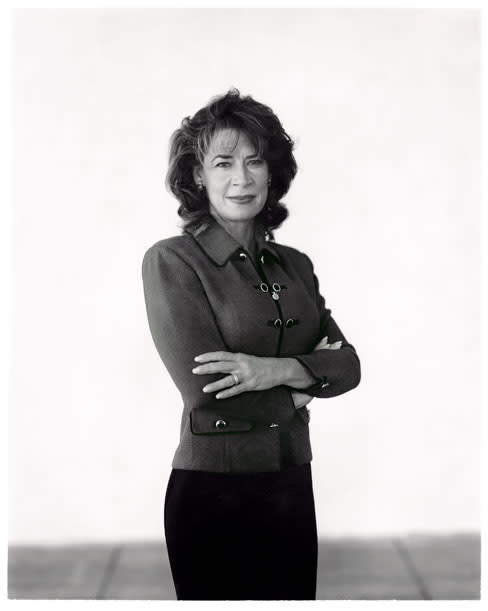 Katherine Harris, the former Florida Secretary of State whose controversial role in the 2000 Gore vs. Bush election made her a darling of the right is pictured in a pose that is strong, almost defiant. Yet McCourtney seems to have found that perfect moment when a some vulnerability manages to come through in the eyes, despite the subject's prowess at projecting the strong, accomplished, uncompromising woman that she is.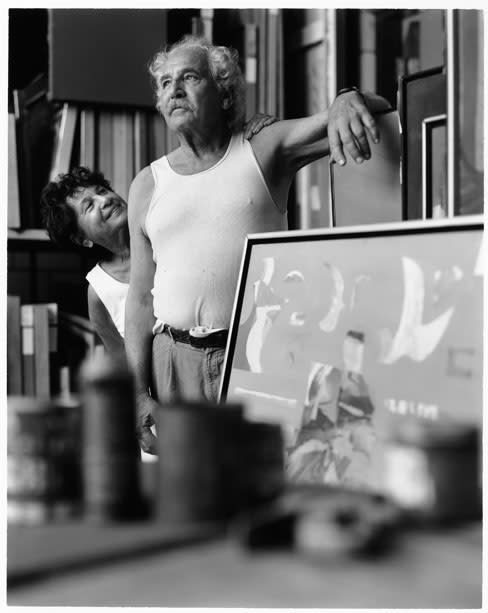 I would be remiss I suppose if I did not mention the portrait of my parents, Syd and Annie Solomon. The photo was taken around the time that Syd was diagnosed with Alzheimer's, yet I had known for several years something was off. You can sort of see it, in his gaze, that certain kind of detachment from the world (and not in that good Buddhist sense) that comes.
It is the image of my mother Annie proudly and lovingly looking up at him, with a tinge of knowledge in her face, that gets me. This knowledge grew, as her lifelong devotion to him required of her a last decade of seeing him everyday in an Alzheimer's home and watching helplessly as he faded slowly from this earth.  Still very much alive and active today at 96, she is loved and respected by everyone.  She probably has more friends than anybody I know. I am amazed Brad was able to get this image.
Really, I can't find a subject in all the 41 people chosen here who isn't fascinating. Dr. Eugenie Clark, Fredd Atkins, Lillian Burns, "Doc" Henderson, Jim Neville, Jack West, "Diamond Teeth" Mary McClain, Lori Ann Toole. The list goes on and on with intriguing people and evocative images all.
Taken all together, the superlative photographic craft, the genuine attraction to humanity, the long years devoted to the project, this show shows us just how rich and diverse and actually eccentric Sarasota has always been, despite the various attempts over the years, to sugarcoat or gentrify it.
One more thing about this exhibition. McCourtney had insisted that if these prints were to be presented, they should be in some public place, where the audience was, like his subjects, drawn from the everyday and from all walks of life.  So it's perfect, lining the corridors of the Terrace Building across from the offices where those who have official business with Sarasota have to go. In a sense, the exhibition becomes a kind of initiation, especially for those who are just moving in and getting their documents in order.  It's as if they should be required to know about all the subjects on the walls before becoming associated themselves with our town.  That would certainly go a long way in giving them a healthy sense and respect for where they are.
Mike Solomon © June 2014
For more Sarasota arts and entertainment coverage, click here. >>