Article
Selby Gardens' Dr. Antonio Toscano de Brito on Why He Loves Sarasota
Living the dream at Selby Gardens.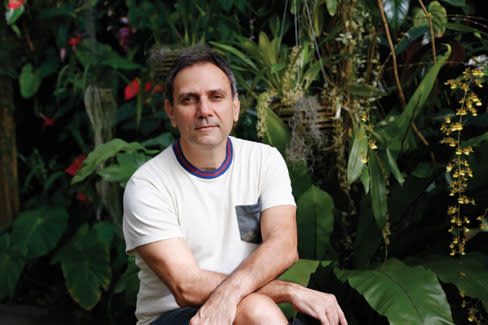 In 2012, Antonio Toscano de Brito joined Selby Gardens as curator of its Orchid Research Center. A native of Rio de Janeiro, he spent several years researching orchids in the small mountain town of Rio de Contas, Brazil, where, as a hobby, he also ran a restaurant called the Orchidarium. He first came to the gardens on a grant in 2011 after working as a visiting scholar at Harvard. "I'm here in paradise," he says.
I LIKE SIESTA BEACH
"The sand is fantastic and the water is so beautiful. I was raised in Rio, near the sea, so I really enjoy it. And it's a very democratic place to go; it's free."
IN MY FREE TIME
"I like cooking, either at my own place or at my friends'. My favorite is seafood paella, but I also enjoy cooking Brazilian and Italian dishes—I'm of Italian descent. And I enjoy a good wine."
FAVORITE ORCHID
"The Patystele stenostachya, a teeny plant whose flowers are almost the size of a pinhead."
FAVORITE LUNCH SPOT
"Every day I sit near the bo tree by the bay [at the gardens' southern end] and have my lunch. I can see the bay, the bridge; it's beautiful and very relaxing."
MY DREAM WAS SELBY
"I focus on orchids of the Brazilian Atlantic forest, the most endangered forest in the world. Selby is one of the richest places to study these orchids. I did my Ph.D. at Kew Gardens, but my gurus, Dr. Cal Dodson and Dr. Carlyle Luer, used to work here. I spend every Saturday collaborating with Dr. Luer. I'm living my dream."
Click here to read past "My New Hometown" interviews. >>
This article appears in the June 2014 issue of Sarasota Magazine. Like what you read? Click here to subscribe. >>